In this review, I am going to do a deep dive into the BC Vault hardware wallet. How does it stack up against the Ledger Nano X or the Trezor Model T? Does it have more coins supported? How much does it cost? What about the security of the device?
Luckily, we are going to address all of these questions and more in this article, so stay tuned and find out what makes this hardware wallet truly unique from the rest. I have reviewed a handful of new hardware wallets recently and can honestly say that this wallet is much different than the last 10 I've ripped into.
If you want to check the most recent review I've done, it's for an entry level hardware wallet made by Binance's team and it also has a unique twist as well called the Safepal S1. You can find that review HERE for comparison.
Now, let's take a look at the BC Vault details below. You won't regret it!
BC Vault – What Makes It Unique?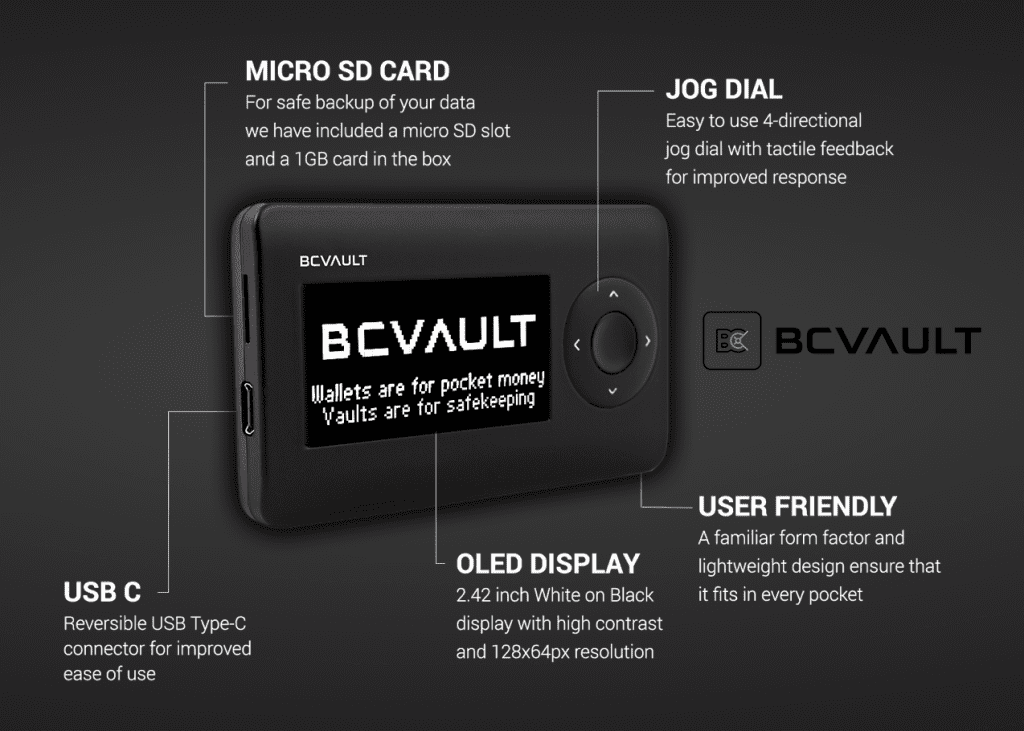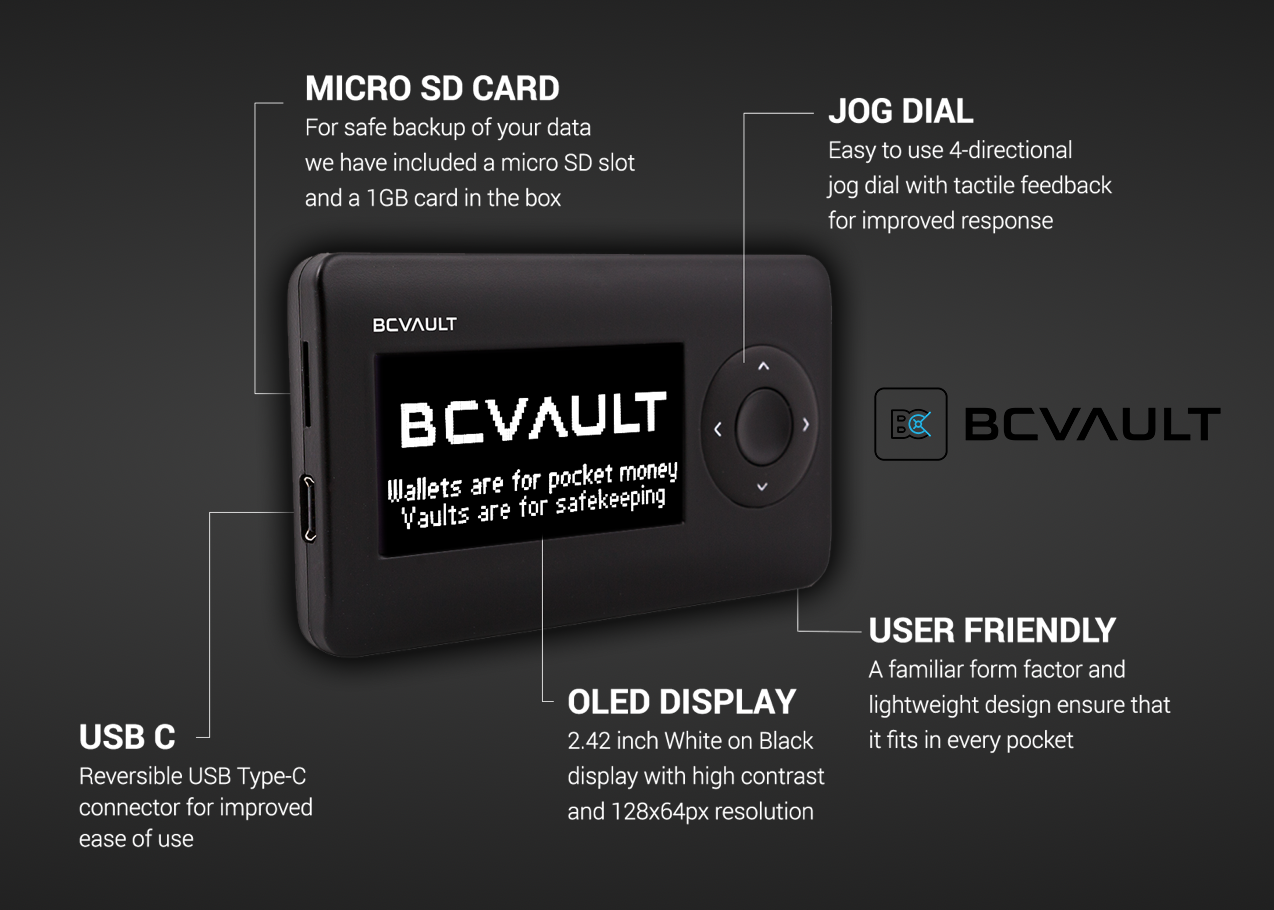 Unlike most other popular cryptocurrency hardware wallets, like Ledger Nano X and Trezor Model T, you do not set up a recovery seed card before you initialize the device. In fact, there is a gyro sensor for you to randomly generate private keys by physically shaking the device (seriously).
You can also hold more than 2000 unique wallets within the web app, and can granularly set specific passwords for each one and setup multiple PIN's to not only make it more secure, but also allows for an easy way to share the device and use Multi-Sig. In fact, this is the first device that natively allows you to use Multi-Sig on a per wallet basis and set multiple PIN's.
This wallet does not use HD wallets, so each wallet has its own unique backup. This does make it more secure, however, if you lose or forget the global PIN and global password for the device, your funds are locked inside forever. They do have an encrypted QR code backup for each individual wallet, or you can create a backup on the included micro SD card that comes in the box.
What's In The Box?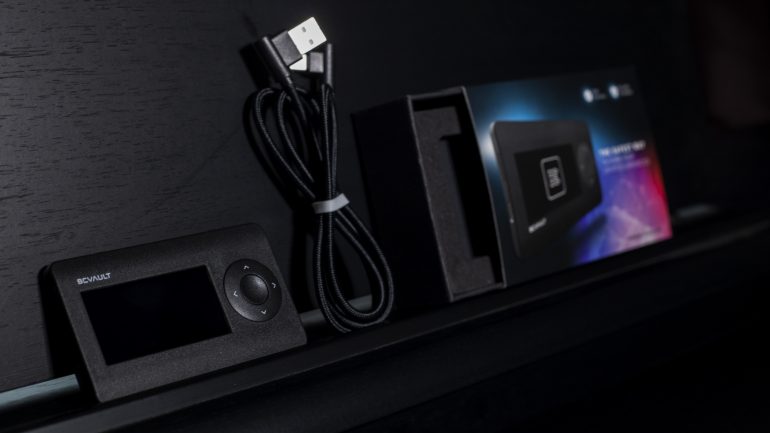 This is everything that comes in the box of the device. I have also posted an unboxing video below with a tutorial and setup guide video coming soon. Here's what you'll find inside:
BC Vault Hardware Wallet Device

Multiple Stickers "Wallets are for pocket money, Vaults are for safe keeping." 

USB C to USB-A Nylon Cable

Getting Started Guide

Welcome Note From CEO

1 GB Micro SD Card
You have everything you need to get started right out of the box. Once you remove all the security tape and plastic screen protectors, you are now ready to connect your device through the web app to set your global PIN
Features & Price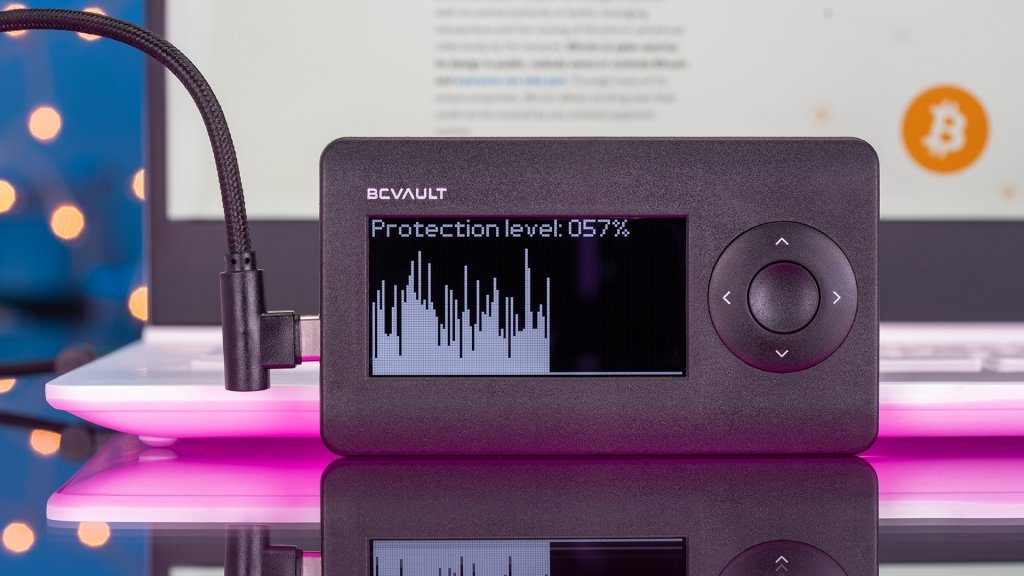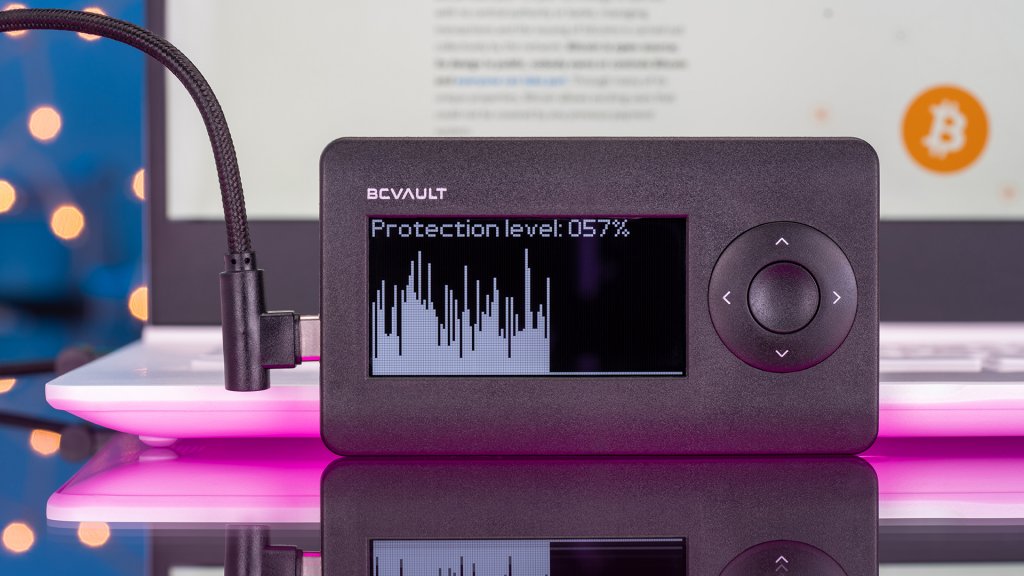 This wallet has some pretty unique features I will admit, and it's pretty refreshing. For example, you can use multiple cryptocurrencies at once. There are no "apps" you need to install or fear or worry of running out of space that most wallets have when upgrading the firmware.
Additionally, the amount of coins and wallets that can be used/stored simultaneously is astounding. As mentioned above, you can have up to 2000 unique wallets and can interchange multiple cryptos in multiple wallets.
The storage is reliable. The BC Vault's private keys have complete encryption and they are stored in the FRAM device. The FRAM is fully tamper-resistant and thanks to the reversible USB 3.0 Type-C connector any damage occurring from mechanical error is fully prevented.
In addition to the secure FeRAM that is securely encrypted, and the large display which is useful when confirming transactions, you have peace of mind not having to worry about anyone locating or using a recovery seed phrase to render your funds useless.
You can also import any private keys you have elsewhere via the SD card as well, so you can easily interchange private keys from other wallets if you have them in the correct format.
The cost is this wallet is 155 Euros, which is approximately $170 USD at the time of this writing. This isn't a bad price, considering the features and amount of crypto you can store and use on this device.
Coins Supported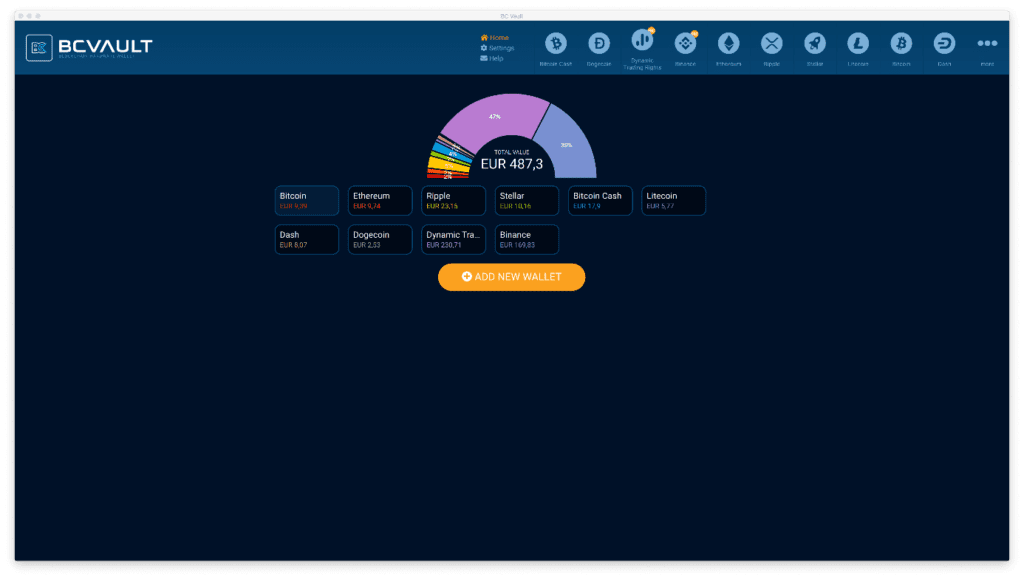 This is usually one of the most important factors when deciding on a hardware wallet (with the exception of security). If the wallet doesn't currently support the coins you need to store offline, you can't really take it too seriously as a deciding factor for purchase. Regardless of whether or not they claim to add more coins in the future.
Needless to say, they have some unique choices for coin support here, including:
Bitcoin
Ethereum
Litecoin
Dogecoin
Dash
Bitcoin Cash
Ripple
Stellar
Ethereum Classic
ERC-20 Tokens
Bitcoin Gold
Tron
Vechain
Icon
OmiseGO
0x
BINANCE COIN
WaltonChain
Polymath
Salt
Cindicator
Dynamic Trading Rights
Iconomi
OriginTrail
Viberate
CargoX
InsurePal
Xaurum
You can also find a complete list of currencies that are supported by clicking HERE. That will link you directly to BC VAULT's website, which will always be up to date at the time you are reading this.
I will point out that some of these coins cannot be found natively on any other hardware wallet, such as InsurePal and Iconomi, and even Xaurum. These are definitely some interesting choices, but it appears to work well for very specialized camps.
BC Vault – Conclusion
The bottom line is, the BC Vault is far different than the last handful of hardware wallets I've used. From the unboxing to the entirely different recovery process, to the highly secure wallet formatting has made this a true contender for the most secure hardware wallet on the market. If you want to "HODL" your coins safely and not have to worry about securing a recovery seed phrase, this might be the only hardware wallet you will ever need.
What do you think? Is there a more secure wallet out there? Let us know down in the comments!
Cheers,
The Crypto Renegade
NOTE: This post may contain affiliate links. This adds no cost to you but it helps me focus on giving as much value as possible in every single post by being compensated for recommending products that help people succeed.