Is the new Ellipal Titan crypto hardware wallet all hype? Or is it the real deal? How secure is it? Why is it different than the Ledger Nano X or the Trezor Model T? Well, buckle up, because this wallet is far different than anyone I've used in a while and in a very good way. In fact, I would go as far as to say that this is probably my favorite hardware wallet of 2019. But why? What makes is so special? I am going to dive into that below in detail and what makes it so securely different than the original and most popular wallets out there today.
Before I jump into the nitty-gritty details of this wallet, I want to point out that in the week or so that I've used this wallet, I have actively moved over a handful of my larger holdings from other hardware wallets over to this one. This is for the obvious security advantages and wireless method in which you manage it, which I will explain below. With this cold wallet, you no longer need a computer to manage your offline holdings, and in a predominantly wireless world, this is becoming more and more important. Details will follow below, you will NOT be disappointed.
Let's get right into the Ellipal Titan Review!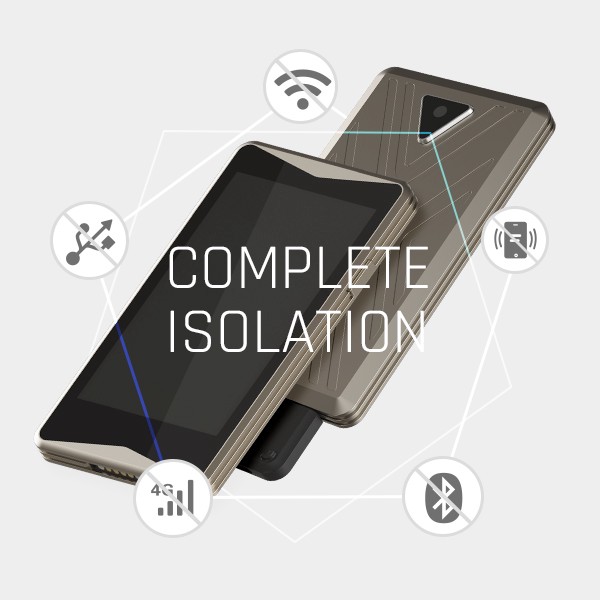 ELLIPAL TITAN: WHATS IN THE BOX?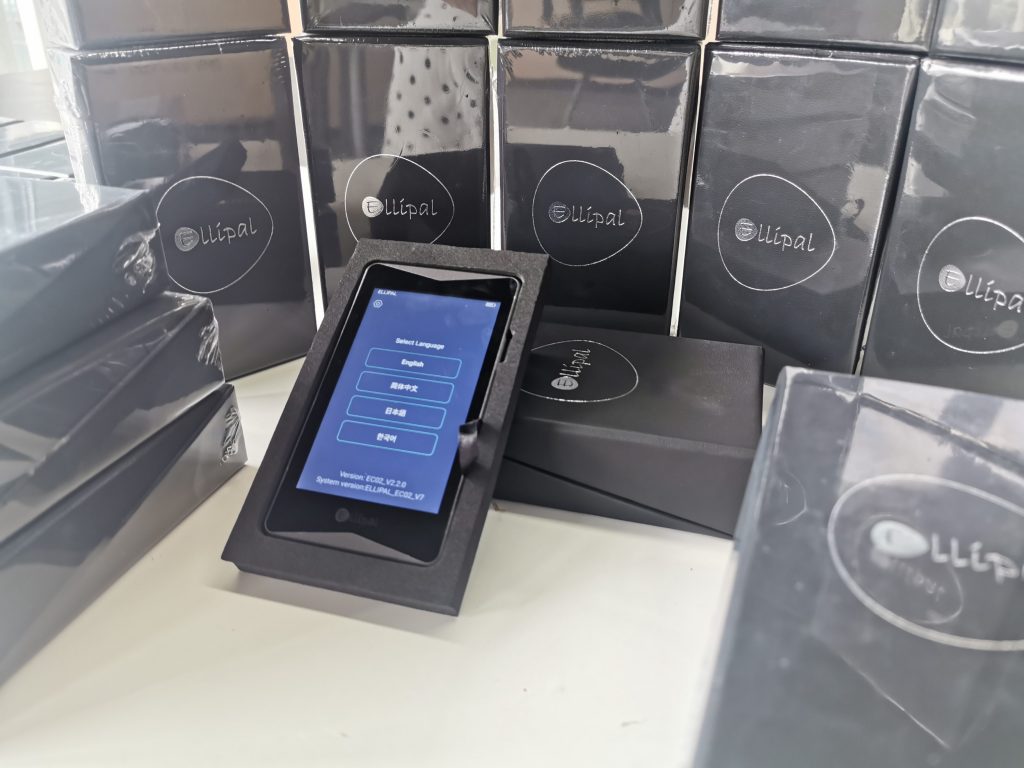 The Ellipal Titan device comes with the same items in the box as the Ellipal 2.0, with the only difference being that there is a magnetic adapter that connects to the bottom of the device. This adapter includes the charging port and SD card slot port for updating firmware and signing offline transactions. The Ellipal 2.0 device has these on the device itself, whereas the Titan has no ports or openings on it whatsoever, making it stronger and more secure.
Box includes:
ELLIPAL Titan Cold Wallet
Rechargeable battery
Charging cable
Mnemonics card
Warranty card
User manual
HOW DO YOU SET UP THIS AIR-GAPPED DEVICE?


This is very simple. It pairs with a mobile app that is available for iOS and Android. This helps you initialize and setup the device and generate all QR codes needed to transfer your funds from the hot wallet app, onto the cold storage device. This process is identical to the Ellipal 2.0 process, however, you now have access to longer PIN's and extra security features. Additionally, since the device has a camera, transferring funds off of the device and back onto a mobile wallet is very secure and convenient as well.
The entire process only took me about 7-10 minutes from start to finish, including writing down your mnemonic phrase.
There is a full step-by-step setup guide for both Ellipal devices HERE.
WHAT COINS ARE SUPPORTED?
This is always the section I check the most when reviewing hardware wallets, because although functionality and security are important, none of that matters unless it supports the coins you want to store offline. So here is the current list of supported coins and the one that are currently in development listed in the below picture.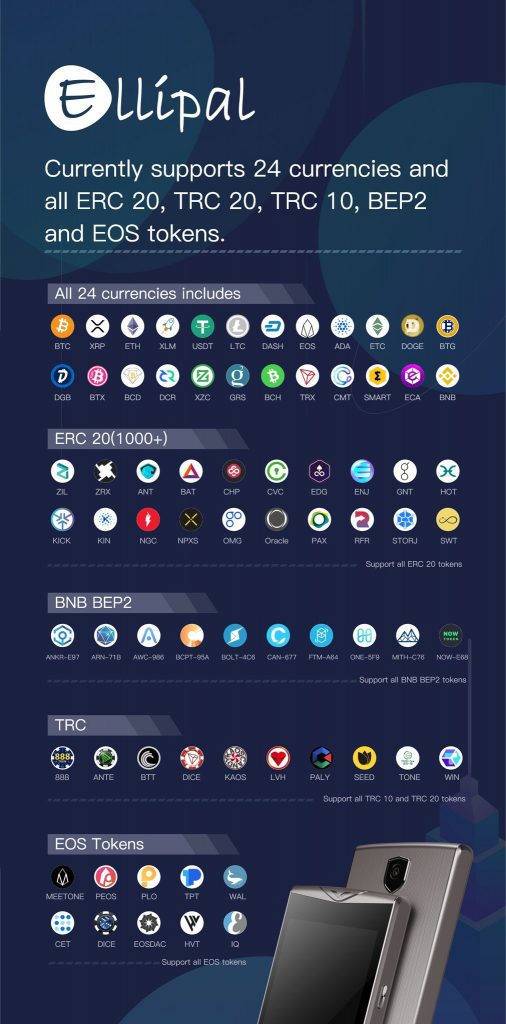 This is the only wallet that supports over 26 different blockchains. With multiple tokens on the EOS, TRX, BNB, and of course ETH blockchain, there is plenty of room for expansion. Some of the unique coins that are supported on this hardware wallet NATIVELY that you won't find on any other hardware wallet out there include: Cardano (ADA), Decred (DCR), Cyber Miles (CMT), and Smart Cash (SMART).
There are some oldies, but goodies (coins) that are currently in development that technically will work with 3rd party integration with wallets like Ledger and Trezor. I can't express enough how important (and convenient) having native coin support on a hardware wallet is, especially a wallet as secure as this one. Some of my favorite coins that are coming soon are: Monero (XMR), Tezos (XTZ), SiaCoin (SC), and Nano (NANO). As I mentioned, some of these have 3rd party wallet integration currently elsewhere, but I'm personally waiting for these to be released here to move them over for easier management.
According to their website, they are also adding new coins every month and have consistent firmware upgrades, which is administered from a magnetic puck that is completely disconnected and attaches to the bottom and also has an SD card slot for signing transactions offline. This attachment is also how the device is charged as well. I have used this device for a little over a week now and I have yet to charge it yet.
DECENTRALIZED EXCHANGE + FEATURES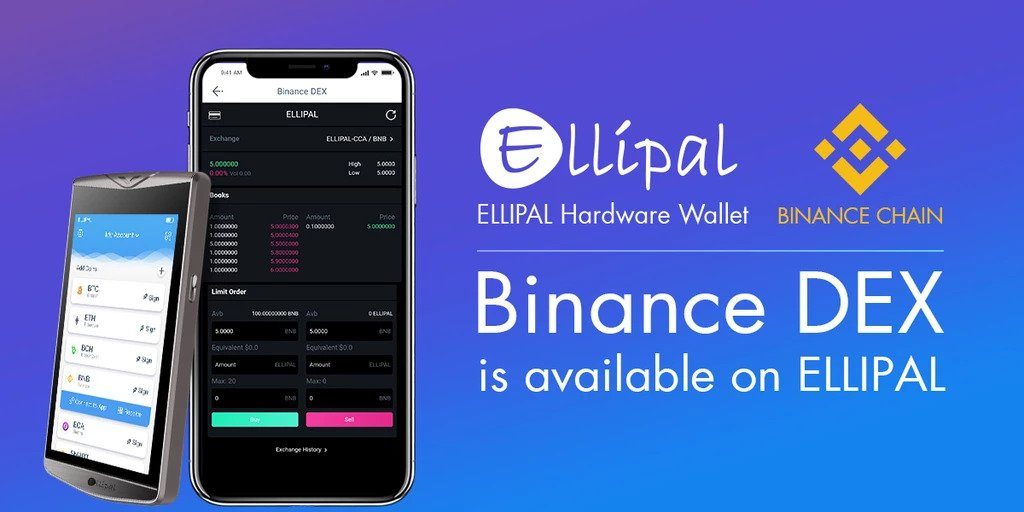 I will briefly touch on this as it's definitely worth mentioning. This feature allows you  to not only have direct coin to coin conversion, but it also allows for staking, for instance on the upcoming Tezos support and other POS coins. This is all done in the app and you can swap them offline once you authenticate. Additionally, you can now earn interest on your USDT, for up to 7% annualized when you cold stake it your wallet. You never give up your private keys, so there is no risk. It's honestly a win-win situation if you have USDT if you have it sitting on your cold wallet.
It connects to Binance DEX, which is a decentralized exchange and looks very promising. Additionally, you will be able to earn interest and manage your staking rewards offline in future firmware upgrades, which is a HUGE selling point for me.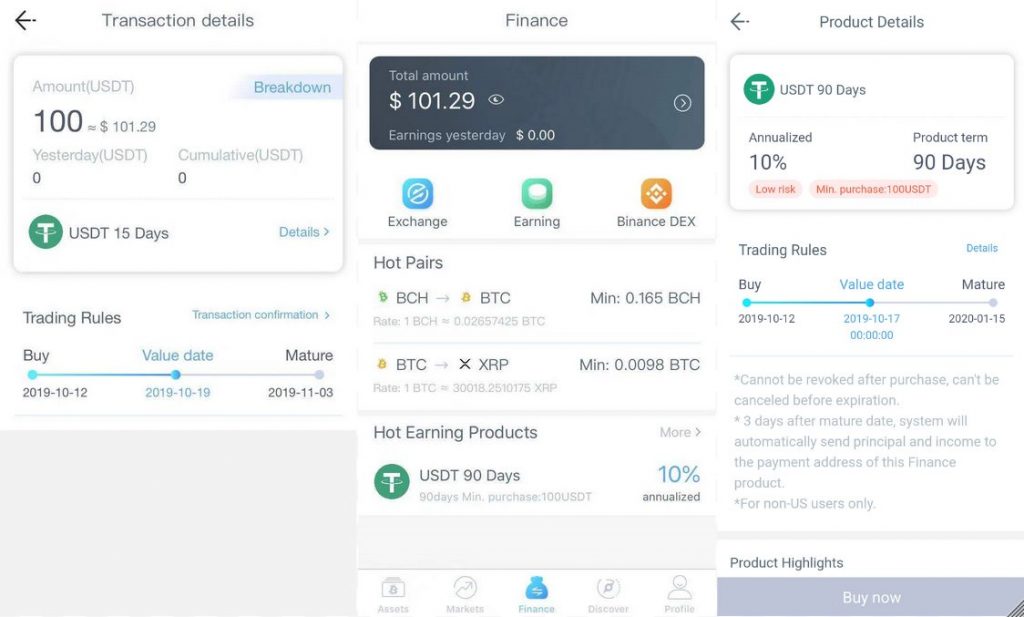 ELLIPAL TITAN – CONCLUSION
Overall, after using this wallet for only about a week, it's been my favorite and most secure wallet I've used EVER. Now, I still use the KeepKey for trading and offline portfolio management for day to day transactions, and I still love that device (you can read the in-depth review HERE, if you haven't already). However, I've moved a lot of my private keys over to this wallet due to it's more secure secure nature and bull-proof form factor. The user experience is done exceptionally well, and supports some really unique coins and blockchains that you won't find anywhere else.
The closest wallet to this in terms of security and form factor is the Cobo Vault, but this is 3X cheaper and holds a lot more coins. The outer shell is IP65 rated and can withstand drops and even getting wet via a splash or even the rain. It'd constructed in a VERY durable way, and feels extremely solid and well built when you hold it in your hand. It's very satisfying.
Don't get my wrong, convenience is also important, but Ellipal really brought a unique form of security to the table here by having a very rugged and durable device that has ZERO online connections. You can transfer your crypto funds between its companion hot wallet and vice versa anytime, but the cold wallet never goes online, which is really nice and gives me peace of mind.
For a limited time, you can also get their mnemonic metal recovery seed (a $49 value)  for only $29 when you bundle it with the Ellipal Titan. That means you can secure your crypto and your recovery seed backup for under $200 all in. This is a STEAL, as this is something I practice myself and believe it is absolutely NECESSARY for any person who takes their crypto seriously.
I also wrote a review recently on the Ellipal Mnemonic Metal recovery seed backup device HERE, if you want to educate yourself on why they are so important. I will leave the special referral link below to get this device, and I for one am VERY excited to use it and see how "durable" it really is.
What do you guys think? Have you ever used a device more secure than this for your crypto? Let me know below!
Cheers,
The Crypto Renegade
NOTE: This post may contain affiliate links. This adds no cost to you but it helps me focus on giving as much value as possible in every single post by being compensated for recommending products that help people succeed.