Is the new Ellipal Titan crypto hardware wallet all hype? Or is it the real deal? In this article we are going to take a FIRST LOOK at the mobile hardware wallet. So, the Ellipal Titan appears to be a very unique and interesting cold storage hardware wallet and is the second generation wallet after the Ellipal 2.0 wallet and is unlike any other hardware wallet on the market.
This device is currently available for pre-order and should start shipping it's first units by mid-August of this year, so make sure to check out the bonuses for pre-ordering with the special referral links I will have below. This is known as the only "True" offline hardware wallet.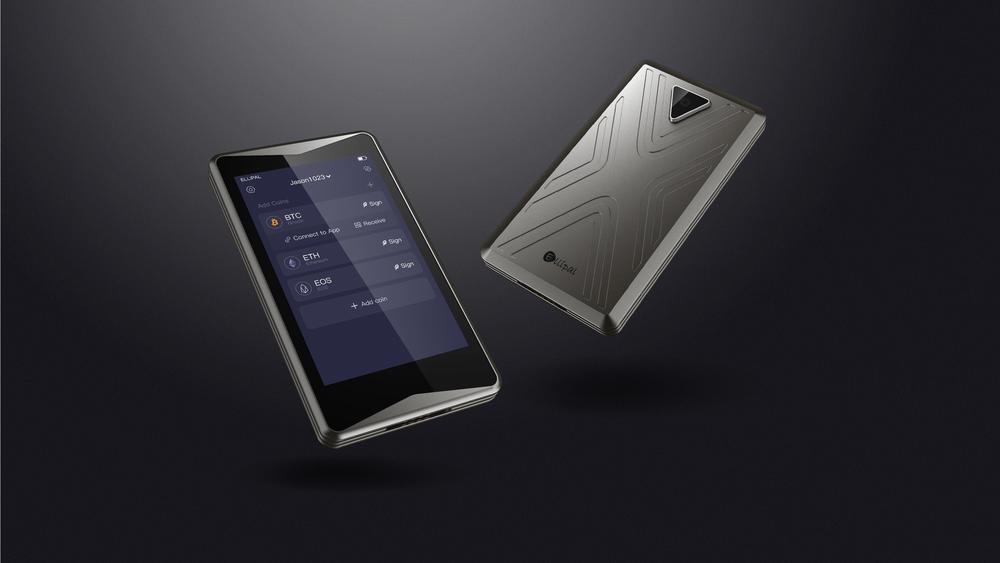 It has zero ports, USB connections, Wifi connections, Bluetooth connections,  Cellular connections and NFC connections. This thing is built like fort knox! It has a form factor similar to that of Cobo Vault, but I will have a written review for that device HERE.
So how do you use it if you can't connect it? QR codes. The device has a camera and a 4-inch full touchscreen and resembles a small android smartphone. It connects with a smartphone app where you can transfer funds between the hot wallet to the air-gapped device almost instantly through scanning the QR code. Very cool.
Before we dive deeper into the details of this device and how it differs from other crypto hardware wallets out there, I want to make sure you get the free download of my e-book "5 Best Ways To Secure Your Cryptocurrency". This a comprehensive guide to how to best manage and secure any cryptocurrency you currently have, whether you are a beginner or a crypto veteran! Let's get right down to the Ellipal Titan!
Ellipal Titan: Whats In The Box?
The Ellipal Titan device comes with the same items in the box as the Ellipal 2.0, with the only difference being that there is a magnetic adapter that connects to the bottom of the device. This adapter includes the charging port and SD card slot port for updating firmware and signing offline transactions. The Ellipal 2.0 device has these on the device itself, whereas the titan has no ports or openings on it whatsoever, making it stronger and more secure.
Box includes:
ELLIPAL Titan Cold Wallet
Rechargeable battery
Charging cable
Mnemonics card
Warranty card
User manual
Ellipal 2.0 Vs. Ellipal Titan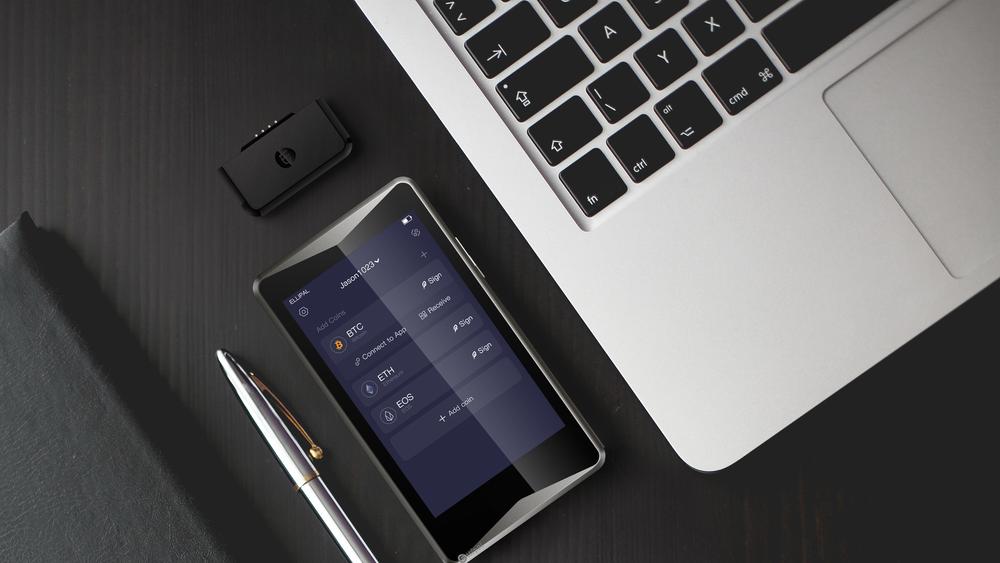 So this device is similar in it's form factor to the Ellipal 2.0 device, with some key differences. Firstly, this device built for Anti-Tampering, Anti-Disassembly, and Anti-Theft protection. What does that all mean? Well, to put it simply, this thing is cannot be pried open with any tools like a screwdriver, hammer, etc…
Ellipal Titan has a self destruct mechanism in place, so that if the screen is tampered with or crushed or broken in an attempt to gain access to it's internals, it will break a special circuit board that holds all your private keys. This is powerful. Additionally, it's very sturdy, so not only is it IP65 rated for dust and water resistance, but its made out of a very strong single piece of metal that houses and encompasses the entire device.
The Ellipal Titan is specifically designed against evil maid of supply chain attacks so nothing can be imported or inserted as there are no open access ports on the device.
The Ellipal 2.0 is still a very strong and secure device, but it does have a durable exterior that is built for abuse, and it also has an SD card slot for updating it's firmware on the device and also has a charging cable port, so there are 2 entry points. Again, still very secure, but the Ellipal Titan is really a massive upgrade.
How Do You Set Up An Air-Gapped Device?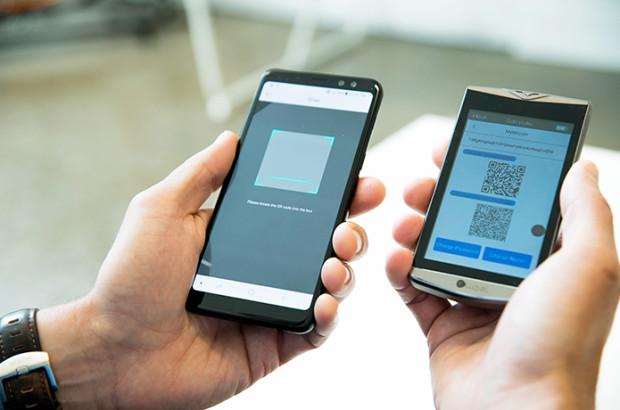 This is very simple. It pairs with a mobile app that is available for iOS and Android. This helps you initialize and setup the device and generate all QR codes needed to transfer your funds from the hot wallet app, onto the cold storage device. This process is identical to the Ellipal 2.0 process, however, you now have access to longer PIN's and extra security features.
There is a full step-by-step setup guide for both Ellipal devices HERE
What Coins Are Supported?
This is always the section I check the most when reviewing hardware wallets, because although functionality and security are important, none of that matters unless it supports the coins you want to store offline. So here is the current list of supported coins and the one that are currently in development.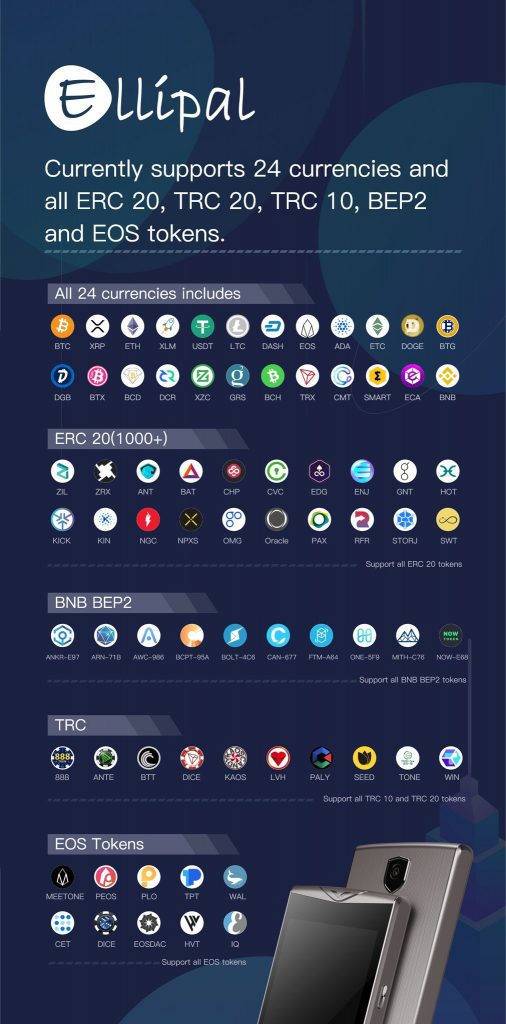 Currently, all coins will be supported fully by both devices. They are also developing new coin support as well with frequent firmware updates. This includes: Tezos (XTZ), Zcash (ZEC), NANO (NANO), STEEM( STEEM), and NEO (NEO) just to name a few.
Decentralized Exchange Support
I will briefly touch on this as it's definitely worth mentioning. This feature allows you  to not only have direct coin to coin conversion, but it also allows for staking, for instance on the upcoming Tezos support and other POS coins.
It connects to Binance DEX, which is a decentralized exchange and looks very promising. Additionally, you will be able to earn interest and manage your staking rewards offline in future firmware upgrades, which is a HUGE selling point for me.
Conclusion
Overall, I'm very excited to get this device in my hands and write an in depth review on it. I already pre-ordered the device for $149 and I expect to receive it 3-5 weeks when it's released. This appears to be a truly unique and air-gapped hardware wallet experience and security is really what it comes down to.
Don't get my wrong, convenience is also important, but Ellipal really brought a unique form of security to the table here by having a very rugged and durable device that has ZERO online connections. You can transfer your crypto funds between its companion hot wallet and vice versa anytime, but the cold wallet never goes online, which is really cool.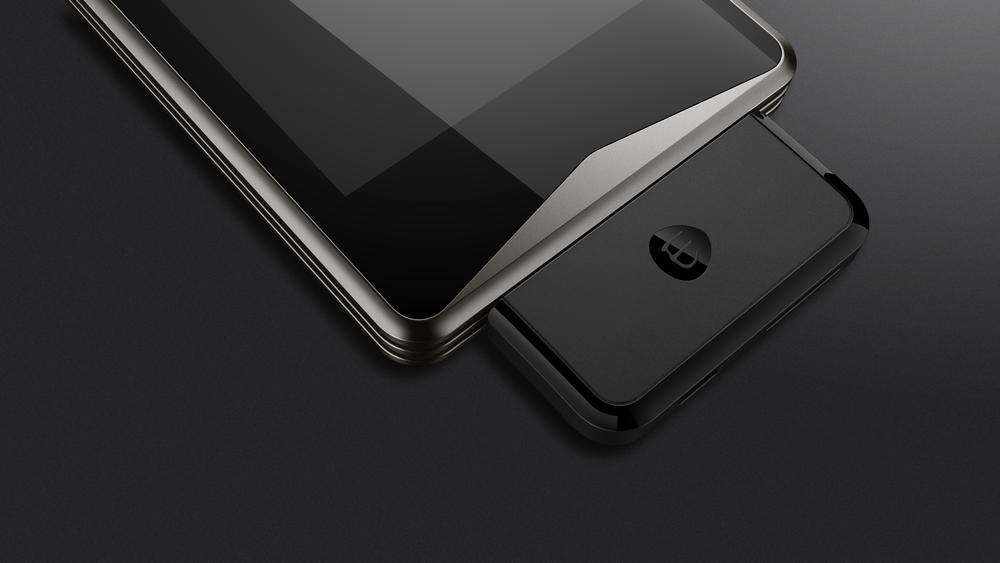 For a limited time, you can also get a FREE mnemonic metal recovery seed (a $49 value) when you pre-order the device. This is a STEAL, as this is something I practice myself and believe it is absolutely NECESSARY for any person who takes their crypto seriously.
I also wrote a review recently on a few metal recovery seed wallets and my favorite one HERE, if you want to educate yourself on why they are so important. I will leave the special referral link below to get this device, and I for one am VERY excited to use it and see how "durable" it really is.
What do you guys think? Have you ever used a device more secure than this for your crypto? Let me know below!
Cheers,
The Crypto Renegade
NOTE: This post may contain affiliate links. This adds no cost to you but it helps me focus on giving as much value as possible in every single post by being compensated for recommending products that help people succeed.