In this Lolli review, we are going to deep dive into what the Lolli App is how it works? How hard is it to use? Can I really earn free bitcoin? Is it worth my time? How does it all work? Luckily, we are going to address all of these questions and MORE in this review, so sit tight and learn why this revolutionary app can help you accumulate free bitcoin for what you are already doing anyways!
This review will go into how to shop online and earn free bitcoin, but there is also another app I've been using recently that explains a free app where you can earn free bitcoin while shopping in major stores in person as well. This is called the Life Info App, and you can read my in-depth review of that HERE.
Let's get right to Lolli!
How Does It Work?

I'm sure you've heard of "Cash Back Rewards" before, as that's a common thing these days when shopping and using your credit card. Lolli has come up with their own version of this, but it's MUCH more interesting (to me, anyways). It's earning bitcoin back.
So what does this mean? Well, it means that when you shop online on over 500+ major retailers websites, you can now earn a percentage of your purchase in free bitcoin rewards back. There is a list of supported retailers, which you can find HERE.
These stores vary in terms of what percentage of bitcoin they will give back as a reward, but it typically ranges anywhere from 10-15% and includes major retailers, like Groupon, Best Buy, Marriot, Sam's Club, GoDaddy, and even Walmart.
As a privacy advocate, I will share a secret of the largest discount I have found yet at a whopping 37.5% bitcoin back and it's for a trusted VPN service, called PureVPN. Use this link HERE to get not only a special discount for my readers, but the chance to get the largest discount I have yet to find (and I've tested this out on hundreds of sites).
Lolli Extension + Wallet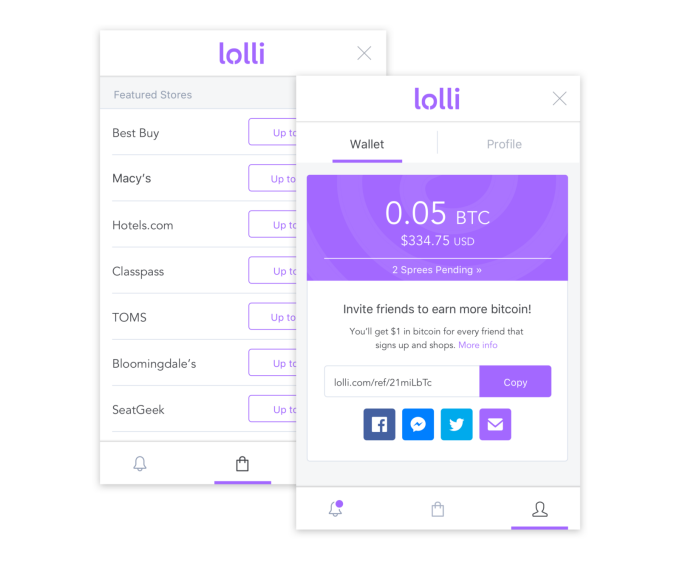 The Lolli Chrome extension is the most common way people interact with Lolli, and it also includes a bitcoin wallet built in. Once you accumulate at least 15$ worth of bitcoin, you can then transfer it to your mobile wallet, or what we recommend, a hardware wallet to store you new bitcoin earnings offline, while keeping your private keys secure.
Here are the steps to download the wallet (you can also watch the review/walkthrough video below) if that's easier for you.
Download the Google Chrome Extension HERE. You can also download the FireFox extension and Safari Browser extensions, HERE and HERE, respectively.
Once you download and activate the extensions, it will walk you through registering an account with your email and walks you through how to use it, but its very simple. Once you open a website that is supported by Lolli, it will automatically notify you in the top right corner of your browser, much like a small pop-up ad.
Start shopping. You can simply navigate to any website you normally would and if it's partnered with Lolli, it will notify you and as long as you are logged in with your account credentials, you will receive a bitcoin rewards immediately after the purchase has been processed.
Why Should I Use It?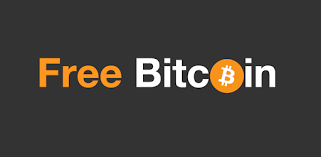 If you are new to Bitcoin (and those of you who aren't) should know that accumulating bitcoin can be an expensive and time consuming endeavor. Any edge and any advantage to accumulate bitcoin for free (especially by doing things that you're already doing, like shopping online) is a win-win.
Bitcoin is the new currency of the future. Even people that hate it know that it's inevitable and cryptocurrency is here to stay. As of this writing, Bitcoin is going for about $9,700 per bitcoin, so this allows you to start accumulating this digital currency over time and allows you to spend, save, and even cash out into fiat if you're so inclined.
Even if you don't care about bitcoin, this is basically a freebie. You don't have to buy anything special, or have a minimal spending amount to use this. It either works with the entire retailer or it doesn't. They will be adding more and more retailers as time goes on, and there is a rumor that Amazon will be added very soon.
When you download and activate this LINK, we both will receive 10$ worth of BITCOIN FOR FREE with your first purchase. No minimums. Additionally, once you sign up, you will receive your own referral link that you can share with friends, family, or any followers, and the same will apply to you. Very cool.
What Retailers Are Accepted?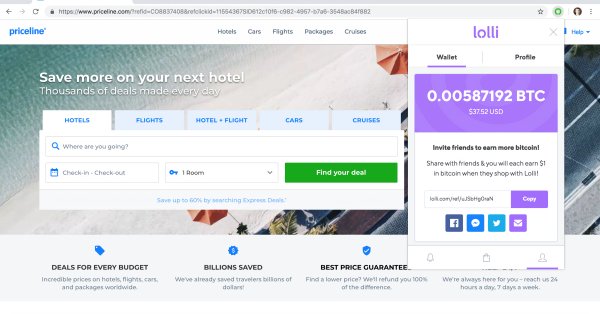 As I mentioned above, there is over 500+ retailers that are currently supported and counting. This list is constantly growing, but a few examples include: Groupon, Best Buy, Marriot, Sam's Club, GoDaddy, and even Walmart.
You can get a full list of retailers and their respective discounts by visiting this page HERE.
Additionally, you will automatically be notified on any website that may not be listed on that page by popping up when you visit the site. However, the above link is primarily up to date at all times.
Lolli Review – Conclusion
Ultimately, Lolli is an amazing product. There are very few programs that make it easy to earn bitcoin at all, let alone get it for free. There is no doubt that as the crypto-ecosystem inevitably grows, there will be plenty of bitcoin rewards and bitcoin cash back type of programs, but this is an amazing start.
As the price goes up and and the overall bitcoin supply goes down, this will become more important than ever. Currently, 85% of the total bitcoin supply is in circulation. Once it is all mined, even if every single millionaire on the planet wanted to obtain just ONE bitcoin, they won't be able to. There just isn't enough supply. This scarcity is a strong dynamic of supply and demand and will ultimately dictate the price.
Right now, this the BEST tool to earn free bitcoin on items you are already purchasing online. If you also want to earn bitcoin while shopping in stores as well, check out the review I mentioned in the first paragraph to use the Life Info App to start earning it as well.
Don't get left behind on this revolution. We are still "early" but as more and more awareness is brought to the table, the harder it will be to get bitcoin at all. Download the FREE Lolli Extension below now.
What do you think? Is there a better tool for earning free bitcoin while shopping online? Let us know down in the comments!
Cheers,
The Crypto Renegade
NOTE: This post may contain affiliate links. This adds no cost to you but it helps me focus on giving as much value as possible in every single post by being compensated for recommending products that help people succeed.