In this article, I will go into depth of the Ledger Nano S Review: 7 things you need to know before you buy it. The Ledger Nano S was the first (but definitely not the last) hardware wallet I ever bought, and the experience actually led me to create this website as I started learning more and more about crypto security.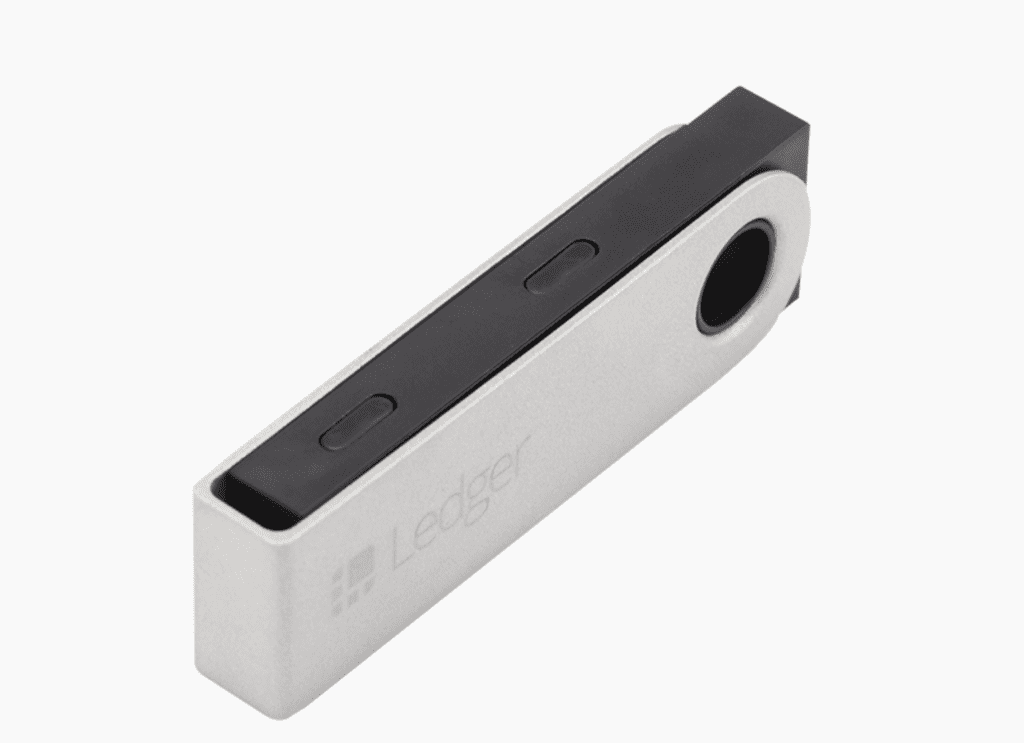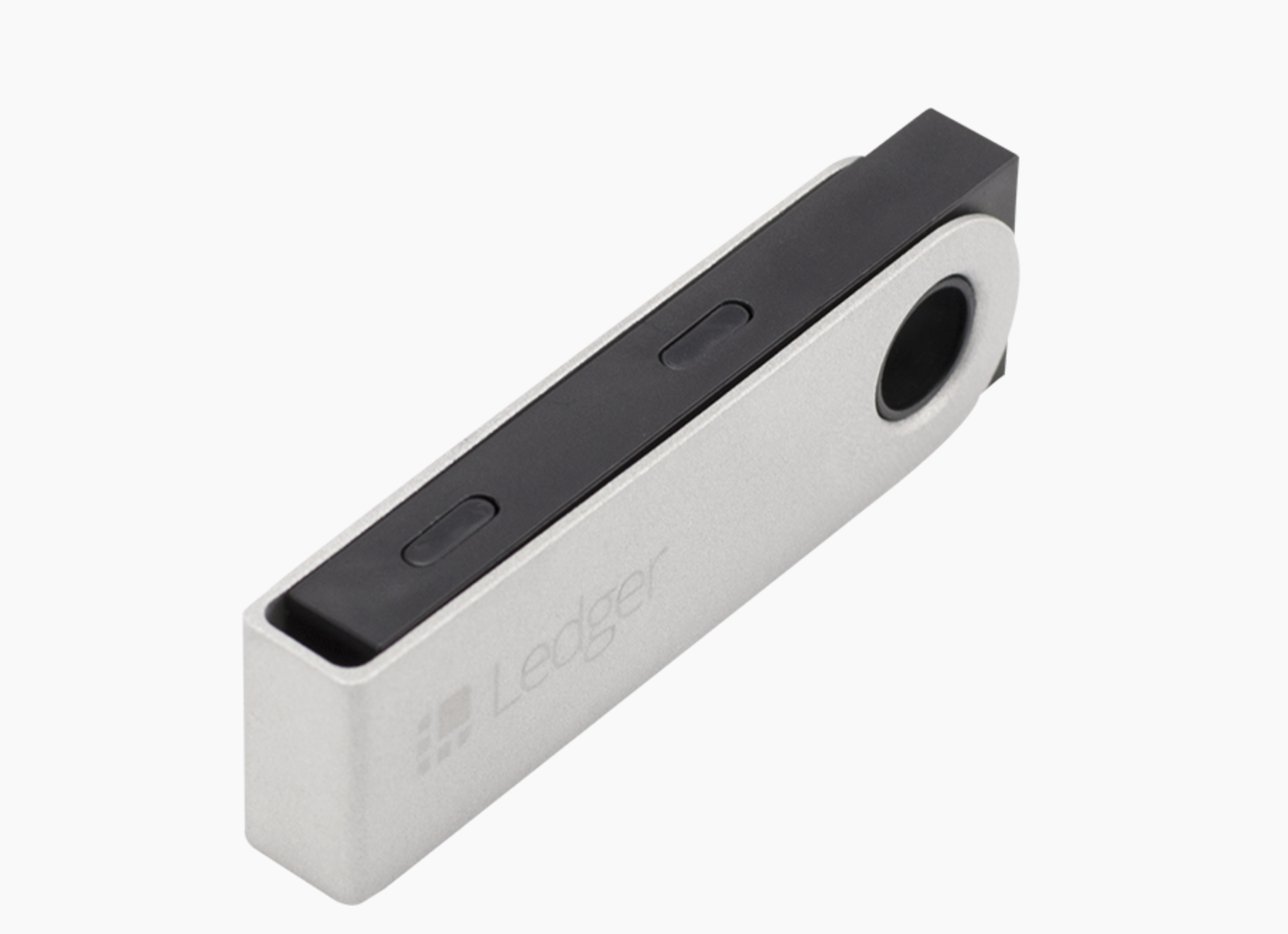 It was the second hardware wallet that came on the scene after the Trezor One device and implemented a new security structure and a new form factor to try and compete directly with the only trusted hardware wallet at the time.
When the Ledger Nano S started picking up momentum, it was because they started adding altcoin support at a rapid pace. This was exponential as Trezor only supported native apps for Bitcoin, Litecoin and Dogecoin by the time that Ledger had over 20 native apps for alt coin support with hundreds of new coins that were already in development.
This was a HUGE deal at the time, and only picked up steam as the 2017 bull run started and people began accumulating a wide array of altcoins for speculative investment. Today, the other competitors have caught up pretty well for the same level of support, but the Ledger Nano S still has an edge for certain coins that are supported, and that is a HUGE reason that I use this device on a semi-weekly basis to this day. There has been lots of progress and development on the device itself, the massive altcoin support, and the introduction of Ledger Live. Lets check it out below!
WHAT IS A HARDWARE WALLET AND WHY DO I NEED ONE?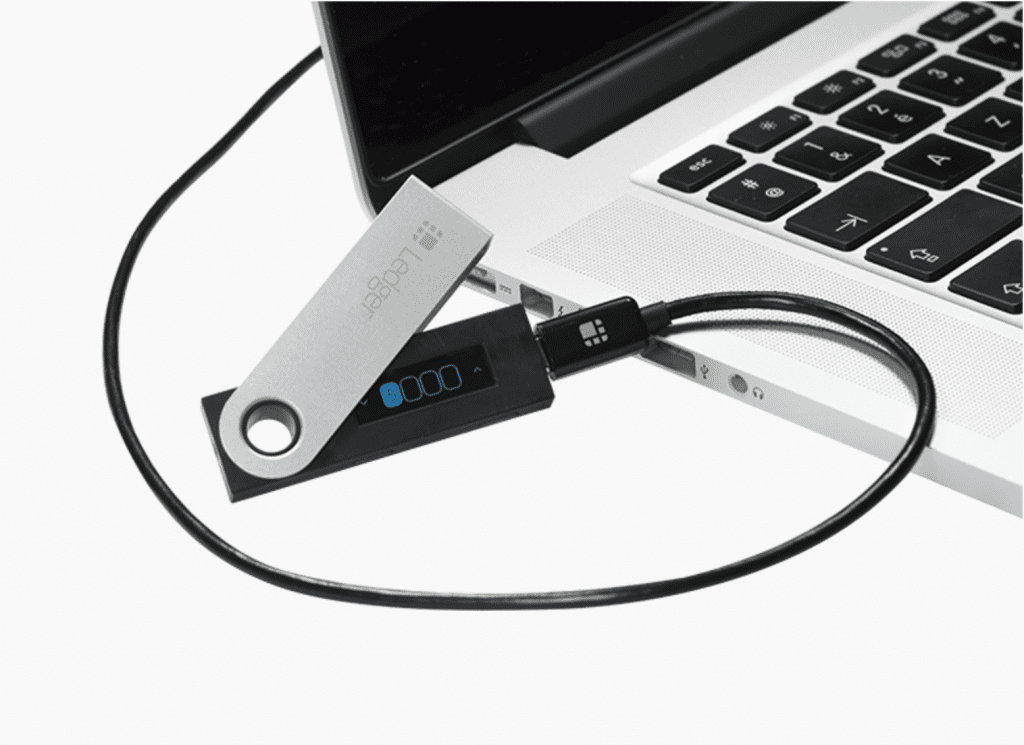 For those who are new to the cryptocurrency landscape, you may have heard that you need a hardware wallet. But, why? Well, when you receive your first bitcoin, whether it be in a mobile, desktop, or web wallet, you have the public key (your bitcoin address) and the private key (the secret key required to control (send/receive) your bitcoin. your PRIVATE KEY is the MOST important piece of this process, because without the private key, you do not own or have control of the coins in your wallet.
When you have your private keys connected to a "Hot Wallet" or a wallet that is directly connected to the internet, you run the risk of them being hacked or compromised. This is where hardware wallets come in. These are known as "Cold Wallets" or "Cold Storage" and has your private keys stored securely offline, so they are impervious to attack or compromise.
When becoming your own bank, this is a vital part of properly managing and securing your cryptocurrency. Hot wallets are good for everyday spending and ease of use (much like a fiat wallet you keep in your back pocket), but it is NOT ideal for longer term storage.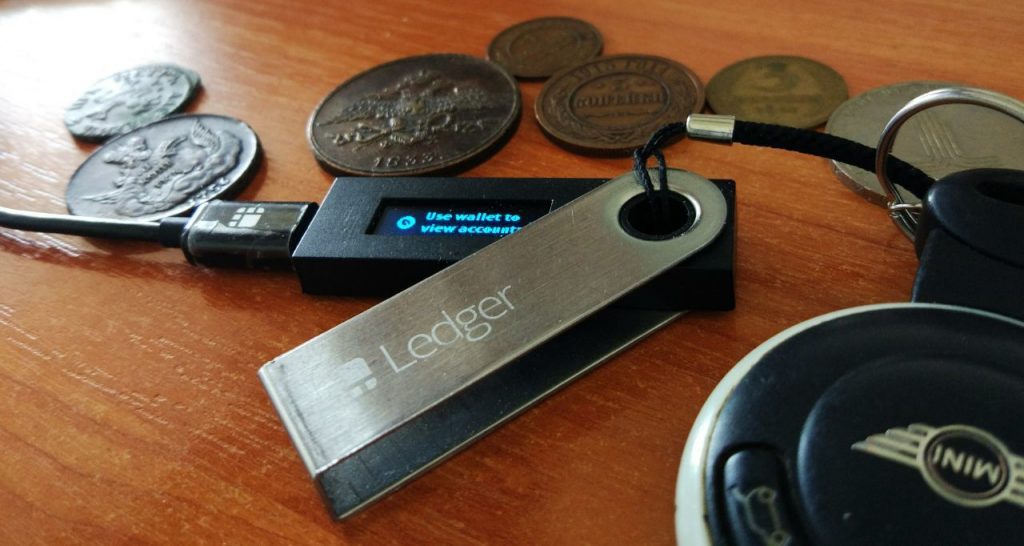 The Ledger Nano S is a very compact, sleek, and secure device that allows you to store over 1,100 cryptocurrencies at the time of this writing. This is crucial as more altcoins gain acceptance and you need a wide portfolio to protect longer term. Ledger takes their security very seriously and for good reason. There have been a number of exchange hacks and reports of people losing or having their wallets hacked by nefarious individuals throughout history. This is why having this device is so crucial.
Ledger Nano S is a device that is upgraded frequently with new features and firmware upgrades to ensure that it has the latest security protections and new assets being added every single month. Not to mention, it is currently the cheapest among the 3 best-known hardware wallet companies, starting at only $59 USD!
LEDGER NANO S REVIEW: HOW IS THE SECURITY?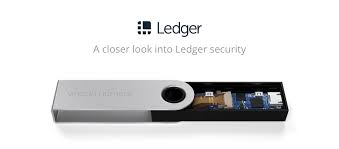 The Ledger Nano S has an A-grade security setup which sets it apart from the competition. It uses a secure element which holds and stores the private keys in a separate and secure environment from the rest of the operating system. This ensures that if for any reason the rest of the device is somehow compromised, you precious private keys are safe.
It also supports the standards BIP-39 protocol that requires you to setup a recovery seed phrase of 24 words during the initial setup, that allows you to restore your coins to any other wallet in the event you have broken, lost, or somehow cannot gain access to the device itself, so you have a fail safe.
(PRO-TIP: If you lose, rip, tear, get wet, or otherwise destroy your recovery seed, you are in serious trouble. I would recommend obtaining a CryptoSteel device as a metal backup for your recovery phrase that protects you against a fire, flood, earthquake, or your brand new puppy. This is STRONGLY recommended if there is ANY amount of cryptocurrency you would be financially damaged by losing. This is a literal metal vault for your backup system)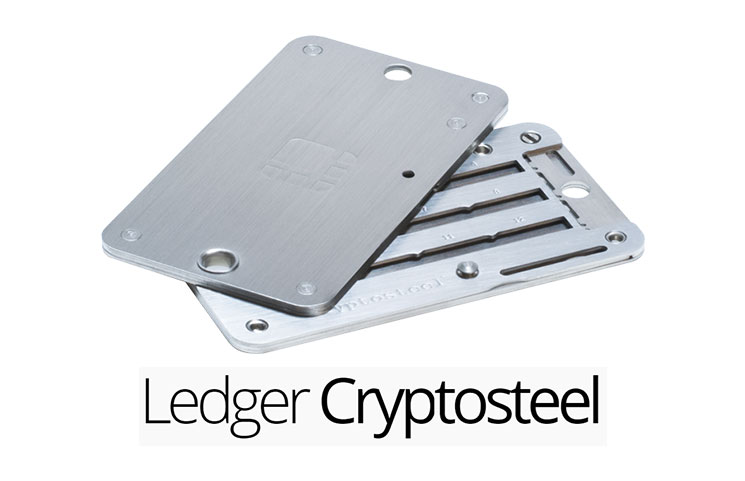 Additionally, they have a proprietary operating system known as BOLOS (Blockchain Open Ledger Operating System) that allows developers certain access to develop applications and a framework for them to add support for a wide spectrum of coins and stacks for scaling up. It is built with security in mind and to work comprehensively with the secure element by ensuring there is a smooth delivery of sensitive data when making a transaction using the Ledger Nano S.
In my opinion, this is one of the most secure devices out there, as it has built in several security checks for every action taken on the device, and if those checks have not been successfully executed, it will not move on to the next phase, making it even more secure. To me, this extra attention of securing my private keys provides me peace of mind even with an entry level device.
WHAT MAKES THE LEDGER NANO S DIFFERENT THAN TREZOR OR KEEPKEY?
I get this question a lot, as I use all three of these devices on a regular basis. Not only is this device the smallest of the bunch, it is the only one that has a built in screen protector in the form of a polished aluminum cover for ensuring the OLED display avoid scuffs and scratches during transit. The smaller form factor is an advantage and a disadvantage. The disadvantage to me if not being able to see the full address in one place when verifying a transaction.
It does end up scrolling to reveal the full address, but that can be difficult if you are trying to verify letter for letter for confirmation. The advantage would be it's very discreet and transportable. It slips easily into your pocket, or your keychain if you're so inclined. But, the largest notable difference is the specific coin support you can't get anywhere else on a hardware wallet.
As a HUGE advocate for privacy coins, I tend to favor these and accumulate them for personal investment and also private transactions, and as a result, I need a secure place to store them. To their credit, the other hardware wallets are working towards supporting these coins, but Ledger already has support for 2 of my favorite coins, Monero (XMR) and Zcash (ZEC).
Ledger also supports Zcoin (XZC) and a few others as well. These are support by Ledger Live (which I will go over in a minute), which is the native dashboard for managing native applications for these coins which is very convenient.
Additionally, this is the only hardware wallet (currently) that supports Tezos (XTZ), which has a very bright future in my opinion. Tezos is a POS coin that has a new unique blockchain consensus that rivals Ethereum on a number of levels, and I personally believe will be a top 10 coin very very soon.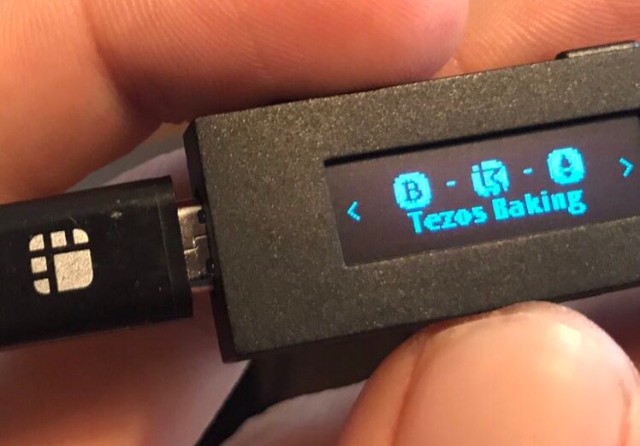 Not only that, when using Tezos you can "Stake" your coins while holding your private keys while ON the Ledger Nano S. This is HUGE, and is a main reason I use Ledger Nano S, since I like to participate in this process personally. No other hardware wallet has even announces plans for this kind of native support for this at the moment, which gives Ledger a massive edge over the other two in my opinion.
LEDGER NANO S DESIGN
I will keep this section short and sweet, as I addressed above, this is a sleek and compact device, which make its very stable and durable. It has a small OLED screen and 2 physical buttons. This is used for navigating apps, verifying your pin to access to the device, confirming a transaction, and generating the recovery seed words upon first time setup.
When entering in your PIN on the device, the right button will function as the "Up" arrow, and the left button the "Down" arrow for scrolling through your selections, then pressing both at the same time will confirm your selection, so it's pretty intuitive. It has a one port which is micro USB that connects to a cable to a standards USB port that can be used on a MAC or PC.
CLICK HERE TO BUY THE LEDGER NANO S
LEDGER LIVE – IS THE UPDATE WORTH IT?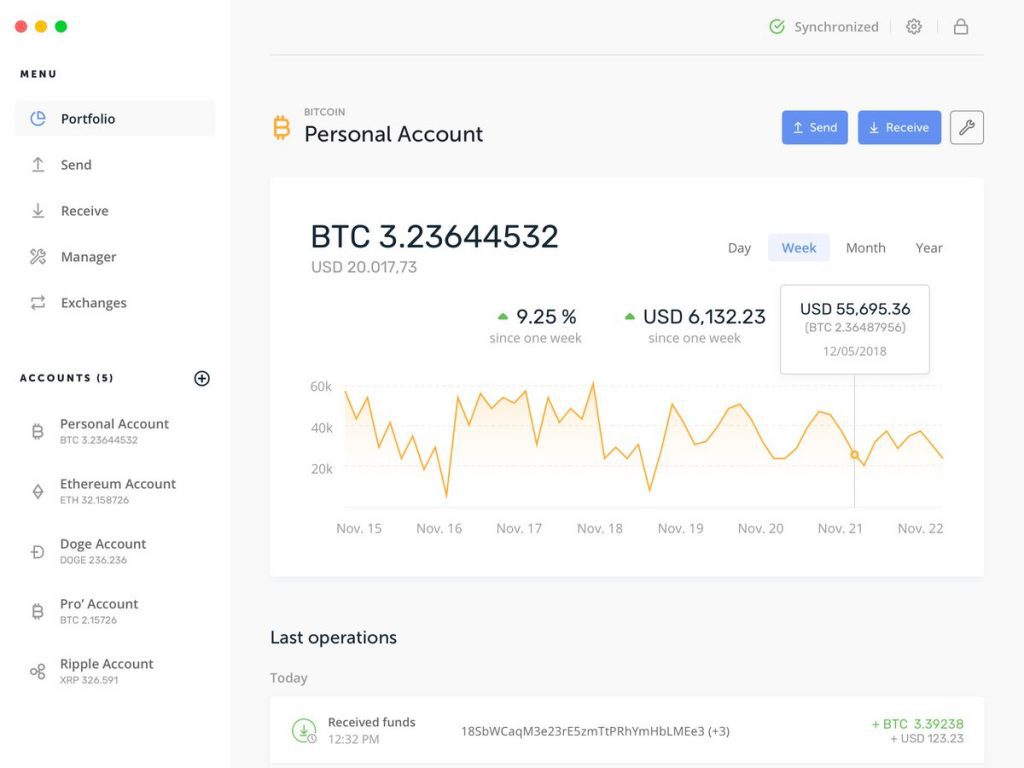 This was a MASSIVE upgrade from the chrome apps they were utilizing before. This new desktop app is very clean and seamless. They also have a new mobile app designed for use for the next generation product the Ledger Nano X (We will go over that in a future review) for wireless management. However, the desktop app is very clean and easy to navigate. The first thing once you connect and authenticate your device is a dashboard if you had already have an existing device, showing you your balances and charts on a single screen.
You can see your accounts on the left hand side, and you also see the "Ledger Manager" which is where you add and remove apps. When you perform any firmware upgrades, it requires you to delete the apps on your device (don't worry your coins are safe) and you re-install them after it is done.
When you first plug in and install the app on your desktop, it will ask you if you want to setup a new device or if you have a device that is already setup and then have you authenticate with the PIN. It will then check for any updates or firmware upgrades that are necessary for you to view your account. Once you have access, it's pretty easy to manage everything overall, and they have even introduced a way to "Buy Crypto" from such partners as "Coinmama" where you can purchase directly with a debit or credit card, and "Coinbase", which you can do they same and also use your bank account directly via ACH.
There is also a pricing history dashboard built right in, thanks to an integration with "Kraken" and "Bitfinex". This allows you to see trends and historical data, which may help you decide at-a-glance what you would like to do for managing your next transaction. Once you install an App, you can create multiple accounts and label them if need be, for managing and organizing your portfolio. The only one complaint I have with it, is if you do use a 3rd party wallet, like "MyEtherWallet", you have to leave the app and manage your funds on a 3rd party site. Overall, all the native apps work beautifully, and they are adding new coins and assets all the time.
CONCLUSION –
BOTTOMLINE
PROS:
-Very easy to setup if you have never used a hardware wallet before, you just need to download the desktop app from Ledger's website and follow the prompts once you connect it for the first time.
-It's the cheapest hardware wallet as of this writing at $59.00 USD. If you are just getting started and you only need a few coins to hold at once, this is easily the best intro wallet to keep your private keys stored offline.
-It has the widest range of native apps and newest coins being added all the time and being supported. You can click HERE to view their roadmap to see if your favorite coin is currently in development of being added to the platform.
-It is currently the only hardware wallet that natively supports Tezos (XTZ) and Monero (XMR) if you're a fan of those coins and other privacy coins in general.
CONS:
-The screen is small and if you're verifying your transaction address using the small screen, you have to wait for it to scroll, and then verify quickly the characters match before you can authorize the transaction. This is not ideal for a quick at a glance process to ensure the address you're sending to on the app, matches what shows on your device (VERY IMPORTANT).
– You can really only hold 3 or 4 apps on the device at once. I originally only kept 3 apps on the device, as those were the only coins I needed to add at the time. However, when I went to add a 4th, it told me I needed to remove an existing app to make room. The RAM or space is on the device is very limited, so it's good if you have only 2-3 coins you want to manage at once.
-They require you go through the process of removing and uninstalling all apps and then going in and reinstalling them for EVERY firmware update. This is tedious and really obnoxious for the serious hardware wallet user. I understand you need to have backups and be careful with every upgrade but c'mon, this is the only device I have this issue with.
As you can see, overall this a is a very solid entry level wallet with top notch security. I recommend if you are a brand new hardware wallet user and you are just dipping your toe into this large pond, this is your best bet. It has a clean, easy to follow interface and you can get started at the cheapest price of only $59.00 to start.
If you do not plan on holding MANY different coins at once on the same wallet, this is the wallet for you. Now, you can use 3rd party wallets to integrate it with, but that's an entirely different learning curve. If you want to hold 3-5 coins to start and get it done simply and effortlessly, this is where I personally started and I recommend you start.
PURCHASE LEDGER NANO S FROM LEDGER'S OFFICIAL SITE
What do you think? Is there a better wallet you recommend for people getting started? Let me know in the comments below!
Cheers,
The Crypto Renegade
NOTE: This post may contain affiliate links. This adds no cost to you but it helps me focus on giving as much value as possible in every single post by being compensated for recommending products that help people succeed.