In this review, we are going to deep-dive into the new hardware wallet by SecuX! Does the SecuX V20 a better user experience than the Ledger Nano X? Does It work with Bluetooth? How secure is this relatively new wallet? Does it provide a better hardware wallet experience than the main competitors? We are going to answer all of these questions and more in this in-depth review, so stay tuned!
Now, let's get into the final of 3 reviews of the SecuX hardware wallets. You can find the review of the SecuX W10 device HERE. Starting from this one, (their top-tier device) all the way to their entry-level device the SecuX W10. Let's get right to it!
SecuX V20 – First Impression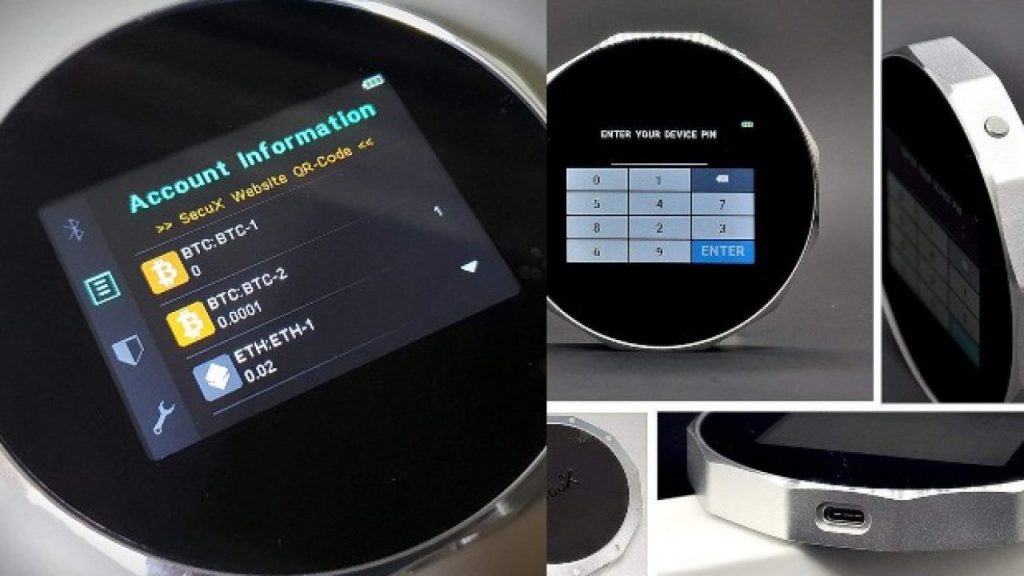 After unboxing and looking at the SecuX V20 device, I was pleasantly surprised that the overall quality and screen size was much larger than other mid-tier devices in this price range, such as the Ledger Nano X and the Trezor Model T. Now, those devices are classic and original devices, but they are tiny and made of a somewhat flimsy, plastic form-factor.
This device has a beautiful brushed aluminum reinforced hardware wallet. It has a clean flat display and the back has a durable padding rubber-like backing that is built for abuse and stability. I would have no qualms with dropping this device as it's built very solidly and feels heavy in your hand, unlike their entry-level devices. The SecuX V20 has only one MicroUSB port and one button for activating the device and for 2FA. 
The SecuX V20 device is the only one with a unique form factor and octagon design that is very sleek and very durable. This device is connected by bluetooth! That means it has wireless support and can be managed with full functionality by the SecuX app for iOS and Android. It also has a USB cable, so it can be managed online with a web wallet as well, hence, why it's considered a "Cross-Platform" device.
The unique and notable coins that are natively supported on these devices is Groestlcoin (GRS) and Ripple (XRP). Not many hardware wallets support these coins natively, however, almost all hardware wallets support an array of ERC-20 tokens and your main-stream coins, like BTC and ETH.
Features & Price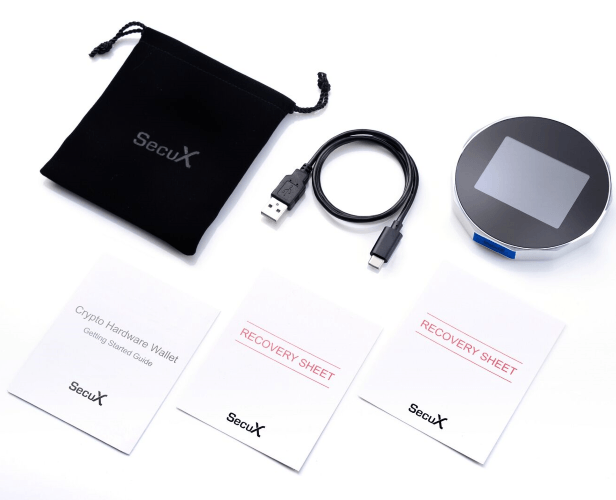 This device comes in at an entry price of $149 and is a USB connected device that does connect to a web application that allows you to fully manage the device. With a 2.8 inch color touch screen, you can use to manage and authorize transactions.
The picture below showcases the key features of this device, is the "Cross-Platform Support", which means it can be managed via desktop, laptop, and mobile. Now, as I mentioned this device CAN conduct transactions via the mobile app, but also the Secux W20 can too, as they are bluetooth enabled. 
This truly is one of the first multiple platform devices that you can manage on the big desktop screen, as well as wirelessly on the go. It has a 600mAH battery which can be charged from an empty battery within 30 minutes on the second charge
Security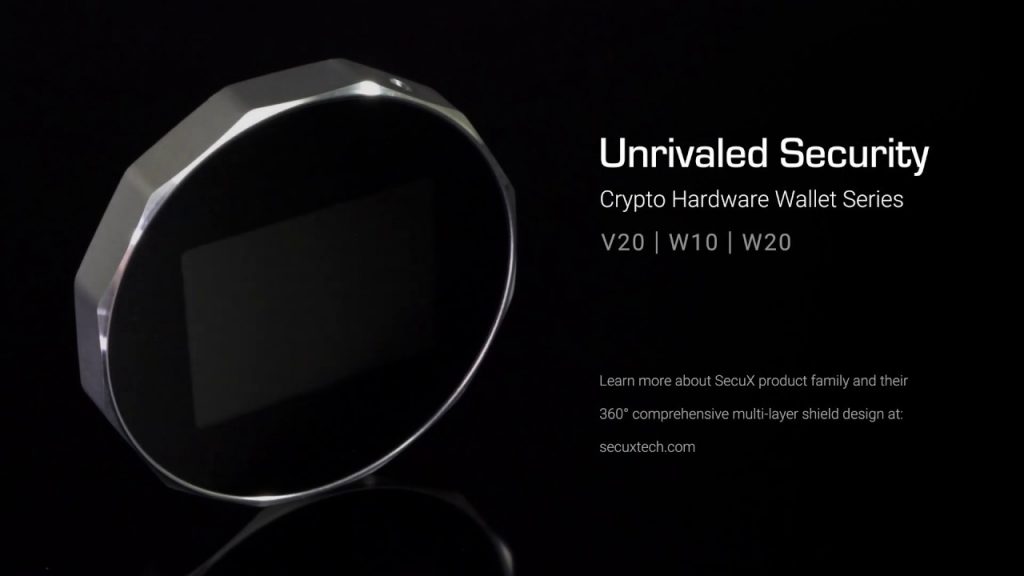 The SecuX V20  is placed with a CC EAL 5+ Certified Security Element (SE) which always ensures that stored private keys, as well as the device PIN code, are perfectly protected against any form of attack. Other significant security features include:
Pre-installed tamper-resistant firmware as well as an upgrade system

Physical confirmation for every transaction

A one-time password or custom PIN code for controlling device access or the wallet apps

Anti-tamper packaging

Randomized digital keyboard for preventing consequences of keystrokes

Also, the wallet complies with the BIP32, BIP39 and BIP44 standards which allow the user to generate passwords of 12, 18 and 24 words for funds recovery.
Coins Supported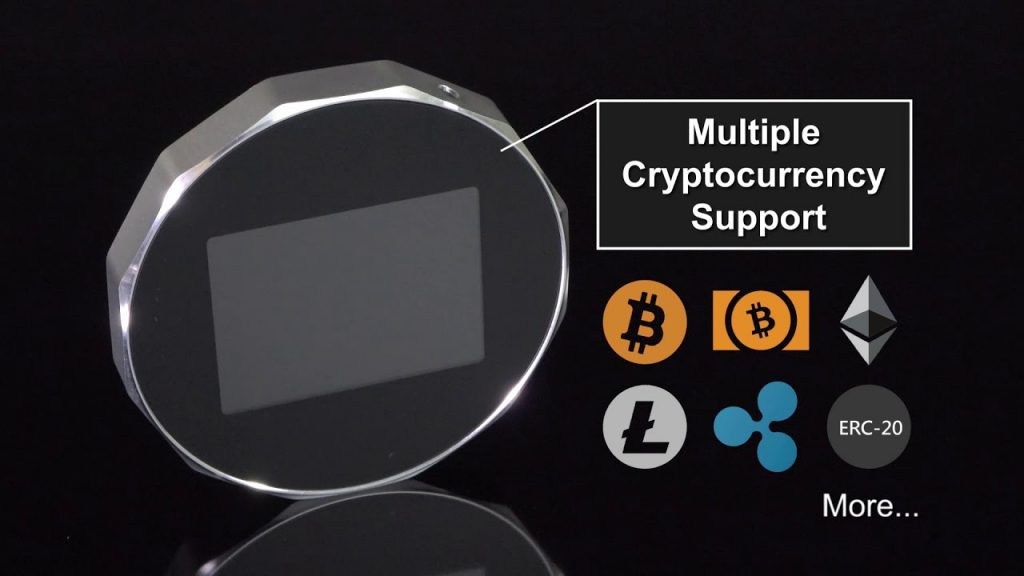 This is usually the most important factor when considering the hardware that you choose. This entry level wallet from SecuX has support for the following coins as of this writing: BTC, ETH, XRP, BCH, GRS and LTC. It also supports all ERC-20 tokens as well.
Luckily, they update the firmware frequently and they plan on adding more coins as well in the near future. If you are new to "HODLing" and you do not need any specific coins outside of these top market cap coins and ERC-20 Ethereum-based tokens to start, then this is a good option.
Secux V20 – Conclusion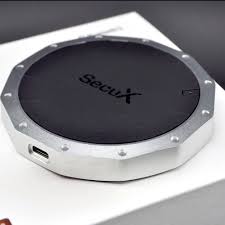 Overall, the SecuX V20 is a robust, and very secure wallet. For the price point, features and capabilities, the only thing that is comparable is the Ledger Nano X, which is also a bluetooth and wireless crypto wallet using the same security chip.
With the Ledger Nano X, it comes in a little cheaper at $119, and it also allows you to hold 100 apps (or different cryptocurrencies simultaneously), but it comes in a cheap and somewhat flimsy plastic enclosure that has a very tiny screen. Personally, I prefer a larger display and I've used almost all (if not all) hardware wallets out there, and confirming the address you're sending to is MUCH easier to do on a large, bright, full color display. Additionally, this device has QR code support, which makes it easier when sending funds from a mobile wallet directly to your hardware wallet.
The one thing I did NOT like about the SecuX V20 is the lack of coin support with only 6 coins supported natively, and a handful of more coins to be supported in the future. If you plan on only "HODLing" the top 5 market-cap coins and perhaps a few ERC-20 tokens, I would probably say this is a better option and has a much cleaner and larger display for managing and verifying transactions.
With my discount, (Code: BITCOINLOCKUP), it will take the price to around $134 and free shipping. When compared to other entry level wallets, you can't beat the sturdiness and large screen (which is more important than you think), when managing your assets offline.
What do you think? Is this a new contender for top-tier level hardware wallets? Let us know what you think down below!
Cheers,
The Crypto Renegade
NOTE: This post may contain affiliate links. This adds no cost to you but it helps me focus on giving as much value as possible in every single post by being compensated for recommending products that help people succeed.