It's finally here! Shapeshift's New Platform launches today! I have been using their beta platform for several months now reporting bugs and helping add some user friendly features by reporting feedback and ways to improve this brand new non custodial platform. I wrote a pretty in-depth review of the beta a few weeks back, so I won't rehash the entire user experience here, so I will link that review so you can get the nitty-gritty details HERE.
This is an exciting time for cryptocurrency in general. Facebook is launching a controversial new coin called "Libra". The government has sent a request to have the development of it stopped so they can review it and "approve" it before it's released. The audacity of this, as if they have any say in what private organizations can and cannot work on is baffling, but I digress.
I will briefly detail below some of the key features and benefits of using this platform and non custodial exchange for all your crypto asset management.
Trade Assets Offline
The cornerstone feature here (in my opinion) is the fact that we can perform trading assets while having our private keys kept completely offline via the KeepKey (Or Trezor). They are also planning to add Ledger support soon as well, but the easiest hardware wallet to use is by far the KeepKey, as it was the primary wallet used during beta.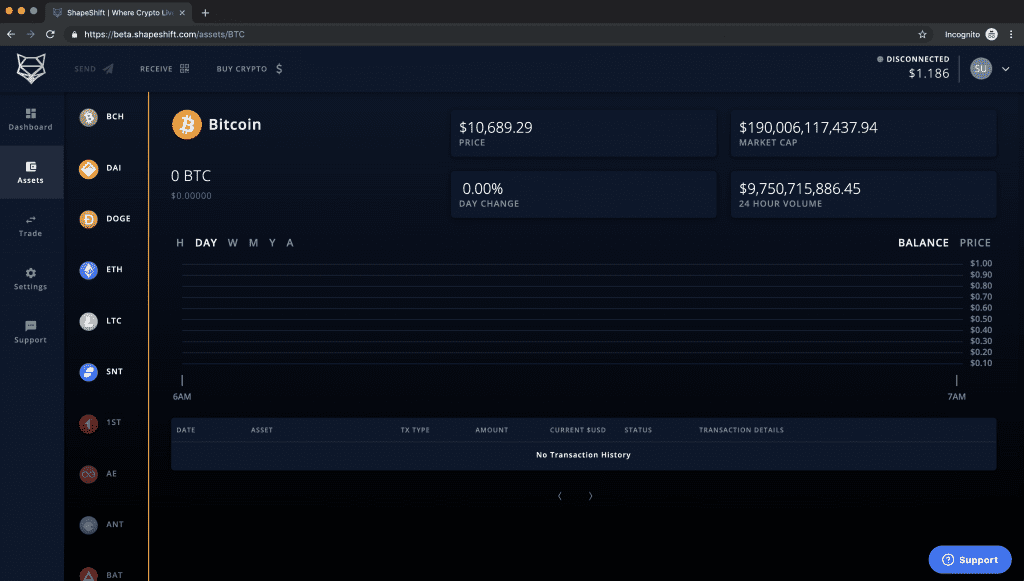 As you can see above, the dashboard is very streamlined and easy to view and manage the assets you can trade, view the balance and the price, view market cap, and so much more. The ability to have all the information I need in one place is very convenient. additionally, I can view my portfolio without having my hardware wallet present. In fact, I only need it to sign a transaction. Once you sign, you can disconnected it and it will be transferred to your wallet balance immediately and be reflected next time you connect.
Shapeshift has really thought of the user experience and making it easy for anyone of any skill level and knowledge of crypto to safely manage their private keys and learn how to trade using this platform.  Now that the platform is out of beta, they will be focusing on adding more assets being added to the platform for trade and asset management. As this is also a trade engine, as well as a portfolio manager, incorporating more detailed analytics will only improve upon this foundation.
Manage Your Portfolio In One Location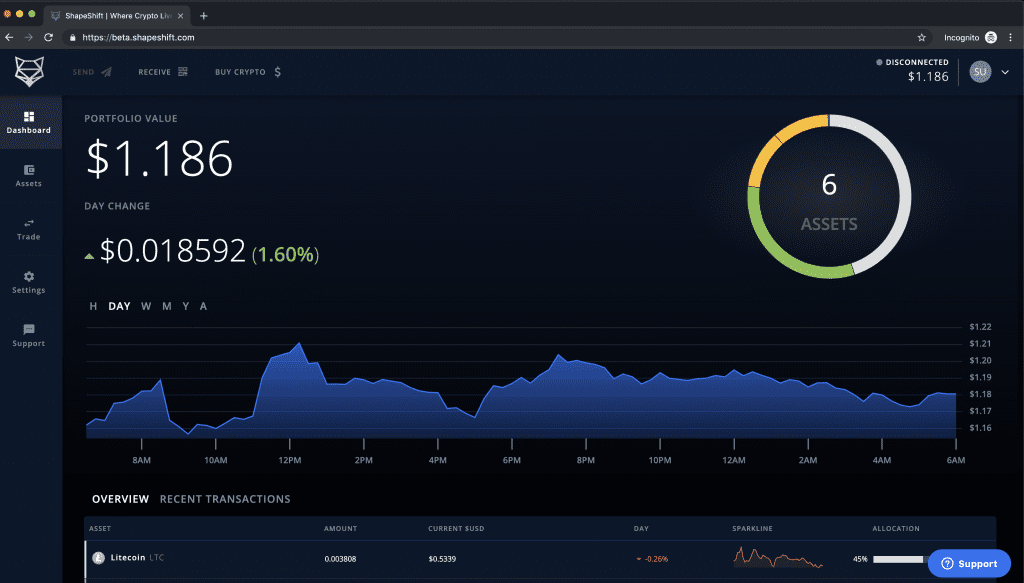 Here are some of the touted features of this platform, and why you should sign up for free HERE:
1.) Shapeshift Trading – You can seamlessly buy, sell, or trade dozens or crypto assets directly in the platform. Trading is non-custodial, so there is no need to trust a third party. This is a MASSIVE plus and a differentiator from any other exchange out there.
2.) Hardware Security – Utilize the best practice of offline security. Retain control of your private keys while enjoying an intuitive web interface. This is the best of both worlds and I will add that this is not currently possible on any other hardware wallet platform currently.
3.) Real Time Market Data – Get real-time market prices and historical data without ever having to leave the interface. This means no extra tabs or historical charts from any other 3rd-party site that you have to toggle between to get the data you need. This allows you to enjoy a beautiful ad-free experience.
4.) Portfolio Performance – Visualize your portfolio performance through graphs, sparklines, and real-time value movement. View your dashboard balances at anytime, anywhere. Your hardware wallet only needs to be connected for signing transactions.
The video below gives you a quick demo of how this works. It truly is a unique hardware wallet experience.
Shapeshift's New Platform: Conclusion
After personally testing this platform and providing feedback and improvements for several months, I am very proud of what the Shapeshift team has accomplished. I am also excited to see how it expands with other hardware and new features and coins that will be added. There is NO other exchange that offers non-custodial trading, and to me that is a HUGE deal.
Part of "Becoming Your Own Bank" means maintaining full control over your funds at all times and not having to put trust in anyone but yourself. Self sovereign finance is the way of the future, and that is very exciting to see how this will continue to play out as adoption continues to snowball.
***CLICK HERE TO BUY KEEPKEY FOR 50% OFF FOR A LIMITED TIME ONLY***
Just click the above link and use code "GENESISFOX" at checkout
What do you guys think? Are you excited for the revolutionary change in asset management? Let me know in the comments below!
Cheers,
The Crypto Renegade
NOTE: This post may contain affiliate links. This adds no cost to you but it helps me focus on giving as much value as possible in every single post by being compensated for recommending products that help people succeed.