In this article, I will tell you how to buy bitcoins with Paypal instantly. Some of us on our journey for buying our first bitcoin, we look at the funding source from which we want to pay for it. In some cases it may be your bank account, in others it could be with a debit or credit card, but what if you have some funds sitting in Paypal and you would like to use that as a payment method directly?
hLuckily, this can be done and some methods are more legitimate than others. I am going to include the best ways (in order) to do complete this process, but keep in mind that Paypal will include additional fees to buy bitcoin that can range from 10-20% more than the actual price you agree to, as Paypal is factoring in the risk of a charge back into the purchase price. Let's begin!
#1 BUY BITCOIN ON
ETORO
VIA PAYPAL
Step 1 – Open Your Account
– Visit the eToro homepage- Click the 'Join Now' button- Fill out the sign-up page, accepting the terms and conditions and privacy policy before clicking 'Create Account'
Step 2 – Deposit Funds with Paypal
– Log in to your eToro account- Click on the 'Deposit Funds' button- Submit the amount you wish to deposit and select your currency- Select your deposit method – in this case, PayPal- You'll then be redirected to the PayPal website- Log in to your PayPal account- Review your transaction details- Verify the details and complete the transaction by clicking 'Pay'
Step 3 – Buy Bitcoin!
Visit the BTC markets page on eToro

Click the blue 'Trade' button in the top right-hand corner

Alternatively, you can click 'Buy' next to Bitcoin if you have added it to your Watchlist

Enter the amount of Bitcoin you wish to buy in fiat currency

Set stop losses and 'take profit' parameters- Click 'Open Trade'
#2 BUY BITCOIN ON
COINBASE
VIA PAYPAL
*Disclaimer: Using the e-wallet via Coinbase (web or iOS) requires you to be a U.S. investor. If you are not an American, you can still link your Paypal account to Coinbase, but you can't physically buy Bitcoin, Litecoin, or Ethereum. In order to use PayPal for non-US customers is to swap your Bitcoin for a fiat currency and transfer this back to your Paypal account.*
Visit the Coinbase homepage

Click on the 'Sign Up' button in the top right-hand corner

Complete the sign-up form and hit the 'Create Account' button

Activate your Coinbase account by clicking on the confirmation link in your sign-up email
Step 2- Deposit Funds with Paypal
Log in to your

Coinbase

account

Click the 'Settings' tab on the left-hand side

Click 'Add a Payment Method'

Click 'PayPal Account' and verify your PayPal account using the on-screen prompts
Step 3 – Buy Bitcoin!
Log in to your Coinbase account

On the Dashboard, click the 'Buy/Sell' button at the top of the page

On the Buy/Sell window, click the Bitcoin button

Choose your preferred payment method e.g. PayPal

Specify the amount of Bitcoin you want in your fiat currency

Hit 'Buy Bitcoin Instantly'
#3 BUY BITCOIN IN PERSON VIA PAYPAL (
LOCAL BITCOINS
)
Step 1 – Sign Up (If you haven't already)
Click this link for a direct way to do this! – SIGN UP
Step 2 – Filter for Paypal
Paypal Tips:
High feedback scores are important. The closer to 100 percent, the better.

Look at the number of trades and trade volume. Again, the higher, the better.

Consider the trade limits to be sure the seller can fill your order.

Look at the payment window to see how long you have to complete the transaction.

Read any terms the seller might have. In some cases, the seller will also require a minimum reputation score for the buyer. If this is the case, you'll have to make some small purchases to increase your reputation if you want to use that specific seller.
Step 3 – Confirm Transaction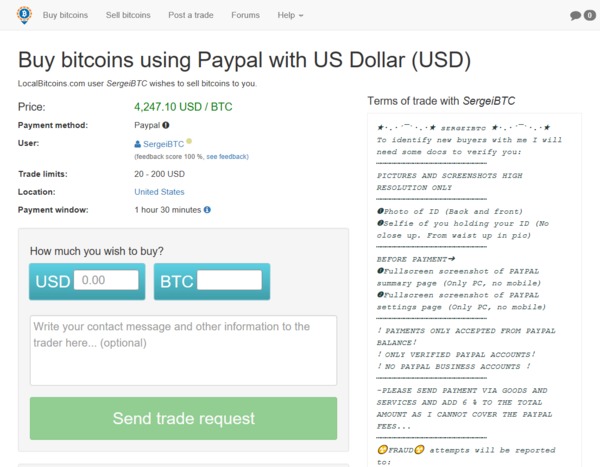 This is documented in case of a dispute, but as long as you follow the tips above, that is unlikely. You can also negotiate to meet in person to initiate this process, if needed.
CONCLUSION
There are still other options to buy bitcoin with Paypal online, but those other options I have not personally used or tested and therefore, I cannot speak to how legitimate the entire process is. For your reference if you want to see what some other options are, I will link them below for you to take a look. Well, there you have it. Three tried and true ways to buy bitcoin online with Paypal and usually goes pretty quickly. This is a good option if you have funds sitting in Paypal and want to convert it into the far more valuable currency of the future.
NOTE: The other sites I will list below will allow other options for credit cards and other payment methods as well.
If you found this helpful or you have any other suggestions on other sources to obtain bitcoin securely and easily, please comment below!
Cheers,
The Crypto Renegade
NOTE: This post may contain affiliate links. This adds no cost to you but it helps me focus on giving as much value as possible in every single post by being compensated for recommending products that help people succeed.