In this article, I will review Shapeshift's brand new platform! I've always been a fan of ShapeShift, and in fact, Erik Voorhees is one of the inspiring figures that helped get me into the crypto space to begin with, as we share a lot of the same fundamental philosophies on freedom and liberty. That's why I was thrilled and honored when I was asked to join the private beta to test out the new platform, especially since I have a KeepKey and I use it frequently to manage my crypto on a regular basis.
It did not disappoint.
**Keep in mind that this is currently in BETA, and is not finalized in terms of design, complete look and feel, or full functionality**
This is a complete overhaul that includes all of their services including: Instant Trades, Real-Time Market Data via CoinCap, In-App Crypto Purchases, and KeepKey Integration. That last part is of particular interest to me because I've wanted to find a way to execute purchases and trades while having my KeepKey connected, while ensuring that my private keys are protected throughout the entire process.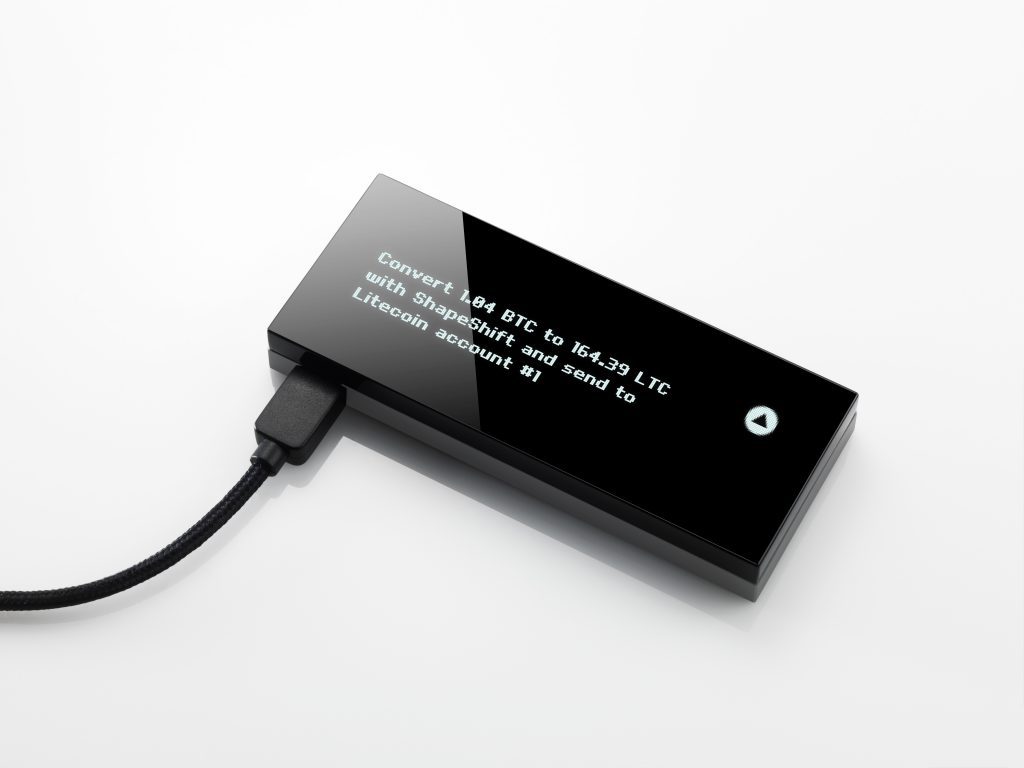 This is a very important detail, especially if you want to make purchases online with that extra protection and also ensure that my private keys are never compromised in a trade. This truly is the ultimate non-custodial hardware wallet solution. Here's a few screenshots and user flows based on my experience using this web app.
When first gaining access to beta.shapeshift.com, you will be asked to register for a trading account (if you haven't already), so that you can seamlessly use the trade feature in the dashboard when your KeepKey is connected. Second, you will plug in your KeepKey and it will notice you will need a new firmware update to "Pair" your KeepKey to the new platform.
This will require a few steps of plugging in the device and unplugging it a few times to confirm this upgrade. Additionally, it will pull up the random number generator here so you can enter the PIN that is listed on the device screen to sync and authenticate your device and session.
This where the fun begins.
Shapeshift Beta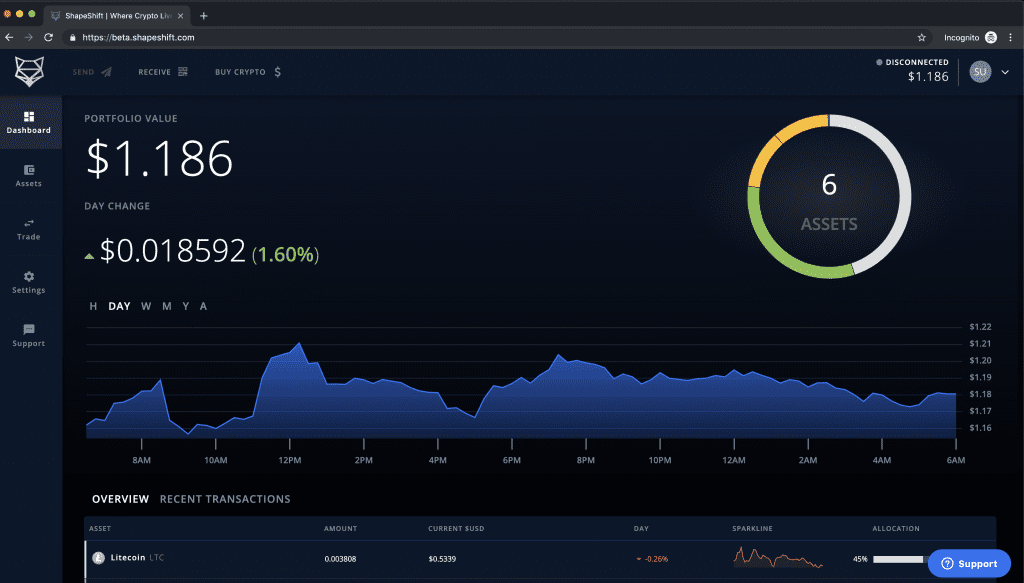 (PRO-TIP: You can view all of your transaction history, assets, current prices of assets and contents of your KeepKey WITHOUT having it plugged in. This can provide you a quick snapshot of where everything stands, even if your device is not present)
As you can see below, this a very clean, simple, and easy to user interface. You have all the key information at a glance that you need to manage your portfolio. It show's your asset allocations, any losses or gains of your combined assets in real time, and the most recent transaction history below the chart. In the top right, it will show if your device is synced and connected, and will show your current fiat value of each individual asset if you drill down, or the combined asset value as a whole. At a glance, this is the information most people need to decide what action they need to take next.
ASSETS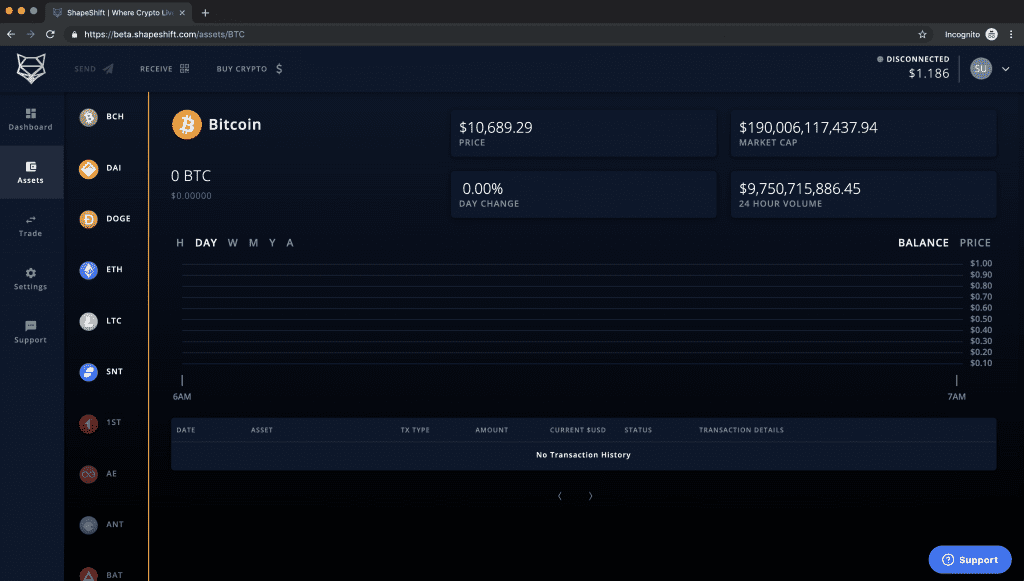 The assets you see here are just a handful of the assets that are supported. If you would like to see the full asset support list, click here. At the top, you will see the 2 assets I have been using to test this software in order from the most USD value, to the least on my KeepKey at the time. The assets that you see below that are greyed out will show you what's supported and available for you to receive on your KeepKey when ready. Each asset breaks down the charts over time in terms of price and you have a toggle view with the balance. Pretty slick.
TRADE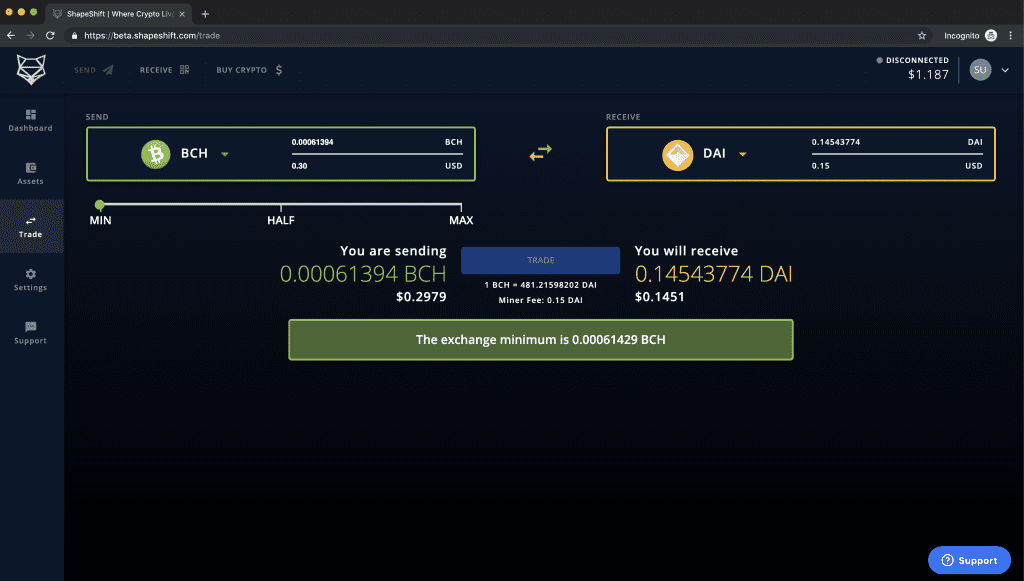 The trade feature is super easy to use and automatically calculates any minimums or fees needed in order to execute a trade, almost instantly. One thing I will point out is that some assets that are supported on the KeepKey itself, may not be available to trade via the ShapeShift platform, like SPANK for example.
If your particular coin is not showing in the drop down menu when swapping assets, it simply means it's not supported on the ShapeShift trade engine. Another key feature is that all trades are executed on the KeepKey device directly, so you don't have to risk exposing your private keys while they are in transit. This is a mix of the classic ShapeShift trade engine, but is simplified and integrates with your hardware wallet very seamlessly.
PURCHASE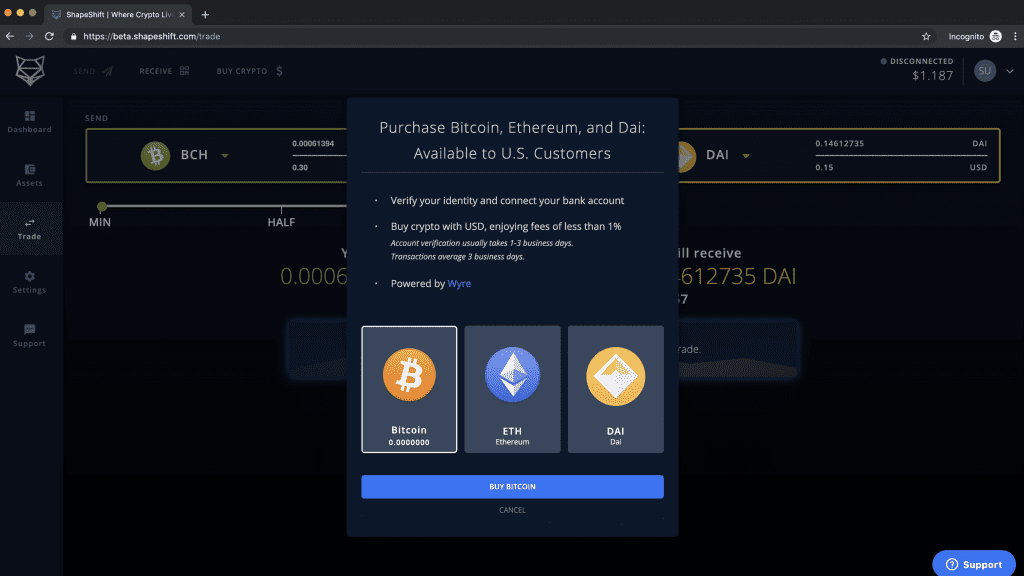 This is done via a new feature they have been testing out with a button "Buy Crypto $" at the top, next to "Send" and "Receive". This is facilitated through Wyre, which is a 3rd party platform that you can purchase crypto with your bank account or credit card. I have not tried this feature yet, but I plan to shortly. This is just another great design decision where you have a platform with both on and off-ramp needed for users or all levels.
As you can see in the screenshot, you can buy Bitcoin, Ether, or DAI to get started and you will have an array of options to trade with directly on the platform once you've completed this process. Now, you can easily receive any amount of crypto with any of the supported assets on this list directly to your KeepKey (or without) that you have at another address. You also can receive any amount to the platform and once you connect the KeepKey, your private keys will automatically be transferred onto your device, and will update the dashboard when it syncs.
One thing that really makes this trading platform special is the fact that you are not restricted to trading pairs. for instance, when you are wanting to trade multiple coins and you're on Binance for example, you need to first get BTC, then from there you can trade into any altcoin they support. Here, if you have a supported coin, you can directly swap it for another and not have to default back to BTC in order to pull the trigger. That's a game changer for me.
STABLE COINS (EASTER EGG)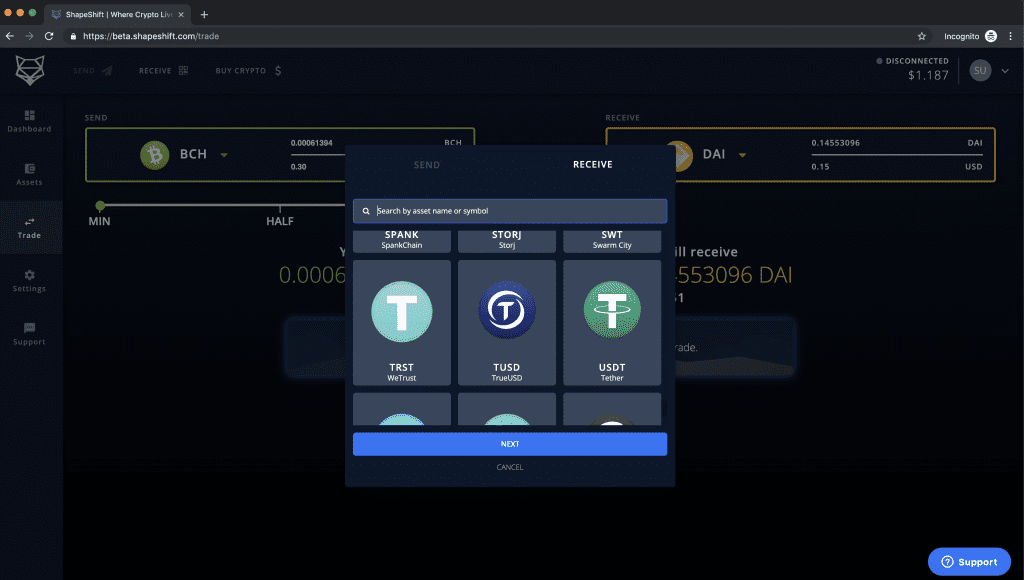 This was a pleasant surprise to find that assets are able to be converted into various stable coins directly in the system. This is especially helpful if you are trying to lock in profits on a recent trade and have it stand idle until you either decide to invest your profits into another asset or simply wait for another trade.
Unlike the Ledger Nano S that only lets you hold a handful of apps on your device at one time, this allows you to have any assets private keys on a single device at any given time. As seen above, they also feature DAI (Ethereum's Stable Coin) as well that is a very welcome addition to the stable coin list.
Below are some caveats and things that will hopefully be added over time. I am already thrilled by how my beta experience has been so far and I know that it will only continue to get better and better.
[One Caveat: You cannot complete any trades unless your device is there to sign and confirm the transaction.]
WISH LIST:
It would be nice to facilitate a trade from the

ShapeShift

mobile app to lock in a trade price on the go and then sync the private keys when I logged in via the web app
Support multiple browsers: Currently the WebUSB function in the beta only supports Chrome as a browser. I hope they widen this to Firefox (No pun intended), and hopefully

Brave

soon. I understand they do not currently support WebUSB yet, but the request has been put in.
Allow me to view my balance with "Satoshis" instead of fiat. At very least you should be able to toggle between the denominations and should support us looking at pricing in those terms.
The ability to label certain accounts on transactions. For instance, if I receive a transaction from another exchange or wallet to my

KeepKey

as in coming transaction, it would be nice to customize and label the transaction for my records. (i.e. savings/day-to-day spending/groceries, etc….)
At this point, these are just nice-to-have's and with that said, this is just the first iteration of the beta. I am sure there are many new features and integrations planned for the future to make this even better, but that takes time and developer resources to properly implement them.
CLICK HERE TO PURCHASE KEEPKEY DIRECTLY FROM SHAPESHIFT!
CONCLUSION:
I don't think I've been this excited when using my hardware wallet, since I first discovered them in 2016. There is no doubt that I have a new favorite user experience and I plan on helping improve this process in any way that I can to help inform people the best and easiest way to manage their portfolio and private keys.
CLICK HERE TO RESERVE ACCESS TO THE NEW SHAPESHIFT
You will be BLOWN away.
(PRO-TIP: Once you sign up via my link, you will get your own referral link. If you refer 5 people via your link and they sign up for a ShapeShift account, you will be given a code for a FREE KeepKey, in case you don't already have one.)
Cheers,
The Crypto Renegade
NOTE: This post may contain affiliate links. This adds no cost to you but it helps me focus on giving as much value as possible in every single post by being compensated for recommending products that help people succeed.