Is the Cobo Vault the best unbreakable crypto hardware wallet of 2019? Is it as tough and inpenetrable as they claim? Stay tuned for the whole Cobo Vault Review to find out! I recently wrote an article on an upcoming device that appears to be directly competing with this product called the Ellipal Titan. If you want to read that review after this one to get kind of a side-by-side comparison, you can check out the in-depth first look of that device HERE.
Overall, my first impression of this device was very good. It appears to be targeting an entirely different segment of the cold storage crypto wallet market, which is something I obviously follow quite closely. They are marketing this as a "Military Grade Durability and Security" device, which is definitely the case as it has all the proper ratings a certifications to protect against impact, water resistance, and shock resistance to ensure it is as rugged as humanly possible.
If you are new to cryptocurrency security in general, please check out my free e-book HERE. This dives in deep on the basic (and some advanced) security tips on how to best manage your cryptocurrency by learning from my mistakes. I guarantee you will learn something new and it will help you on your crypto journey! So, let's get to why you are here and jump right into the Cobo Vault Review. Let's do this!
What's In The Box?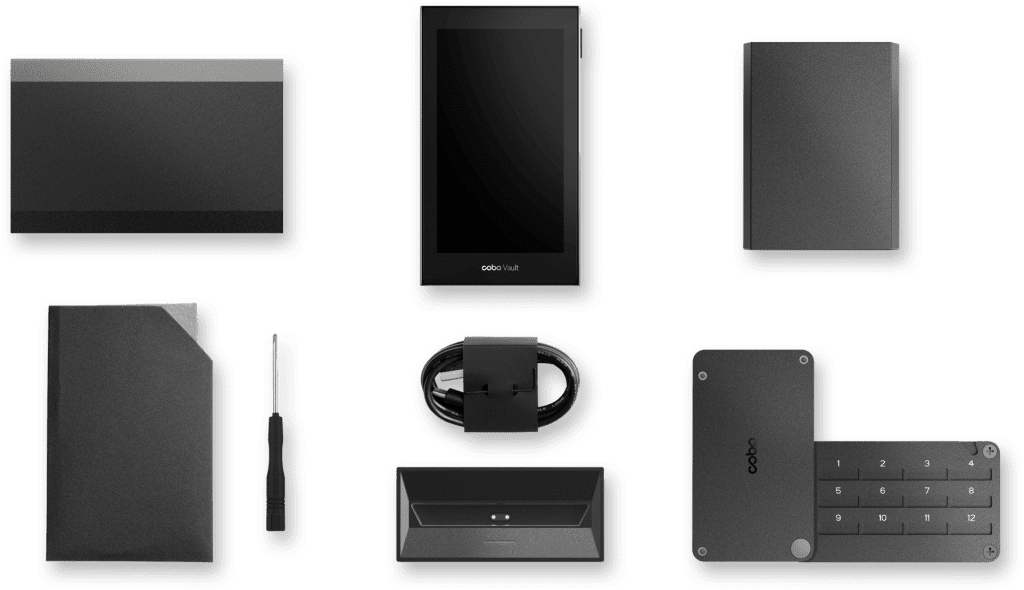 There's a lot of bang for your buck here and certainly attempts to justify it's current price tag of $479. This is no ordinary crypto hardware wallet, this thing is very different than Ledger, Trezor, and KeepKey as there are no active ports or USB connectors to allow you to interface with this product. I will get more into this in the next section, but needless to say this is a unique device!
Here's what comes in the box:
-Cobo Vault Hardware Wallet (4 inch touchscreen)
-The Cobo "Vault" (Houses The Device)
-A Removable 1540 mAH Battery
-Charging Dock
-USB-C Cable (For Charging)
-Mnemonic Steel Recovery Seed Device
-Steel Tiles For Recovery Seed Phrase
-Small Screwdriver
-Instruction Booklet
The box is very large and feels heavy when you get it because of the steel grade quality of all of the components. There is an unboxing video below that will explain how this all works and gives you a visual cue of everything that is included and what each piece is used for.
The most "compelling" piece to me here is the steel mnemonic tablet that is used to secure your 24 word seed phrase. This is TYPICALLY used by other providers by writing it down on paper, which is vulnerable to the elements. These devices can cost upwards of $300 by itself, so this is a HUGE value add and absolutely necessary for anyone that takes their cryptocurrency security seriously.
If you are not familiar with what this and why it's needed, you can read an in-depth review of the best standalone titanium recovery seed backup HERE.
Setup And Use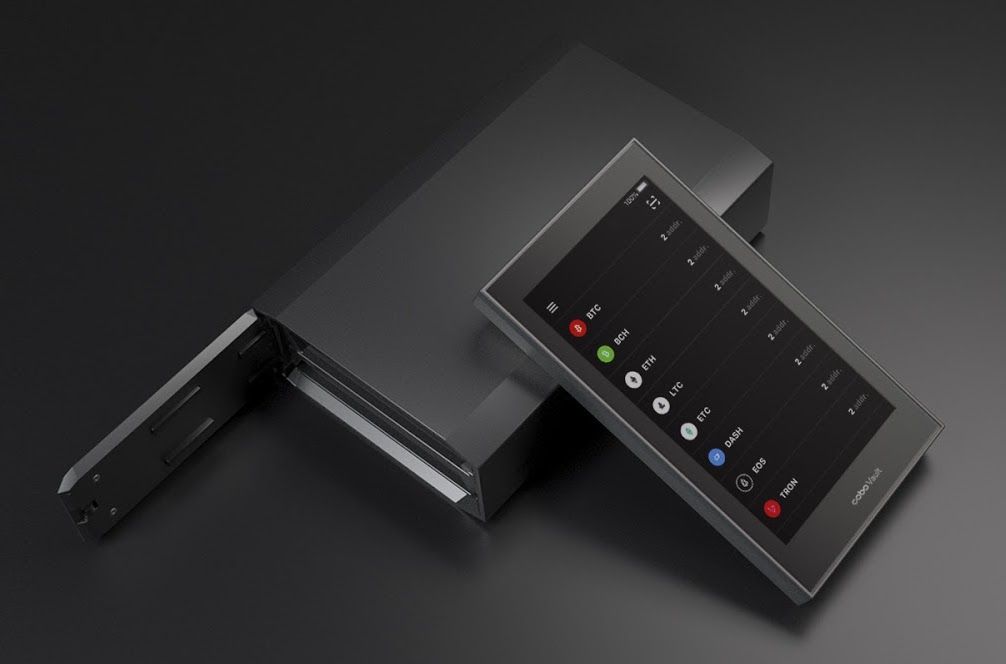 This device has NONE of the following connections:
WIFI
USB 
BLUETOOTH
NFC
CELLULAR
This means that it is completely off the grid. So how do you use it and set it up? QR Codes. The device has a 5-MP camera for scanning QR codes on Cobo's website and then the companion app for managing assets from their hot wallet over to the offline device.
This is a very prolonged and arduous process. In terms of security, this is a VERY good thing. It's like having a 7-step authentication system. However, for ease of use, it's a killer, and most wallets try to strike a balance between ease of use and security. Cobo does not appear to care about what it's competition is doing in this regard, since it's breaking out into it's own little sub-niche of cold wallet security. Here are the steps I had to follow to setup and use the device:
1.) Download the "Cobo" mobile app
2.) Power on the Cobo Vault device
3.) Go through the recovery seed phrase process. This includes writing it down and verifying it through the touch screen
4.)  Set a custom passphrase that has stringent requirements including multiple special characters and at least 10 characters minimum.
5.) Scan the QR code on Cobo's website to authenticate the firmware and authenticity of the device.
6.) Once authenticated, you scan a dynamic and ever-changing QR code on the companion mobile app to initiate transactions
7.) If you want to receive any payment directly on the device, you just generate a QR code and your sender can scan the code to initiate. If you want to send a transaction, follow the steps 2-6 above and repeat the process.
Features: What Makes It Inpenetrable?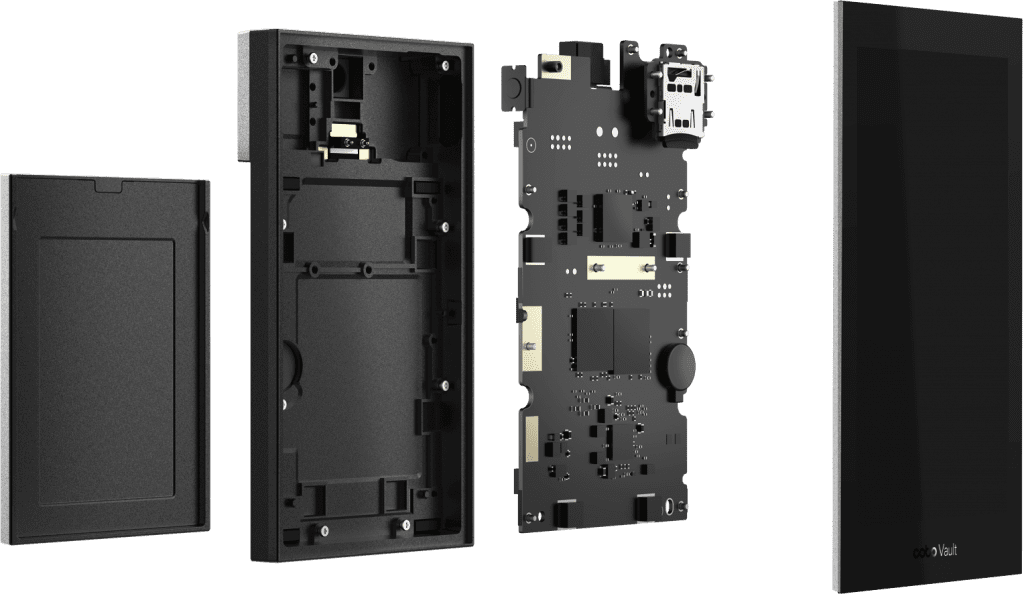 So, in addition to having a water resistant, shock resistant, and using "Military Grade" materials and configuration, it also has a "Self-Destruct" mechanism if it expects foul play. Let me explain. The device cannot be hacked through any ports or any wireless type connections. However, if someone tries to extract the private keys manually, the chip will have a timer initiate a countdown. If the screen is broken or if the device is opened up internally in any way, it will completely wipe the device.
If this happens, the only way to restore this is through your recovery seed phrase that you now have in stainless steel thanks to having it included in the box. This can be imported to any BIP-32, 39, 44 wallet to restore your funds with this seed phrase.
Additionally, if someone tries to steal the device and initiate a transfer of the funds through their own Cobo Vault, they will not be able to, as during your initial setup it is coded to the QR code you scanned on your app that is unique on your mobile phone. This device is really the Fort-Knox of crypto wallets. It took me about 30-40 minutes from start to finish when I unboxed, setup, and made my first transaction on the device. As I mentioned above, this DOES make it very secure, but for ease of use, it's kind of nightmare. There are no trade-offs here.
Cobo Vault Coins Supported
This device claims to have a lot more coins that will be supported on their road map, but this is definitely one of the "cons" of this device as it is of the utmost quality, but also is VERY lacking in the coins that are supported. Below is a picture of all the coins that are currently supported as of this writing.

For those that are not familiar with all of these coins or brands, I will list them here: Bitcoin (BTC), Bitcoin Cash (BCH), Ethereum (ETH), Ethereum Classic (ETC), Tron (TRX), Eos (EOS), Litecoin (LTC), and Dash (DASH).
Price
This is a premium device and the price reflects that. It's $479 USD to get this device and may have some shipping costs associated with it if you are outside of the U.S. As this is a higher-end device, you get what you pay for. I have not come across a more durable and secure device yet, but the Ellipal Titan appears to be a cheaper option that is going to be competing with this directly when it is released to the public in late August 2019. You can check out my review/first look HERE.
Cobo Vault Review: Conclusion
https://www.youtube.com/watch?v=HKbiyf5fJmo
Overall, the Cobo Vault device is probably the strongest and highest quality device physically, that I've ever used in a hardware wallet. It feels solid, and I know that if I drop it, get it wet, or otherwise try to damage this, it will stand the test of time. In terms of security, I have yet to personally test a device that compares to this one.
I had several steps and verifications in order to just set it up, let alone make a transaction. I believe this device is designed to be used VERY sparingly and is not used in a daily setting. This is a long-term "HODL"er device, which is good, but if you frequently transact, it is a hassle.
Also, it only supports 8 coins currently. It claims to be supporting more coins soon, but it has mentioned that since it's launched and have not seen any announcements of movement on that front for several months.
Finally, we have to consider the price. $479 is no cheap price for a hardware wallet and this is a premium and high end device, so I personally use it as a backup and long term device. I do not use this for frequent trading and transacting for obvious reasons described above, but I like having it for my long term stash.
So what's the bottomline?
If you are new and are looking for your very first hardware wallet, I would personally recommend getting a KeepKey device. It is very nice quality and just launched a brand new platform that integrates trading and is the only one that allows you to keep your private keys offline and in your personal possession the entire time. It's my go-to wallet for daily use. You can get that HERE.
If you are looking for a secondary or longer term wallet to diversify, then I would ABSOLUTELY recommend this wallet, as it is probably the most secure wallet you can get and the quality is unmatched. I have only used mine twice, but that also means it's safe and sound and I have no second thoughts about someone being able to crack it, even if they get it in their hands. I feel very comforted knowing that this is literally unbreakable. You can get the COBO Vault hardware wallet below and check out some reviews on their site below
Cheers,
The Crypto Renegade
NOTE: This post may contain affiliate links. This adds no cost to you but it helps me focus on giving as much value as possible in every single post by being compensated for recommending products that help people succeed.