How well is the Ellipal Mnemonic Metal compared to the Cobo Tablet, or Cryptosteel? Or Bill Fodl? Why do I need it? Is there a better solution for backing up your mnemonic phrase? We are going to address all of these questions and more to determine why you might need this indestructible piece of glorious metal.
We are starting to see a bunch of metal recovery seed backup devices these days ranging in price anywhere from $39-$229 per device with different features, different types of metal, and different application methods. I am always a strong believer in the free market, which naturally produces better quality products at more affordable prices.
Additionally, healthy competition and we as the consumer see the benefits by seeing multiple options and multiple companies trying to earn our business. Perhaps our government would learn something from this if they didn't have so much power, where it didn't require this, but I digress.
I recently wrote an article comparing this device to the closest competitor in the metal recovery seed backup market, and this is the Cobo Tablet. You can check out that review HERE.
But, without further ado, let's get into the details of the Ellipal Mnemonic Metal device and my experience with using it. Let's go!
Ellipal Mnemonic – What's In The Box?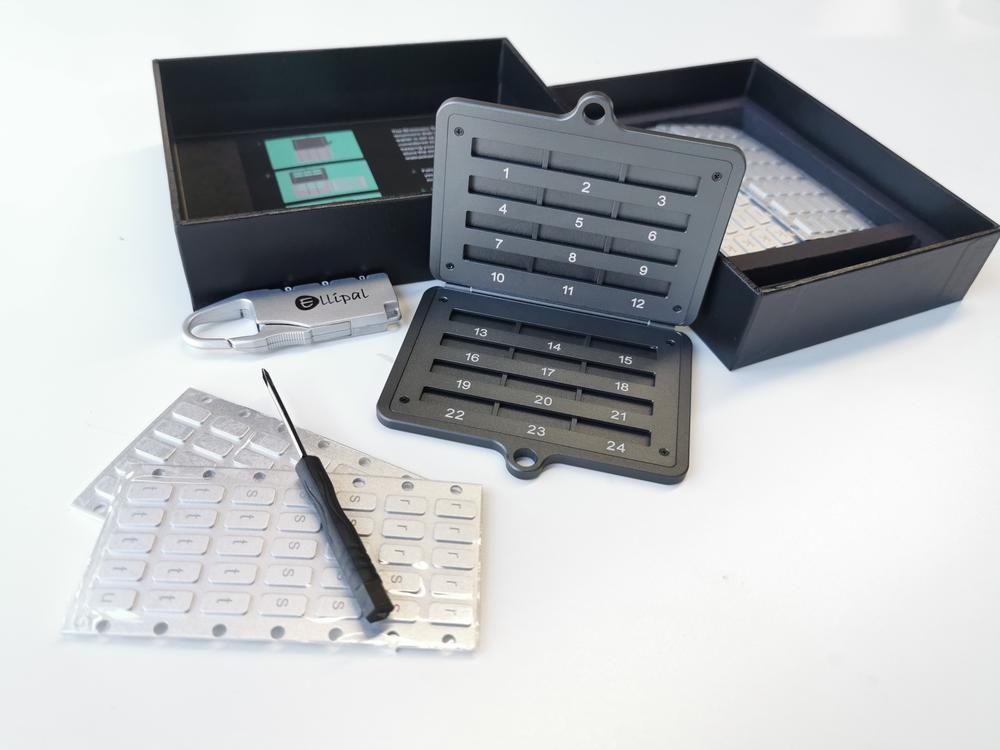 This is one of those products where everything you need for assembly is included into the box. You need any batteries, tools, or any additional items. Like it's competitors, this has a high quality set of lettering needed for this device and you don't have to sort through a box of loose tiles that may not all be the same size. The presentation is actually very nice. Here's what comes in the box:
Ellipal Mnemonic Metal Device
Mini Screwdriver
User Instruction Card
Letter Tiles Boards
I will say, in comparison to the other recovery seed backup devices I've reviewed, I will say the tiles are fairly thin in this device and seems like it's using a cheaper kind of material that is more of an aluminum coating. Additionally, it appears that the actually lettering is printed on, and I have yet to test this for water and fire testing (which it is rated to fully withstand). I look forward to conducting that test in the next few days!
Design & Setup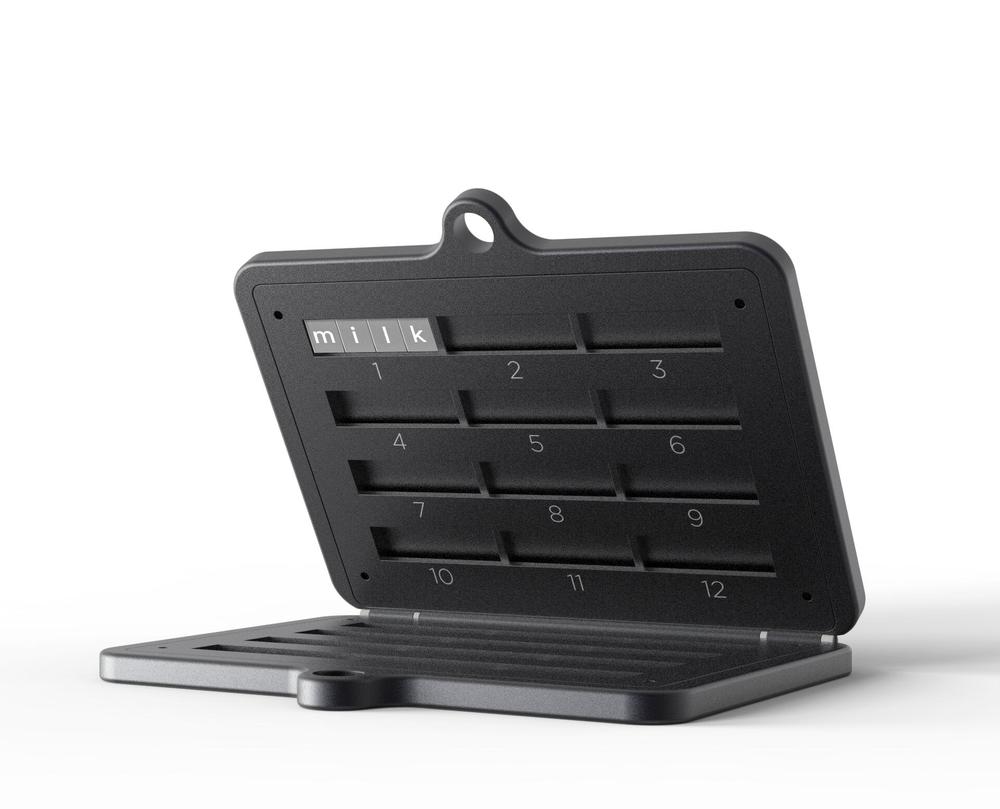 As I touched on above, the design is  fairly different then you see in the Bill Fodl, Cobo Tablet, or even CryptoTag. With this design, it actually is folded in half in a sandwich type design with a hole built in for using a padlock to keep it securely closed, or even a zip-tie if you are transporting it or just don't want the average person to flip it open. It also appears to be magnetic, so when you open and close the device it has some traction.
Additionally, you don't have to slide in tiles into a slot and tipping downwards so gravity will push it all the way down, which is nice. It basically just has a plate that you unscrew and then place the tiles in the exact slot with the first 4 letters of your recovery word (that's all you need with a BIP39 compatible wallet), and then once they are in place, you simply screw the face plate on once you're done, so it's a fairly painless process.
I got this device when I got the Ellipal Titan (New in-depth review coming soon) and when I tested this device with that wallet, it defaults to a 12-word recovery phrase. As a result, the installation and setup process was fairly quick and easy. The longest process here is actually punching out the tiles from the multiple sheets with the letters. In fact, I recommend before you even unscrew your plates that you locate your seed, punch out the tiles you need for the first 4 letters of each word, and THEN put them in place.
Who Is This Product For?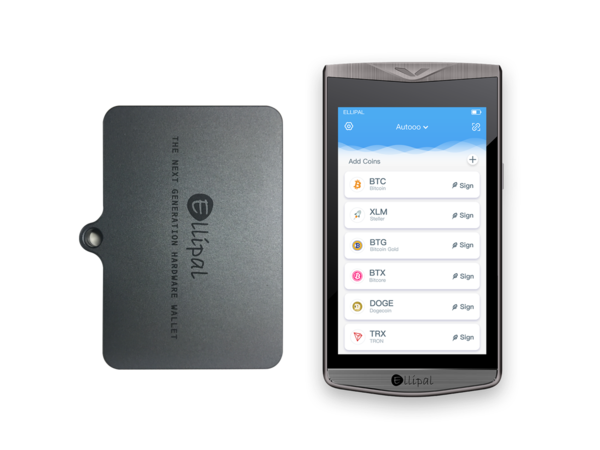 This product is for literally anyone that has a hot or cold wallet that holds more than $49 worth of any cryptocurrency. Ultimately, everyone who holds crypto or plans to hold crypto, whether it's short or long term needs a metal recovery seed backup. Why? Well, your recovery seed is the backup to your backup. Without it, you can't get your coins back if you lose your hardware device or lose access for any reason on your software wallet.
If you own a hardware wallet, such as Ledger, Trezor, KeepKey, or even a mobile wallet that you get for free, this device can support ANY BIP39 compatible wallet that has either 12, 18, or 24 seed words and really is a necessity for any cryptocurrency "HODLer"
Because this usually comes on a piece of paper, you need a more solid backup to your crypto fortune. Ask yourself, what happens if there is a flood? What about a fire? What if it gets shredded, torn, or becomes otherwise indiscernable? It seems fairly obvious for the reason this type of product exists, however, most people fall into the all but too common trap of "Ohh, this won't happen to me." Think again. Are you willing to risk it? Is $49 too high of a price for an insurance policy on your entire crypto bankroll? I wouldn't.
Ellipal Mnemonic Metal – Conclusion
Overall, this is a very solid metal recovery seed backup solution. It's in the lower end of the market pricing of it's competitors, it's simple to setup and use within 15 minutes or less, and it's got a different form factor than that of the Bill Fodl or even the Cobo Tablet. Although this is not the cheapest metal recovery seed backup option, it comes very close. In fact, right now, you can get one for only $29 when you buy it with the Ellipal Titan Cold Wallet for $169, bringing the total to only $198 when you buy both.
Still, this is very different than the higher end devices, like the CryptoTag, which you can check out the full review of HERE for comparison. The CryptoTag is a VERY nice device, but it is a high-end very premium device that you literally hammer your seed phrase into a titanium tablet and has gone through much more rigorous testing. Having said that, it shows in the price that you cannot get better quality than that device (at least as of this writing).
However, this device is easy to use, quick to setup, and is just as durable as any of the competitors in it's price range at only $49, or $29 when you get with the Ellipal Titan for a limited time.
Every single crypto holder needs this kind of device, and if you want to be safe and responsible with your crypto, but still want it to be affordable, then this is a very solid choice and has decent quality as well.
What do you think? Do you currently have a metal recovery seed backup for your software/hardware wallets? Let me know in the comments below!
Cheers,
The Crypto Renegade
NOTE: This post may contain affiliate links. This adds no cost to you but it helps me focus on giving as much value as possible in every single post by being compensated for recommending products that help people succeed.