What is the best cryptocurrency to invest in right now? Yes, this may seem like a loaded question, but it ultimately comes down to preference. I have long been a believer that there will at some point come a cryptocurrency that provides more value that the current king itself (Bitcoin), but I still feel as though that day is still far off in the distance. Bitcoin has been the staple and foundation that started this revolution over a decade ago with the one crazy idea that the world could have a peer-to-peer electronic cash system that was governed by the people, and not an "authority".
So far, the network effect is the strongest factor that keeps bitcoin in the minds of most people that are aware of it, because it's not just a coin, its also a technology; a protocol. Decentralization and a VERY large distributed network gives bitcoin a superior power than all other altcoins listed on CoinMarketCap.com. However, that is not to say that other altcoins offer no value, in fact, a good few of them are innovating a way to new technologies and governance standards that let it stand apart from the rest. I will name a two of them that I have invested in below that are not Bitcoin, because they offer a unique selling proposition (USP).
ZCASH
Zcash has a proprietary privacy protocol attached to it. This is extremely attractive, as one of the key selling points of cryptocurrency to begin with was anonymous, uncensorable transactions. This is money as it was intended to be. I should be able to transact with anyone in the world, and not only NOT have it tracked, but keep it between me and the other consenting party. They use a method called zk-SNARKs.
This is an acronym for "Zero-Knowledge Succinct Non-Interactive Argument Of Knowledge". What does this actually mean? It essentially means that "Zero-Knowledge" proofs allow one party (prover) to prove to another (verifier) that a statement is true. It allows you to verify a transaction is relevant and true without knowing its origin.
Some people view this as potentially scary, because it allows money launderers or criminals to transact in a more private way. Well, my theory is this, criminals will always find a way to do what they want and transact privately. Valuable tools should not be banned or discredited because there is a potentially negative outcome.
There is an equally positive outcome. Privacy is an unalienable right to all humans and we should all expect it and understand our rights to it. To me, that makes this coin very very powerful and very much worth exploring, especially as it is considered an "Original". Some similar example coins that came after are Monero and Zcoin.
TEZOS
In my opinion, Tezos is the new and improved evolution of Ethereum. It is a new platform for decentralized applications (dApps) and smart contracts. Here are a few key points that make it different: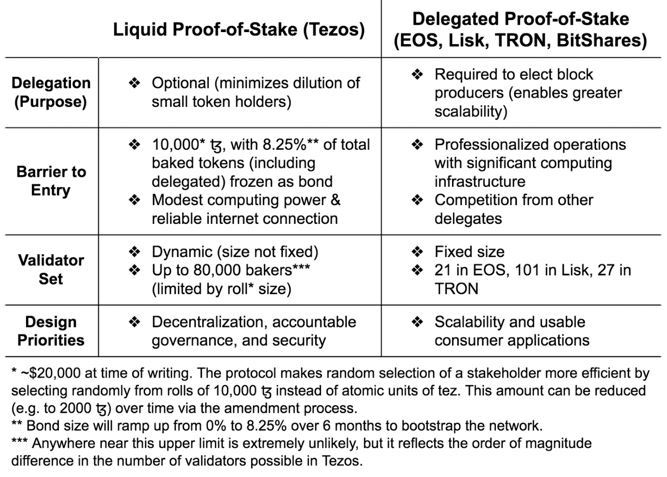 1.) On-Chain Governance – The Tezos protocol offers a formal process through which stakeholders can efficiently govern the protocol and implement future innovations. This is democracy at it's finest. It also helps avoid controversial "Hard Forks" as we've seen in the past with Bitcoin (BTC) to Bitcoin Cash (BCH) and then Bitcoin Cash (BCH) into Bitcoin SV (BSV). This has a detrimental effect on the network and causes a lot of confusion, contention, and tribalism.
2.) Security – This blockchain was designed to facilitate formal verification, which helps secure smart contracts and avoid buggy code. This has been a HUGE problem with Ethereum over the years as noted in the infamous "DAO Hack", which again proved that their protocol was not immutable and caused yet another hard fork that brought forth Ethereum Classic into existence.
3.) Liquid Proof of Stake – This is a unique consensus proof-of-stake algorithm which gives every stakeholder the opportunity to participate in the validation of transactions on the network and be rewarded for doing so. Whether you are big or small, you have a vote. This is unlike the current mining pools that we have in place where the person with the most hashing power and hardware wins the block reward, and essentially dictate the rules of the network.
I tend to think that the tech behind each blockchain is what brings it's value. Whether or not the price is currently up or down on these coins, I believe as the masses start to see the value these innovators bring to the table, the money will follow.
If you don't recall, it took over a year of price discovery before Ethereum finally found it's place in the market. All this to summarize that I am very interested to see where these both end up in terms of price and user adoption over the course of this year.
CONCLUSION
So what is the best cryptocurrency to invest in right now? My final thought comes down to diversification. No matter what cryptocurrency you own or believe in, it is always a good idea to NOT put all of your eggs in one basket. Diversification allows you to spread out your wealth and provide you a bit more piece of mind and stability as we all partake in our own personal crypto journey.
If you are new to this space and are unsure what to invest in, there is an up-and-coming site that allows you to follow a strong community of cryptocurrency investors and see what allocations are in their portfolio to give you a baseline. This is a desktop and mobile app known as "eToro". It also provides you some guides and information on each coin so you can learn what the differences of each coin are and what the full scope of their previous price, current price, and the expected future price over time. I will leave the link here for anyone that's interested.
Please sound off below! What do you think the best cryptocurrency to invest in at this point in the game? Do you think my top two altcoin picks are unfounded? Let me know in the comments.
NOTE: This post may contain affiliate links. This adds no cost to you but it helps me focus on giving as much value as possible in every single post by being compensated for recommending products that help people succeed.