In this review, we are going to deep dive into the Cobo Tablet metal recovery seed phrase backup device. How does it work? How much does it cost? Why do I need one? How is it different from CryptoTAG or CryptoSteel? I am going to answer all of these questions and more, so stick around for the full article and also for a special offer just for my readers here. So why is recovery seed backups and crypto seed storage so important? In as little words as possible, it's a backup to your backup. And it's only $39.00.
This device is so affordable and useful for what it actually protects, that EVERY single crypto user that holds more than $39 worth of cryptocurrency should have one. Period. This device has been thoroughly tested to withstand substantial heat, water, corrosion and other abrasive substances.
Crafted from 304-grade stainless steel, the new Cobo Tablet is corrosion-free, resistant to salt water and acids, and has a fireproof threshold ranging from 2550 to 2650 degrees Fahrenheit, so you can be sure that whatever happens your recovery seeds will be safe within.
In addition to that, it also has a design element that allows you to add a padlock for those extra paranoid that want to ensure no innocent parties who stumble upon this can use it to steal your crypto.
If you are unfamiliar with the concept of metal recovery seed backups, I will link the reviews of CryptoSteel and CryptoTag ($99 and $185, respectively) HERE and HERE. This will give an in depth guide of how these devices work if you need a quick tutorial.
Let's check out the Cobo Tablet details below!
Cobo Tablet – What's In The Box?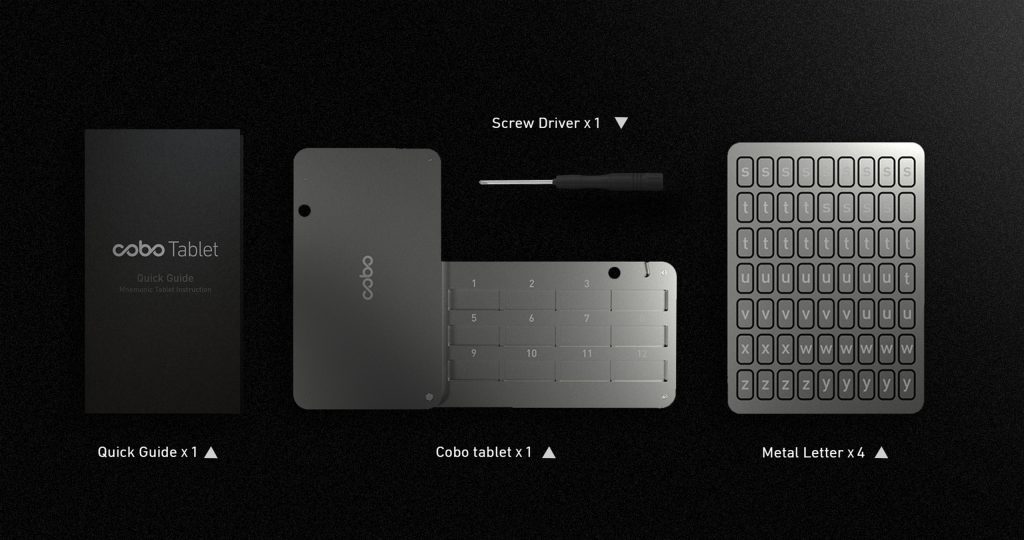 Everything you need comes right in the box. All you need after you open the box, id your recovery seed card, which you will be able to safely set aflame once this is setup and installed correctly.
It comes with:
Cobo Tablet Stainless Steel Device
Screwdriver
Spare Screws
252 Letter Tiles (Including a Few Blanks)
Basic Setup Guide
The tiles come in organized individually wrapped sheets that are alphabetically organized and easy to locate the letters you need to setup the device correctly. I will detail the setup process below and explain how easy it is to setup.
This process is actually a more seamless user experience than the CryptoSteel which just had scattered tiles that were all different sizes that needed to be sorted and found before you could actually install. You will not have this problem with Cobo Tablet, in fact, it took me less than half the time from start to finish to get this setup correctly.
Design & Setup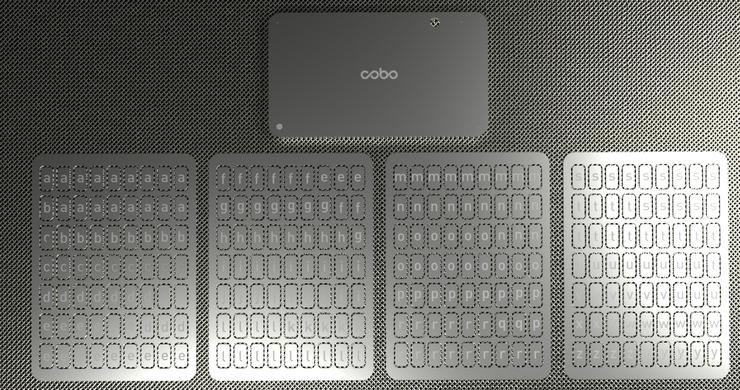 I showcase this a little bit better in the video listed down below, but here is an excerpt directly from Cobo on how the simple their product is. Here it is.
All you need to do is unscrew the plate, place the letters into the metal slots to create your recovery seed, and screw the plate back into place. No carving, etching or struggling to slide the characters into their right places. It is a very simple process that takes only a couple of minutes.

The new Cobo Tablet can support up to 24 words, but you can also use 12 or 18 depending on the length of your recovery seed. It is crafted in such a way that each word can hold only up to four letters. Obviously, you will use words that are longer, so you must be curious to know the reason behind this.
This product is made of the utmost quality. When I first pulled it out of the box, it felt really robust and solid. It didn't feel cheap and/or flimsy and it gave off the first impression of being a stable and good quality product. I will also be doing a second video shortly that will detail the full tutorial and explain how to set this product up right out of the box (although you probably don't need it, it's super easy to figure out).
Who Is This For?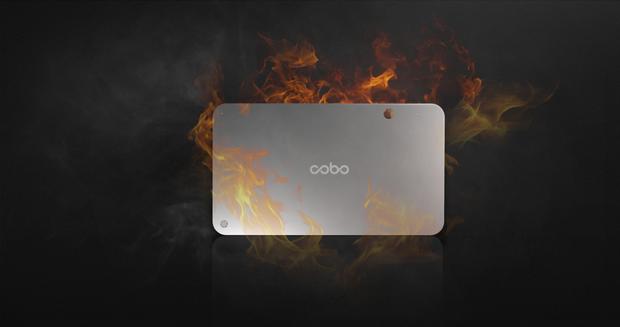 I'll keep this short and sweet. If you have more than $39 or more worth of cryptocurrency, you need this product. Why? If something happened to your software or hardware wallet, could you afford that loss? Most people that take their crypto seriously will most certainly say no, so you need to ensure you have a backup of your backup. This is a VERY affordable product that serves a very valuable purpose. It needs no further explanation.
Cobo Tablet – Conclusion
Honestly, I liked this device better than the CryptoSteel and Bill Fodl. Why? Well, in addition to the price point which is less than half of both of these devices, I found the overall quality and user experience to be better. It took me much less time to setup, it came with everything neat and organized, and there wasn't any need for the instruction booklet as it was pretty straight-forward. Now, I am not saying these other device are bad, because they aren't at all.
When it came down to factoring in price, quality, ease-of-use, and overall impression, the Cobo Tablet won in all of those categories. I will say, however, that it didn't beat the CryptoTAG. That device is a HODL'ers dream, as it comes in titanium, and you can use a freakin' hammer to engrave your own seed (which was awesome and very satisfying to do by the way).
With that said, I could buy 7 Cobo Tablets for the price of one CryptoTag. The value is honestly unbeatable, and the quality felt comparable to the CryptoTAG, with the exception of the type of metal and the actual setup process.
If you don't have ANY metal recovery seed backup, it's essential. You need one. It's honestly not optional at this point. If you can't afford to lose your crypto, you can't afford NOT to have one of these devices.
What do you think? Do you currently have a metal recovery seed backup for your software/hardware wallets? Let me know in the comments below!
Cheers,
The Crypto Renegade
NOTE: This post may contain affiliate links. This adds no cost to you but it helps me focus on giving as much value as possible in every single post by being compensated for recommending products that help people succeed.