It's finally here! Shapeshift's New Platform launches today! I have been using their beta platform for several months now reporting bugs and helping add some user friendly features by reporting feedback and ways to improve this brand new non custodial platform. I wrote a pretty in-depth review of the beta a few weeks back, so I won't rehash the entire user experience here, so I will link that review so you can get the nitty-gritty details HERE.
This is an exciting time for cryptocurrency in general. Facebook is launching a controversial new coin called "Libra". The government has sent a request to have the development of it stopped so they can review it and "approve" it before it's released. The audacity of this, as if they have any say in what private organizations can and cannot work on is baffling, but I digress.
I will briefly detail below some of the key features and benefits of using this platform and non custodial exchange for all your crypto asset management.
Trade Assets Offline
The cornerstone feature here (in my opinion) is the fact that we can perform trading assets while having our private keys kept completely offline via the KeepKey (Or Trezor). They are also planning to add Ledger support soon as well, but the easiest hardware wallet to use is by far the KeepKey, as it was the primary wallet used during beta.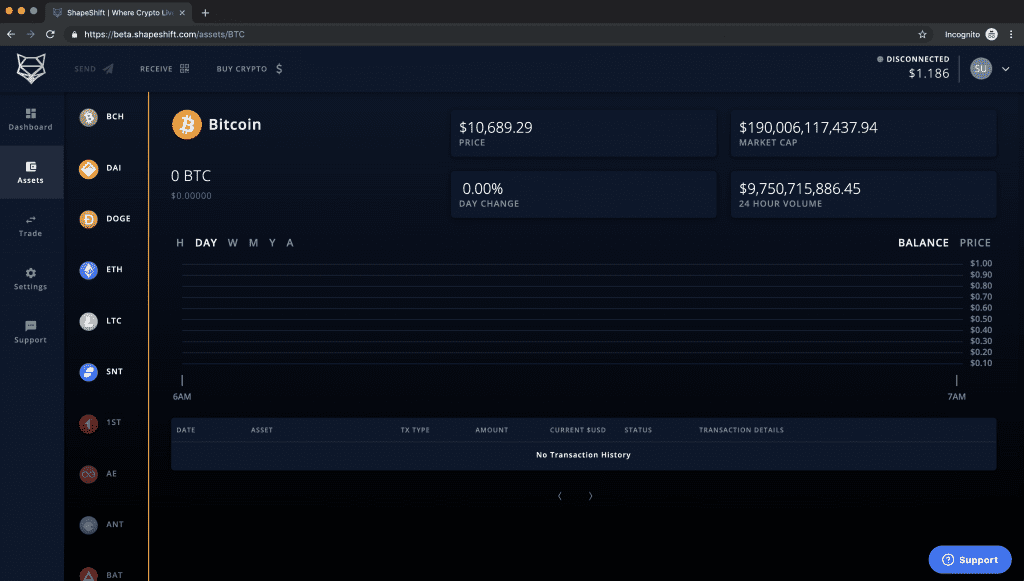 As you can see above, the dashboard is very streamlined and easy to view and manage the assets you can trade, view the balance and the price, view market cap, and so much more. The ability to have all the information I need in one place is very convenient. additionally, I can view my portfolio without having my hardware wallet present. In fact, I only need it to sign a transaction. Once you sign, you can disconnected it and it will be transferred to your wallet balance immediately and be reflected next time you connect.
Shapeshift has really thought of the user experience and making it easy for anyone of any skill level and knowledge of crypto to safely manage their private keys and learn how to trade using this platform.  Now that the platform is out of beta, they will be focusing on adding more assets being added to the platform for trade and asset management. As this is also a trade engine, as well as a portfolio manager, incorporating more detailed analytics will only improve upon this foundation.
Manage Your Portfolio In One Location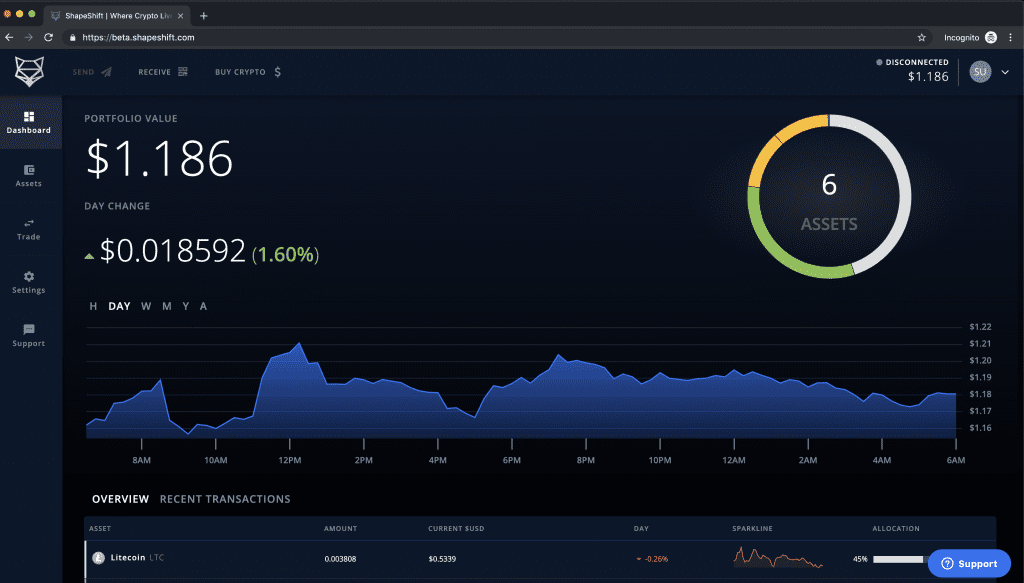 Here are some of the touted features of this platform, and why you should sign up for free HERE:
1.) Shapeshift Trading – You can seamlessly buy, sell, or trade dozens or crypto assets directly in the platform. Trading is non-custodial, so there is no need to trust a third party. This is a MASSIVE plus and a differentiator from any other exchange out there.
2.) Hardware Security – Utilize the best practice of offline security. Retain control of your private keys while enjoying an intuitive web interface. This is the best of both worlds and I will add that this is not currently possible on any other hardware wallet platform currently.
3.) Real Time Market Data – Get real-time market prices and historical data without ever having to leave the interface. This means no extra tabs or historical charts from any other 3rd-party site that you have to toggle between to get the data you need. This allows you to enjoy a beautiful ad-free experience.
4.) Portfolio Performance – Visualize your portfolio performance through graphs, sparklines, and real-time value movement. View your dashboard balances at anytime, anywhere. Your hardware wallet only needs to be connected for signing transactions.
The video below gives you a quick demo of how this works. It truly is a unique hardware wallet experience.
Shapeshift's New Platform: Conclusion
After personally testing this platform and providing feedback and improvements for several months, I am very proud of what the Shapeshift team has accomplished. I am also excited to see how it expands with other hardware and new features and coins that will be added. There is NO other exchange that offers non-custodial trading, and to me that is a HUGE deal.
Part of "Becoming Your Own Bank" means maintaining full control over your funds at all times and not having to put trust in anyone but yourself. Self sovereign finance is the way of the future, and that is very exciting to see how this will continue to play out as adoption continues to snowball.
***CLICK HERE TO BUY KEEPKEY FOR 50% OFF FOR A LIMITED TIME ONLY***
Just click the above link and use code "GENESISFOX" at checkout
What do you guys think? Are you excited for the revolutionary change in asset management? Let me know in the comments below!
Cheers,
The Crypto Renegade
NOTE: This post may contain affiliate links. This adds no cost to you but it helps me focus on giving as much value as possible in every single post by being compensated for recommending products that help people succeed.
You Might also like
In this article, I will give you a deep dive into the KeepKey wallet and provide you a review of my personal experience thus far with a keepkey review. I started using KeepKey about 3 years ago and boy has it come a long way. At first it was the simple bitcoin wallet that only supported about 6 coins, and was the easiest wallet to use at the time (including Trezor and Ledger). It's selling edge was the physical wallet itself which is a nicer aluminum finish and clean and upscale look and significantly differed from the flimsy plastic Trezor and Ledger presented you out of the box.

As a result, it was priced as such, and many people would not pay more for a device that only supported 6 coins. In 2018, it started adding 3rd party wallet support, like MyEtherWallet and MyCrypto.com and ERC-20 tokens. In this review, I will go over what has changed since then and ultimately if this wallet is the best choice for you or not.

I also recommend you download my free e-book that I just wrote that gives you some expert tips on how to secure your cryptocurrency and ensure you are protected for the next bull run. You can click the link above to gain access now, and it will only help you on this crypto journey. Addtionally, I recently wrote a detailed review on the new ShapeShift platform, that will have elements of it woven into this review as they both utilize the KeepKey wallet to operate. Let's get started!

CLICK HERE TO BUY KEEPKEY FROM SHAPESHIFT'S OFFICIAL SITE DIRECTLY

KEEPKEY REVIEW: WHAT COMES IN THE KEEPKEY BOX?

First off, they have a really solid presentation. The box is a quality box and is sealed by an anti-tamper sticker to indicate if the box has attempted misuse or access to it. Secondly, it comes with the following items in the rectangular apple-esque box:

-Nylon Woven USB to Micro USB cable

-2 Recovery Seed Cards

-Getting Started Guide

The device itself is rectangular and only has one singular button on the top right used for signing and authorizing transactions. This is why it can be defined as the simple bitcoin wallet and is mechanical in design. Overall, this is a non-nonsense wallet that is made up of solid, sturdy construction and is physically larger than the Ledger and Trezor wallets.

CLICK HERE TO BUY KEEPKEY FROM SHAPESHIFT'S OFFICIAL SITE DIRECTLY

KEEPKEY REVIEW: WHAT COINS ARE SUPPORTED?

Natively, this wallet in the current beta form supports over 40 assets with more on the way! Here is a current list of assets that are supported right now.  Now let's get into the nitty-gritty. For years, KeepKey only supported: Bitcoin, Litecoin, Ethereum, Namecoin, Dogecoin, and Dash. For a hardware wallet that needs to compete in this market place, that needed a serious upgrade.

Luckily, they have been making some AMAZING changes and not only added a ton of ERC-20 Support, but more importantly, they are revamping their entire platform to have one fluid, seamless application that integrates all of their core services (See my previous post for details on this). This is extremely powerful, and a decision that I believe will catapult them ahead of the competition. They are currently in a closed beta, and it is expected that they will be releasing this later in 2019. Stay tuned for news on this.

Some of the notable coins that have been added are:

-DigixDAO (DGD)

-Binance Coin (BNB)

-Dai (DAI)

-Maker (MKR)

-TrueUSD (TUSD)

CLICK HERE TO BUY KEEPKEY FROM SHAPESHIFT'S OFFICIAL SITE DIRECTLY

KEEPKEY REVIEW: HOW TO SETUP THE DEVICE

This information will be outdated soon, but I will leave a link to the current setup and initialization of the device as of June 2019 for most people here. I am more interested in talking about my experience with their new unified platform that will be released to the public shortly. Essentially, once you take the KeepKey out of the box and plug in the USB, it will prompt you to download the firmware updater and initialization steps once you login to your account. Currently, this is done on beta.shapeshift.com.

Once you have updated the firmware by plugging it in and holding down the single mechanical button as you disconnect and re-connect, it will process the update for you very quickly, usually within about 30 seconds. From here it will connect your KeepKey and there will be an animation in the top right of the dashboard letting you know it's current status and then prompt you for the pin that is randomized every time it's plugged in to ensure you have proper access to the device.

Once you're validated, you can trade, view your accounts, and send/receive from your existing accounts and it's a seamless process that will prompt for your PIN again to make any changes. I will leave a photo below for you to see the dashboard layout and it is very clean.

CLICK HERE TO BUY KEEPKEY FROM SHAPESHIFT'S OFFICIAL SITE DIRECTLY

KEEPKEY REVIEW: SECURITY

KeepKey has a true random number generator (TRNG) for it's PIN interface for extra physical security. In addition to offline storage, KeepKey's PIN code and number randomization makes sure that

1) Your wallet is secure from physical theft.

2) That a hacker couldn't steal bitcoins from your wallet with malware.

KeepKey is an HD wallet, meaning your entire wallet can be backed up with the 12 words generated on setup. 12 words is the default setting, although KeepKey supports seed lengths of 18 and 24.

The seed is generated using entropy from both the device itself and the computer used for setup. The seed is generated offline on the KeepKey and displayed on the device's screen. The device's offline screen makes sure the seed is never displayed on an internet-connected device.

You can recover your wallet using the backup seed if your device is lost, stolen, or damaged. Recovery can be done in this new beta platform, but it has yet to be released on the current version. Make sure to keep multiple backups of your seed and use a metal recovery seed backup for extra protection.

The wallet's screen allows you to sign and confirm the transaction on the device itself, so you can verify the address matches when sending on the web app and the device to prevent unauthorized bait and switches, but does not prevent phishing attacks.

CLICK HERE TO BUY KEEPKEY FROM SHAPESHIFT'S OFFICIAL SITE DIRECTLY

KEEPKEY AND SHAPESHIFT: USER EXPERIENCE (UX)

As you can see in the interface, besides the assets list on the left, most people like to trade within the app. All this is done within the app, so your private keys are never exposed online or to a 3rd party, which again, makes this new platform EXTREMELY compelling.

Additionally, unlike most exchanges you do not need pre-designated trading pairs that are usually defaulted to BTC. This means you can trade from altcoin to altcoin without having to trade back into BTC first, which will save you a ton on trading fees.

You can also buy crypto directly in the app via Wyre and can do a bank transfer that takes only 1-3 days and with only minimal fees. This is a huge advantage over Binance or other exchanges that charge exorbitant fees to have it done via a credit card and pay a lot more for that instant gratification. Again, when you do this, the private keys will go directly on your KeepKey so they are never exposed to the internet , even for a second.

Finally, here is a glimpse of the assets list. At the time of this screenshot, I only had 2 assets for testing and I haven't tested this with bitcoin directly and dealt with DOGE and SNT at the time. I have since distributed that between about 9 different assets and have had a good experience with seamless trades that all end up on my hardware wallet, instantly after signing and authorizing a trade.

CLICK HERE TO BUY KEEPKEY FROM SHAPESHIFT'S OFFICIAL SITE DIRECTLY

KEEPKEY REVIEW – CONCLUSION

In the end, I still would take the KeepKey over the Ledger if I had to choose. The Ledger Nano S only holds 3 or 4 apps at the same time, and if you plan to expand or add more, you will have to remove and uninstall what you have to make room. KeepKey does not have this storage issue.

As mentioned above, with KeepKey will not give you this issue and you can trade assets very seamlessly and without the need to give up your private keys over top an exchange. This is a HUGE advantage and not one that any other hardware wallet can compete with. Having a non-custodial wallet is key and having one that is designed to never expose the private keys is even better.

The UX has been greatly improved and you can actually initiate a trade, sign the transaction on the device, and then unplug and off you go. You do not need to wait for the trade to take place, which is super convenient. Right now it costs $79 and is only 20 bucks more than the Ledger. It feels like it should be worth twice that since the quality you get is superior. Honestly, if you asked me which wallet should I choose a year ago, and is KeepKey is better than Ledger?

I would've said "No". But, this new user interface and overall experience managing your assets all in one place and one screen, and not needing to install and uninstall several applications is unbeatable. Using their beta and testing their new platform has been a great experience and one that I would recommend to my closest friends and family at this point. Even if you are brand new and don't have much experience. KeepKey is the best choice for a hardware wallet right now in 2019.

CLICK HERE TO BUY KEEPKEY FROM SHAPESHIFT'S OFFICIAL SITE DIRECTLY

***Leave a comment below and I will message you a coupon for 50% off for a limited time only!***

What do you think? Which hardware wallet is your favorite and why? Sound off in the comments below!

Cheers,

The Crypto Renegade

NOTE: This post may contain affiliate links. This adds no cost to you but it helps me focus on giving as much value as possible in every single post by being compensated for recommending products that help people succeed.

In this article, I am going to tell you exactly how to make money with bitcoin. Almost everyone that's heard about bitcoin has been asked or have asked themselves: is this a good investment? When taking this question seriously, they start googling this phrase and see several articles about the price tanking and losing over 80% of it's value in the past 18 months and so on. One of the things they probably don't realize is what the year-over-year gains are, when looking at where it was vs. where it's going. Yes, at it's all-time-high it reached upwards of $20,000 in December of 2017 and have been wildly volatile ever since.

What most people don't realize is that after that so-called "crash" is that the price of bitcoin in the first week of January of 2018 was $16,477.59, according to CoinMarketCap.com. That is still significantly higher than the price of Bitcoin in January of 2017, which was under $1,000. I can provide numerous examples of what the price was in January of every year since the inception of this wondrous invention.

However, I understand that the average person who does not understand the technological advantages of this coin over the current legacy financial system, can remain skeptical in terms of it being a safe investment.

Although, I very strongly believe in the fundamentals of this project, I want to provide some uses that will help you generate more money from your existing bitcoin and accrue a calculated percentage increase month of over month, as well as acquire bitcoin without directly buying it from a company, like Coinbase. Here are the top 3 ways I've personally found success, and with a little research and understanding of this market, you can easily find a way to generate passive income (or actively) if you're so inclined. Below are my 3 favorite methods.

How To Make Money With Bitcoin

METHOD #1 FOR GENERATING PASSIVE INCOME – DAY TRADING ALTCOINS

If you are new to the scene or making money with bitcoin, you may not be aware that there are hundreds, if not thousands, cryptocurrency exchanges worldwide. Some are very sketchy and some have been around and been trusted, and even regulated and insured, to give you a little extra piece of mind. I have used some that have locked up and stolen my coins, and I've used several that I know and trust (to a degree) for several years with no problems.

***SIDE NOTE: Exchanges are a crucial component for new people onboarding into the cryptocurrency ecosystem and I understand why they are needed. However, under no circumstances do I recommend you store you private keys on exchanges for long periods of time. The best general rule of thumb is once a trade is completed, pull your private keys onto your own hardware wallet (which can be recommended and purchased through this site) and keep them there until you decide to exit a trade or re-enter into a new one.***

The above disclaimer is not meant to scare you, but more as a reminder to be vigilant of your private keys, as there have been several exchange hacks in the past 10 years. There are some "best practices" I've covered in a previous post, and I will be posting an updated version very soon.

Having said that, the exchange that I use very often and that I trust is called Binance. This exchange is currently the largest exchange by volume and has been trusted for several years and I feel safe using them with my trades.

I will include a link that will make it easy for you to sign up and receive some discounts on trading fees at no cost to you. Although this is my number one used exchange, there are other trusted exchanges I use such as Kucoin, Bittrex, and even Kraken (since they worked out a lot of their kinks over the past year).

The basic strategy here is to transfer your bitcoin to the exchange wallet, select an altcoin that you've researched, and enter a trade with an amount that you're comfortable with. From there, set a target to you want to hit and then exit the trade back into Bitcoin. Hopefully, you will have a much larger amount than you started with. Rinse and repeat as necessary. Of course, once you complete this process, I strongly recommend you transfer your newly found Bitcoin profits onto your personal hardware wallet for safe keeping.

METHOD #2 FOR GENERATING PASSIVE INCOME – CLOUD MINING

This one is pretty straightforward. If you are unfamiliar with what bitcoin mining is, I will leave a link right here to a post that will explain this in depth. The concept of cloud mining is that instead of buying your own hardware, graphics cards, and various components needed to assemble a rig, (not to mention the "know how" of how to properly set this up correctly) you can rent or lease a company's hardware that will mine for you..

By doing this, you can avoid all the hassle of setup, additional costs, noise, and excessive electricity. I am currently doing this myself and have done it for several years. There is one company in particular that I use and trust and they are called Hashflare.

This company has been very responsive, trustworthy, and an otherwise pleasure to work. This has been very profitable endeavor for me over the years.

There are several other cloud mining services out there. I will not mention or suggest them in this post, because I have not personally used them. However, if you google it, you will find several references for this kind of service.

This will allow you to be apart of the "Bitcoin Minting" process, which allows you to not only contribute to securing the already unbreakable network, (which is a very noble cause) but also continues to strengthen bitcoin's position in the marketplace with your help.

METHOD #3 FOR GENERATING PASSIVE INCOME – BITCOIN LENDING & INTEREST PROGRAMS

This feature is fairly new and I will be posting a review on the featured program here shortly, but this is a new niche that I think is going to be huge in 2019. The company in question here is known as Blockfi. You may have heard of some companies that allow you to invest your own money into crowd-funded loans with the promise of large interest payments month over month in return, such as Lending Club or Prosper.

Blockfi is one of the first (if not the first) commercially viable ways to get a cryptocurrency backed loan (using your cryptocurrency as collateral) to help you pay off credit card debt, get a new car, fix up your house, etc… This is significant, for 2 reasons: 1. Most people who invest in Bitcoin or any other cryptocurrency typically want to "HODL" (or hold) onto it for dear life. This gives people a way to leverage their assets while being able to get fiat money for other purposes.

They receive a fair interest rate to pay it back over a pre-specified period of time, and it typically isn't subject to a comprehensive background check. 2. In most cases, if you have enough collateral, the approval process can be approved and issued in as little as 2 days, which for some people is a HUGE selling feature.

The second, and most interesting feature in my opinion, is the ability to earn compound interest on your cryptocurrency over a specific period of time, compounded monthly. This is very intriguing for a number of reasons, but I will leave a link to all the benefits and features right here, as this post has gone on pretty long so far.

The bottom line is, if you are holding bitcoin or ether for a longer period of time, this allows you to earn up to a 6.2% annual yield, just by allowing them to hold it for you and put it into an interesting bearing account. It is always a good idea to diversify your cryptocurrency and NEVER put all of your eggs in one basket. However, this is a calculated risk I have personally entered into for a portion of my holdings because I plan to hold it for a very long time anyways.

Well there you have it! These are 3 ways to make money with bitcoin and earn passive income. Please let me know what you think and if you have found any other methods that work well by commenting below!

***Disclaimer: None of the information above is intended as financial advice. I am not a financial advisor. These are just my personal opinions and experiences during my own crypto journey and recommend you consult a professional before considering taking any of these actions***

Cheers,

The Crypto Renegade

NOTE: This post may contain affiliate links. This adds no cost to you but it helps me focus on giving as much value as possible in every single post by being compensated for recommending products that help people succeed.

In this article. I am going to provide you with an in-depth Trezor Model T Review! The Trezor Model T Is the second generation device in the Trezor family and it came with a plethora of upgrades and a new capacitive touch screen for authorizing transactions, firmware updates, and entering in your security pin on the device itself versus the one the web application as with the Trezor One.

I also recently wrote an in-depth review of the Trezor One, which you can find HERE if you're interested and I will be writing a comparison review shortly between both Trezor models.

Additionally, before I jump into the review of the Trezor Model T, I wanted to point out that I just wrote an in-depth guide on the 5 best ways to secure your cryptocurency in the form of a free e-book. It goes over some basic and advanced techniques to make sure that your crypto is the safest it can possibly be and provides you some tips and tricks to ensure your private keys stay protected forever. You can get that free e-book HERE.

Ok, phew, here we go, let's get to the full review of the Trezor Model T Below! You will also find an attached video of the unboxing at the end. Let's do this!

Trezor Model T First Impression And Unboxing

So when you first get the box in your hand, you'll notice that it is substantially different than the Trezor One box. First off, it's covered in plastic and then is a slide out box that separates into two parts (see video below). When you go to open the box, you'll notice there are no security seals or holographic tapes on the box to promote anti-tampering and has a window on the box that shows the device in a display window.

It has a magnetic clasp that you can use to open the box where you will find the device sitting on a foam cushion that is surrounding the device and a blank black box with a green sticker right next to it.

Here is the reason why there is no security tape on the box when you first go to open it (unlike the Trezor One). The security tape is on the device itself covering the USB-C port on the bottom of the device and they have decided to bypass the security measures on the box. I understand why they made they choice and wanted to narrow down the security to the device itself from any side-channel attacks or MIM attacks. However, when you peel off the security tape, it purposefully leaves a very sticky residue on the device and it since it's plastic, it is very difficult to get off without scratching it.

The touch screen is sleek and very bright, which is nice, but it is also very small. Even if you have average sized hands, you may have difficulty with entering in the pin-code and/or additional "25th seed phrase" as a password on the device. More on that later.

This is one of my biggest complaints as the device itself doesn't look that good when you're ready to use it and it it has a sticky film when you hold it and un-plug and plug in your device. I will say that this is the worst of your worries as the device is pretty solid and has a lot to offer in terms of security and functionality. The final thing that I noticed this device upon opening it up is it has a very sleek SD card slot that can be used for signing transactions offline and import them.

***CLICK HERE TO BUY TREZOR MODEL T FROM THEIR OFFICIAL SITE***

What Coins Are Supported?

I will leave a link to the official list of what Trezor has listed on their website HERE, but I will point out a few of the coins that this device supports that you don't really see on other hardware wallets that stands out to me and is what I use on my device as well. The primary coins

NOTE: This device hold over 1,200 coins in total, but the majority of them have 3rd party wallets developed by either the development team for that coin specifically that can be connected, OR major third party wallets that hold hundreds of ERC-20 tokens, such as Mycelium and MyEtherWallet.

Just to name a few coins that are now supported on the beta wallet or (native app wallet) on the web app that is easy to manage and is unique to this hardware wallet is: HoloChain (HOT), Lunyr (LUN), Chainlink (LINK), and Polymath (POLY). They are adding Native support to new coins and tokens all the time, so make sure to keep your eye out for it!

Does this work with any 3rd party wallets?

Yes. Although I personally recommend using the native apps on the web application on the Trezor website. Why? Because it's easily managed and located in one place. Additionally, because this wallet for managing is web-based you can easily take this wallet and manage your coins on the go without having download multiple wallets and setting it up and import it when you may not have access to the same computer.

This is safe to do because this hardware wallet is completely resistant to malware or any other viruses that may be present on unknown or public computers.

In regards to 3rd party wallets, there are a handful that are known to work and integrate directly with the Trezor Model T (and Trezor One) such as: MyEtherWallet, Mycelium, MyCrypto.com, and the newly announced partnership between Trezor and Exodus!

I will be doing an in-depth review and video on the Trezor user experience with the Exodus desktop wallet very soon! It looks very promising and they have hyped it up as a much better user experience than the standard web-based wallet, so we will see that review in the next week or so.

How Do I Set It Up?

Once you take the device and remove the security tape and unbox your recovery seed cards and the USB cable, you will open an internet browser tab and visit Trezor.io/start. This will take you through the process of downloading the "Trezor Bridge", which is a small downloadable executable file that is required to use your wallet with the web app. Once you download this, you will follow the prompts on your device to download and install the latest firmware update.

NOTE: As a security measure, Trezor ships the device with no firmware installed to ensure that your device is activated properly when you set it up for the first time and the proper firmware will be activated with Satoshi Labs signed firmware. This ensures that no one can alter or tamper with the firmware of inject any malware in the device after it is shipped before it lands in your hands.

Once this firmware update is done, it will ask you on the web app to create a new wallet (recommended for new users) or import an existing wallet. You would only choose this option if you are trying to restore a previous wallet from on older recovery seed.

If you choose the new wallet option, it will prompt you to write down your recovery seed words on the card provided to you in the box and the words will display in succession on the device and will have you verify them in the correct order before the device is fully activated.

Once this has been created and you have decided if you want a 25th seed word as an extra layer of protection (I STRONGLY recommend that you do), you can now send, receive, and view the available coins in your dashboard!

***CLICK HERE TO BUY TREZOR MODEL T FROM THEIR OFFICIAL SITE***

Does It Support Monero And Ripple?

Yes and No. Let me explain. First, let's talk about Monero support with the Trezor Model T. Although the firmware is setup to support this coin, there is currently no wallet that has been setup to use with it yet. This is currently in development and you will need to periodically check the Github page setup by Trezor to monitor the status of this, or await the newsletter that Trezor will inevitably send out once this is activated.

NOTE: I recently wrote an article HERE that goes over the 4 best Monero wallets, which includes hardware wallet support with the Ledger Nano S, albelt with the integration of a 3rd party wallet.

What about Support for Ripple (XRP)? Yes. Ripple has an easy to use native application that has recently been added to the web app for Trezor Model T. I have personally used and tested this and I am pleasantly surprised on how easy it was to manage. In fact, it was an even better experience than I've used with Ledger in regards to XRP.

How Does Trezor Model T Compare To Ledger And KeepKey?

Overall, this is a higher end wallet that supports many more coins than either Ledger or KeepKey. Additionally, it offers a touch screen for ease of use and independent security that is managed on the device itself. This includes being able to type in a custom password of "25th seed word" to access the device whenever it is connected or having a wallet being restored, in addition to the standard security PIN code.

This also means that it is more expensive. The current price of the Trezor Model T is 149 Euros or approximately $169 USD at the time of this writing. Ultimately, it depends on how many coins and WHICH coins you are specifically looking to hold on your hardware wallet.

If you are a beginner and you only want to hold the main higher market cap coins, like Bitcoin, Ethereum and Litecoin, then you really just need an entry level device, like the Ledger Nano S or The Trezor One.

However, If you want to be able to trade and swap coins directly on your hardware wallet without exposing your private keys, I would recommend going with KeepKey. They have a new platform (currently in beta, check out my in-depth review HERE) that allows you to trade on the ShapeShift platform while having your device connected and you never have to give up your private keys. This will be key if you are trying to be primarily trade, instead of just sit and hold.

***CLICK HERE TO BUY TREZOR MODEL T FROM THEIR OFFICIAL SITE***

Conclusion

So what's the bottomline? I would recommend the Trezor Model T to anyone that is trying to expand their coin selection and are smart enough to know they need to keep their coins on a hardware wallet at ALL times. This wallet will continue to expand it's coin support and they have already grown this support dramatically over the last 12 months. If there is a coin in particular that it currently doesn't support on it's web app, there is a STRONG chance that it is either supported with a 3rd party wallet you can integrate this with, or it will be natively supported very soon.

If you are just looking to buy and hold Bitcoin and Ethereum (or even Litecoin), you really don't need a device as nice as this. At least not yet. As you understanding of this technology and your taste for new altcoins grows, you will probably want to expand into a new wallet, and in fact, it's quite normal for people to have more than one active hardware wallet at once to diversify and protect themselves as well.

Additionally, you may want to consider using a device like CryptoTAG, as a metal backup to your recovery seed card, if you are holding enough funds that you want to have a backup of your backup. This makes sense for anyone that is holding more funds on their hardware wallet, than they actually paid for the wallet. This is actually not that much, so make sure you download the free e-book I mentioned above, so you can get the free tips above.

What do you think? Is the Trezor Model T the best hardware wallet out there today? Let me know in the comments below!

Cheers,

The Crypto Renegade

NOTE: This post may contain affiliate links. This adds no cost to you but it helps me focus on giving as much value as possible in every single post by being compensated for recommending products that help people succeed.