In this article I am going to give an recap of my experience using Blockfi, so let's take a look at this Blockfi Review! Before I get into the burning questions about what this is and why you want it, I want to just mention that I recently wrote an in-depth ebook that goes over the 5 best ways to secure your cryptocurrency.
This information is extremely valuable and it goes into far more than just common sense. You can click HERE to get your free download now! This also gives an intro into the best practices when sending, receiving, or managing crypto in all cases, make sure to check it out! So let's get to Blockfi and why it matters in today's crypto market.
Blockfi is a new platform that allows you to get crypto-backed loans against fiat and also allows you to gain compound interest on your bitcoin holdings that you already have. DeFi (decentralized finance) is a new category in the space that is inevitably going blow up and has already shown signs of this happening.
This is basically a bank account for your crypto on steroids. It is fully insured and backed by the FDIC and SIPC Insurance that is partnered with Gemini Exchange. Anyone that is familiar with this exchange, it is very "by the book" and has customer protections in place to protect you in th event of the company going under.
This is a dual-purpose platform that now gives consumers a way to leverage their crypto holdings to help them get out of debt that they've accrued in fiat currency. Plain and simple. for example, let's say you "HODL'ed" your bitcoin during the run up and crash that happened at the end of 2017 and you now want to put up your crypto as a way to get a loan (with a low 4.5%) interest rate to pay off some credit cards.
No problem, in fact, they do a 50% collateralized option, which basically means you just need to put up twice as much crypto as you take in fiat. So let's say you need $10,000 to pay off credit cards, all you need to is to send $20,000 worth of bitcoin or ether in order to get the loan issued. You will get all of this back at the end of the term (usually 1 or 2 years, and you can prepay with no penalties). Additionally, any gains that your BTC made during that time is yours as well, so it's a win-win situation (in my opinion).
What Is A Bitcoin Backed Loan?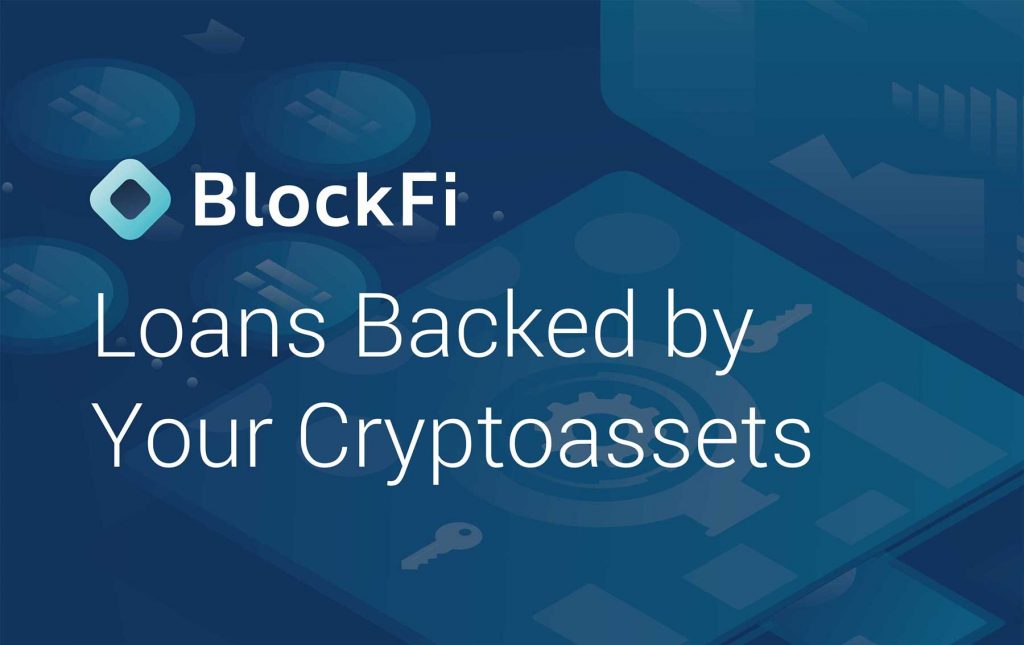 I touched on this above, but this is a special type of loan that is "backed" or issued with collateral of either Bitcoin or Ethereum for the fiat value you receive. For example, if you need $5,000 US dollars, you would put up $10,000 US dollars worth of crypto to get a fiat loan until the low interest loan has been paid off.
The standard term lengths are usually 12-24 months. This is extremely helpful if you have less than stellar credit and you need an asset to use for leverage to help you pay off or pay down your debt that you've accrued.
This is an interesting concept, because this is the first type of asset class that you can be used as collateral for this type of use and it may pave the way for utilizing different types of value or asset classes in the future in different industries. This process is also fast, as most people get access to their funds within 2 business days.
Additionally, this is the first type of service that allows you to get a loan without having to pay origination fees and you get to KEEP all of your coins at the end of the term!
How Much Interest Can I Earn?
Right now, the interest rates are set at 6.2% APY (per year) compounded. This is subject to change or fluctuate for the future, but when you sign up for at least a 1 year term, you rate is locked in, so you won't risk it going any lower during your term.
This is helpful because you can calculate what your monthly returns will be, and that doesn't even include the gains you will make in the newly budding bull market. This is helpful, because you can know for sure that you will at least get a certain return amount at very least.
This method is just one way I decided to diversify my holdings in an attempt to earn more passive income leveraging the crypto I already hold on my hardware wallet. There are always risks when you invest, but this is pretty risk-free if you ask me, as it's compounding interest that is paid to you each month and you don't risk losing it, like you possibly can with other investments.
The interest rate can possibly go up or down over time, so I recommend that if you 're on the fence, top at least try and lock in a 1-year term like I did, before they change it.
With this bull market starting up, I can only assume the interest that is paid out will go down, as the value of your assets will likely far surpass that. 8% is pretty high, and it surely beats any CD or other bank or savings accounts out there.
What Are The Minimum Deposits And Terms?
This is detailed on Blockfi's website as well, but I will list the details here below:
"There is no minimum or maximum deposit for the BlockFi Interest Account. However, only deposits over 0.5 BTC, 25 ETH, or $2,500 GUSD will accrue interest. Balances of up to and including 25 BTC or $100,000 GUSD will earn the 6.2% APY interest rate. All balances over that limit will earn a tiered rate of 2% interest. To clarify, if you had 25.5 BTC in your BIA account, the first 25 BTC would earn interest at 6.2% and the remaining 0.5 will earn interest at 2%. For ETH, balances between 25 ETH and 100 ETH will earn 3.25% APY. ETH balances above 100 ETH will earn 0.2% APY."
Is It Safe To Use Blockfi?
There are always risks when sending your private keys to a 3rd party, however you need to weigh your options. This is not for everyone, but is a good resource for people that have racked up a lot of debt and have an asset in their savings that they can now use in order to get some relief. There has never been an option like this before in the past, so I only recommend doing this if you need it.
Anyone that knows me knows that I'm a HUGE advocate of keeping your private keys in your possession at all times. So why did I try this? The simple answer is diversification. To clarify, I didn't use the bitcoin backed loan option, but rather the compound interest option with some extra ETH that I had on my hardware wallet that I was willing to risk. Holding it on a hardware wallet is always the safest, but that just means you will live with the gains (or losses for the past year and a half) with whatever the market gives you.
***CLICK HERE TO SIGN UP FOR BLOCKFI AND TRY IT OUT!***
Conclusion
Overall, I liked the service and the customer support that I received. I always like to support crypto-based companies because I am fascinated with the space and I am always eager to see the new innovation that is being created within this new industry. I wanted to try to earn some compound interest on coins I was going to be HODL-ing anyways and I used the minimum amount required just to test it out. If I like it and my experience is smooth after 12 months, I may go longer. We will have to see where the market is at that point.
***CLICK HERE TO SIGNUP FOR BLOCKFI***
The one take away I will give you is, if you have only a small amount of BTC or ETH, I would still use a hardware wallet to store your coins, until you've accumulated a lot more of it. If you want to start diversifying and branch out once you've built up your stash like I have, it's a very interesting way of "guaranteeing" returns, for coins you plan on keeping for a long time. I will leave a link below for the hardware wallet that is my favorite right now below!
CLICK HERE TO BUY KEEPKEY FROM THEIR OFFICIAL SITE!
What do you think? Would you hand over your private keys for compound interest at 6%? Let me know if the comments below!
Cheers,
The Crypto Renegade
NOTE: This post may contain affiliate links. This adds no cost to you but it helps me focus on giving as much value as possible in every single post by being compensated for recommending products that help people succeed.