In this review, we are going to dive deep into the newest hardware wallet from Ledger, the Ledger Nano X! Is it the best bluetooth hardware wallet out there? Is it much of an upgrade from the Ledger Nano S? Is there any other hardware wallet that is close to this one in terms of security and price that I should be considering? We are going to address all of these questions and more in this review, so stay tuned!
Ledger has always been a well-respected company in the crypto community and has been shipping hardware wallet products since early 2015. Their first flagship product, the Ledger Nano S, was a runaway hit and sold over a million units throughout 2017. The problem was though (at the beginning) is that you had to download a chrome app for each wallet and was a real pain to try and manage your assets.
Then, they came up with a desktop app called Ledger Live that unified all the apps in one easy-to manage-dashboard and supported many native apps, which was a much needed upgrade. So they solved the user experience issues they had and continued to innovate. As they started rolling out new coins and blockchains being supported, they had another hurdle they faced and that was the amount of space or apps that were supported on the Ledger Nano S (See full review HERE). You could only hold 3-4 coins at once on the device and users who wanted to expand their portfolios and use a hardware wallet that didn't integrate with 3rd party wallets, like MyEtherWallet.
This is where the Ledger Nano X comes in, solving this problem and more! This device can support up to 100 apps (coins) simultaneously and solved a major usability complaint that many customers had. Mobility. People wanted to manage their crypto on the go and not be tethered to a computer to safely manage their assets. Out of this, the Ledger Nano X was born. Let't take a look!
Ledger Nano X Design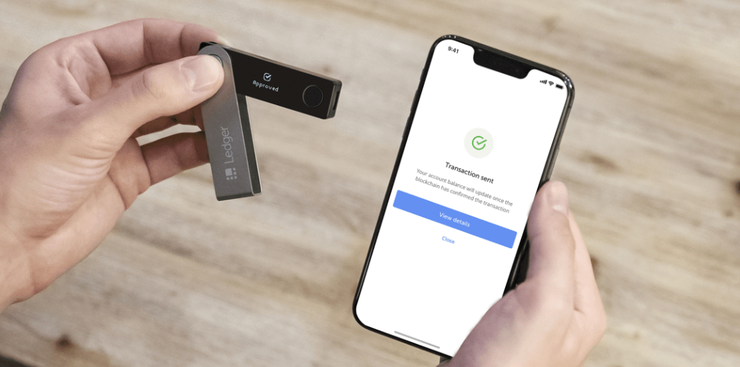 The Nano X comes beautifully packaged with the device itself, a USB-C cable, a set of instructions and recovery seed cards. The previous bulky buttons that were on top of the device are now seamlessly integrated on it in a way that's even a bit hard to notice. All in all a beautiful design. The primary features of this device are the bluetooth connection which allows you to manage this device using your smartphone via the iOS and Android app.
Additionally, you can now hodl, store, or manage up to 100 cryptos simultaneously, all without access to your desktop or laptop computer. This is easily it's best new features, but aside from the upgraded storage capacity and the wireless connectivity, the device itself is now larger, has an integrated 2-function button, and an overall larger screen for verifying transactions. With a trusted device and a more universal charging cable, this makes it much more compelling to spend the extra money to store more coins and one that you can easily take with you as you travel.
Ledger Security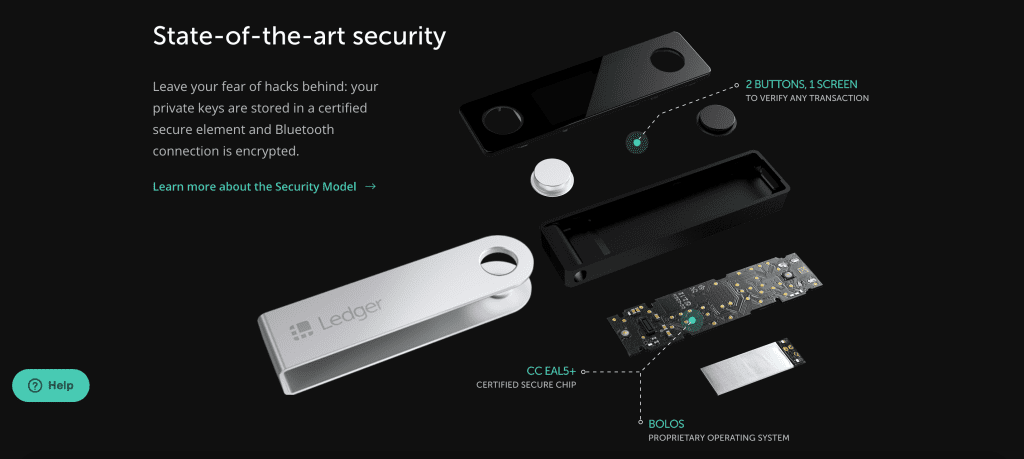 Ledger is at the forefront of developing the industry's device security. How? And in what ways?
The secure chip meets the CC EAL5+ certification and run's Ledger's proprietary BOLOS operating system. 
A Secure Element is a secure chip that…embeds intrinsic countermeasures against many known attacks. This kind of chip is tamper-resistant and protects your device to a range of different attacks."
This secure chip differentiates the Ledger's method of key storage from its competitors' hardware wallets (with the exception of coldcard).
Ledger Live Update – App + ERC 20 Support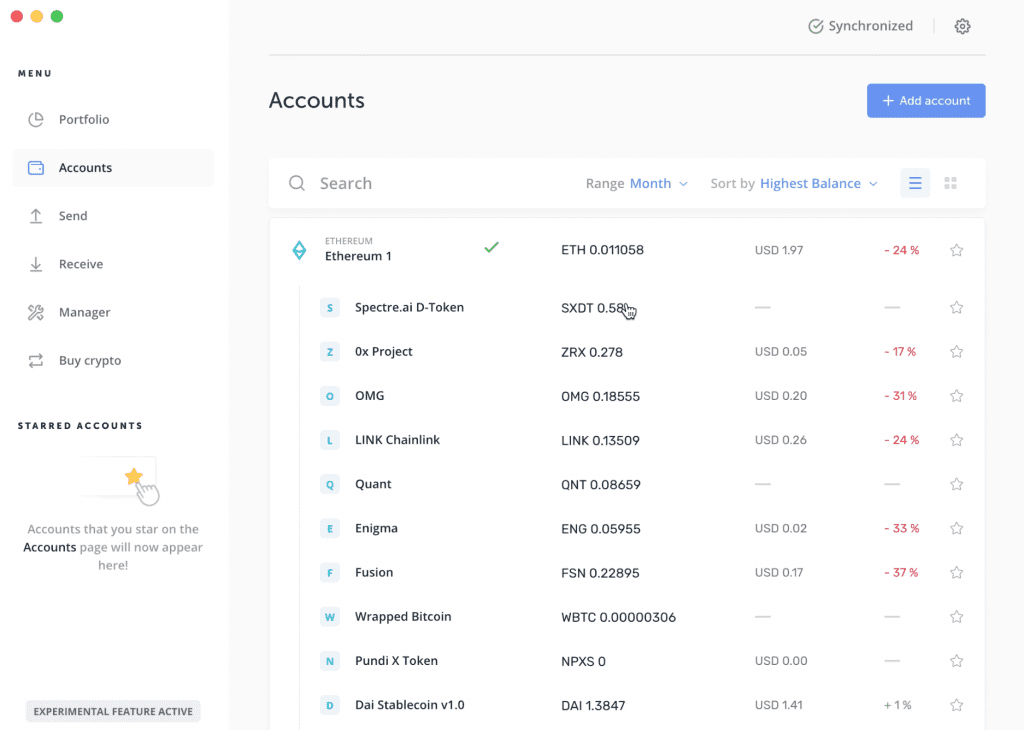 This was a MASSIVE upgrade from the chrome apps they were utilizing before. This new desktop app is very clean and seamless. They also have a new mobile app designed for use for the next generation product the Ledger Nano X (We will go over that in a future review) for wireless management. However, the desktop app is very clean and easy to navigate. The first thing once you connect and authenticate your device is a dashboard if you had already have an existing device, showing you your balances and charts on a single screen.
You can see your accounts on the left hand side, and you also see the "Ledger Manager" which is where you add and remove apps. When you perform any firmware upgrades, it requires you to delete the apps on your device (don't worry your coins are safe) and you re-install them after it is done.
When you first plug in and install the app on your desktop, it will ask you if you want to setup a new device or if you have a device that is already setup and then have you authenticate with the PIN. It will then check for any updates or firmware upgrades that are necessary for you to view your account. Once you have access, it's pretty easy to manage everything overall, and they have even introduced a way to "Buy Crypto" from such partners as "Coinmama" where you can purchase directly with a debit or credit card, and "Coinbase", which you can do they same and also use your bank account directly via ACH.
There is also a pricing history dashboard built right in, thanks to an integration with "Kraken" and "Bitfinex". This allows you to see trends and historical data, which may help you decide at-a-glance what you would like to do for managing your next transaction. Once you install an App, you can create multiple accounts and label them if need be, for managing and organizing your portfolio. The only one complaint I have with it, is if you do use a 3rd party wallet, like "MyEtherWallet", you have to leave the app and manage your funds on a 3rd party site. Overall, all the native apps work beautifully, and they are adding new coins and assets all the time.
Ledger Nano S vs. Ledger Nano X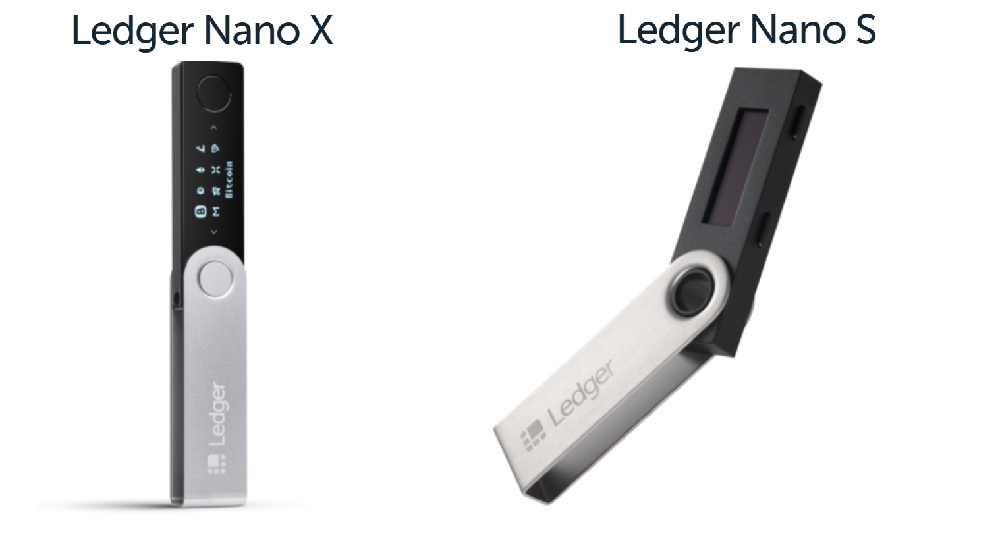 I'll keep this section pretty straight to the point. Other than the price, the primary difference is two-fold. One, on the Ledger Nano S only holds about 3-4 apps (coins) at a time. This is ok if the you only plan to hold 3 or 4 total coins on your hardware wallet and you are ok with only working on a desktop computer to manage your crypto. The primary selling feature of using the Ledger Nano X is the wireless support and smart phone support for managing crypto on the go. The second is the fact that it can hold up to 100 apps simultaneously.
It really just boils down to how many coins you want to store securely offline on the device, and if you need to flexibility to use it when you're on the go and do not have access to the computer. They both use the same ledger live app (mobile for Nano X and desktop for Nano S), although you can still use a cabled connection with the Nano X if need be. It also has a fairly large battery life.
Ledger Nano X Review Conclusion – Bottom Line
Overall, the Ledger Nano X is surely a nice upgrade from the Ledger Nano S that has been a top seller in the hardware wallet space for many years. By listening to it's customers, it's crafted a way for people who enjoy the software, coin support, and overall user experience of the first generation product and allow it to wirelessly connect to your smartphone and conduct safe transactions.
If you are someone who wants to use and store your cryptocurrency safely and completely unconnected in a way that is fairly satisfying. Is the user experience perfect? No, but they are continuously working out the bugs and adding consistent fixes to their user flow and adding new coin support and security upgrades on a continual basis. This is still much cheaper than it's closest competitor (Trezor Model T) and now manages a lot more "Native" apps than it's counterpart, which honestly is a huge plus. Native app support is a feature that many take for granted, but it significantly improves the user loyalty and experience using the branding and platform of any company or product.
Additionally, it allows for a more "unified" experience that doesn't require additional 3rd parties to ultimately control the support you need and pay for. It's inclusive. Personally, this still has an advantage over the Trezor Model T, but if you want another competitor that will surely give this device a run for it's money that matches all of it's features and more (although at a higher price), I would check out the Ellipal Titan. If you're interested in learning about that product's unique features, you can read the full review I recently wrote HERE.
The Ledger Nano X is a sleek, powerful, and very competent device that includes the wireless functionality that most end users need these days to properly manage and secure their crypto!
What do you think? Is this a new contender for mid-level hardware wallets? Let us know what you think down below!
Cheers,
The Crypto Renegade
NOTE: This post may contain affiliate links. This adds no cost to you but it helps me focus on giving as much value as possible in every single post by being compensated for recommending products that help people succeed.