In this review, I am going to deep dive into the Open Dime bitcoin credit stick! What does is it do? How does it work? When would I ever need to use one? I am going to dive pretty deep into this EXTREMELY unique bitcoin credit stick, that allows you to make a bitcoin transaction OFF the blockchain. This is a secure USB-like device that is designed to have a one-way transaction of bitcoin (physically) between two parties.
As a hardware wallet enthusiast, I was very eager to test this device out in person and it honestly is unlike anything else I've ever used. It seems futuristic and is really the only way to transfer bitcoin to another person COMPLETELY off the grid (not even the blockchain) and is a really cool concept that has plenty of specific use-cases, but to be honest, isn't ideal for every day bitcoin use.
The review/walkthrough below is fairly detailed and lengthy, but if you want to know what my final verdict on this device is, scroll down to my conclusion at the bottom to get a recap.
Additionally, here is a link to a related hardware wallet that is very similar to this, in the sense that operates completely offline. You can check that out HERE!
Let's get to the Open Dime review below!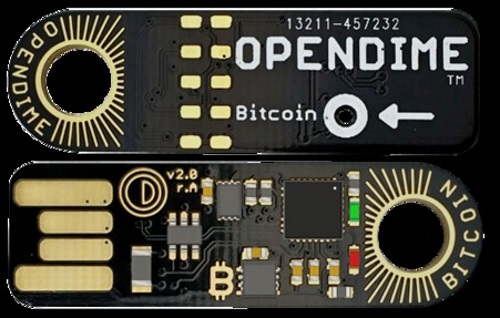 "Opendime is a small USB stick that allows you to spend Bitcoin like a dollar bill. Pass it along multiple times. Connect to any USB to check balance. Unseal anytime to spend online. Trust no one."
This is directly from Open Dime's website. This device is designed to be able to pass bitcoin along from one person to another (and even down the line for multiple people) while still being secure and exposing the private key to no one. There is a secure "Bubble" that is required to be punctured in order to gain access to the private key. This means that there will be evidence if there is any tampering or foul play when holding or inspecting of the device.
This is the world's first way to physically transfer bitcoin from one user to another (in person), while still remaining secure. In other words, it allows for a bitcoin transaction and is able to be passed along from person to person without having the need to know any passwords or wait for confirmation times on on the blockchain.
In simple terms, it's basically a disposable hardware wallet that is used like cash. Use it accordingly.
What Comes In The Bag?
In the bag, (yes, it comes in a durable plastic bag for transparency) comes 3 Open Dime USB-sticks. This is currently going for about $37.50 for this 3-pack or roughly $12.50 per Open Dime stick.
All 3 sticks are loosely packed in a plastic bag that includes a card that includes instructions to visit opendime.com/start in order to walk through the setup process to start loading bitcoin onto the devices.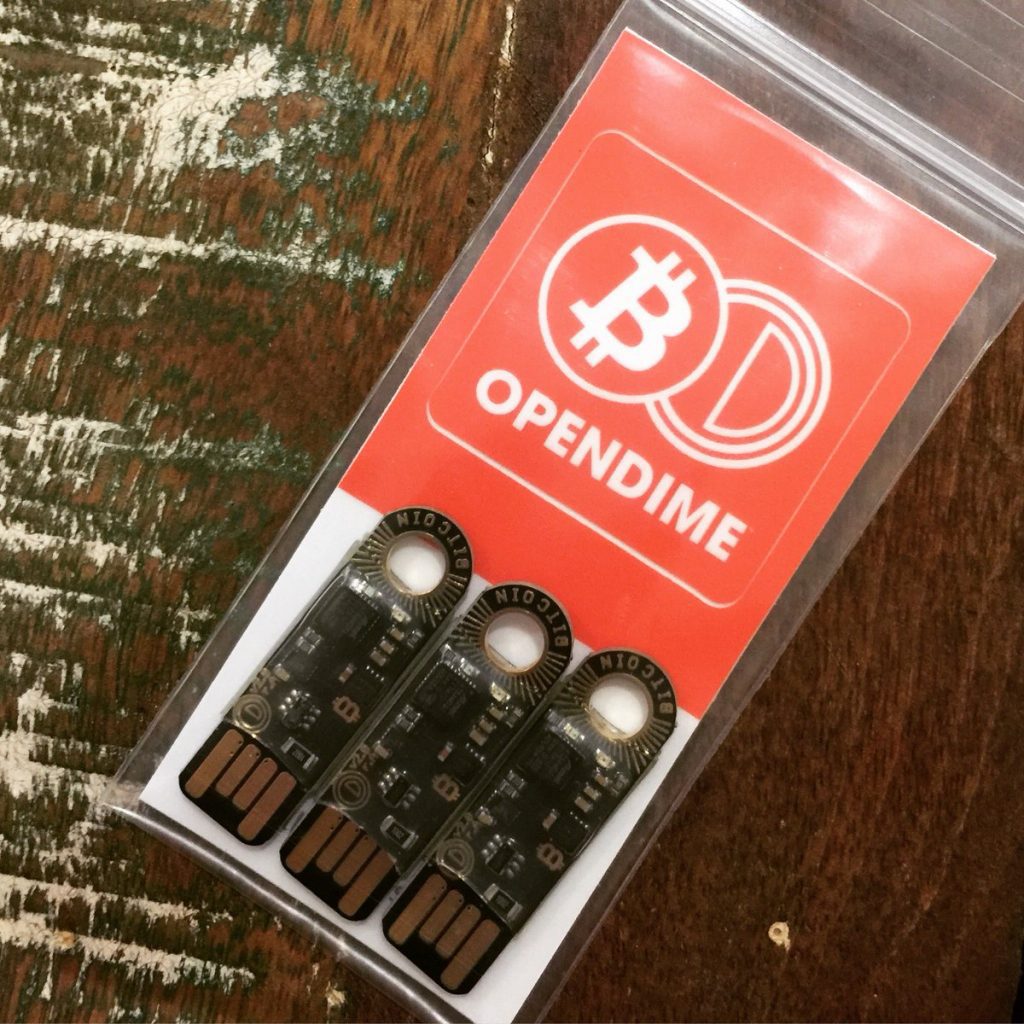 Now, if you click that link, you'll notice that it just redirects to their homepage. I am a bit disappointed as there is only a card that gives you 3-steps to get started.
Plug Into USB
     2. Open index.htm
     3. Follow The Steps
Pretty simple, right? Well, there is no other printed form of instructions. On the device (once it's plugged in), you will find a "readme" file on the device to learn how to setup.
Design & Setup

Design
The device is pretty basic and bear-bones. There's nothing beautiful about it, but yet it's beautiful. It looks line an rough, unfinished product, but there's something geeky about that kind of look. The idea of an open PCB is not only to minimize the unit cost. It also comes from being transparent and not having a closed product. I probably should have mentioned this earlier, but Opendime is an open source project. Anyone with a little programming knowledge can audit it on Github.
From the 2.0 version, the edges are now oval and not rough. The board itself is very firm and can not be broken easily and certainly not accidentally. My personal opinion is that their latest version is very well-made. I like the openness of the product. At the same time, everything is visible, but not easy to break or mess up with accidentally if you're a newbie. The PCB and other components are protected with a glue.
Setup
The USB stick does not require drivers to work, it's plug and play. The device was recognized instantly.
The first step is to plug the Bitcoin stick into your PC (Or Mac).
Once the device is inserted, the second step is to open the index.htm file inside the Open dime folder.
Next, when the index.htm file is opened in the browser you will be asked to agree to the terms of service. The pop-up warning is displayed in several languages.
| Light status | Explanation |
| --- | --- |
| Green with brief flicker | Sealed. Your funds are secure. |
| Red and green alternating | UNSEALED. Private key has been revealed |
| Green solid, brief flash of red | Not yet loaded with enough entropy (setup time). |
| Green flashing (fast) | Reading/writing to drive. |
The next step is to create the private key.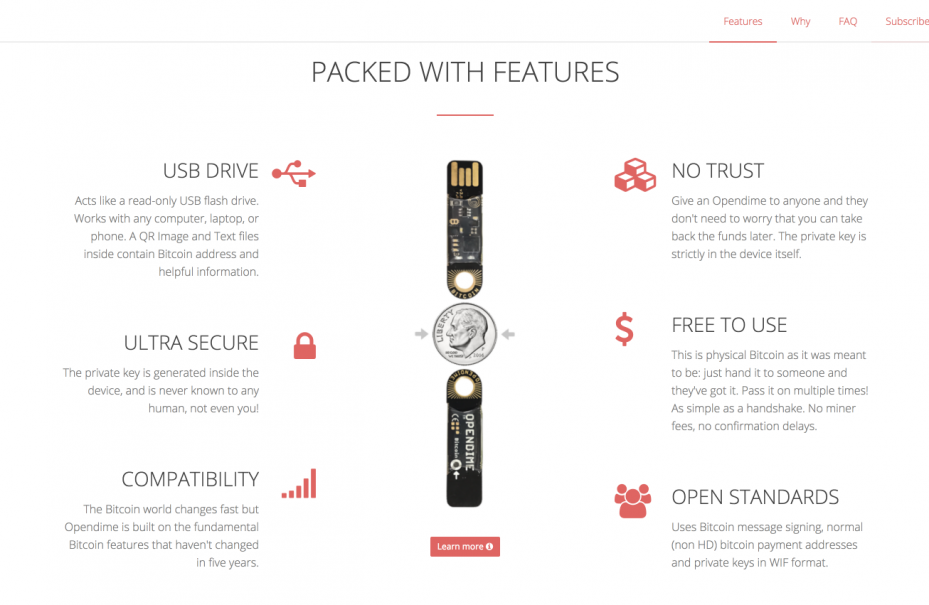 Generating the private key
After the device is plugged into your PC's USB port, you will have to generate a private key in order to load the funds into your Opendime. This process is very user-friendly and easy. Bear in mind that during this process Open dime does not have a control over the private key, nor do you. The private key will be randomly generated onto a device microchip using random entropy you add to the device memory. It does not require an internet access to do so.
Firstly, the FAQ advice that for better randomness, you use images only you have. The instructions say that you'd have to add at least of 256kb of data. However, they do not state anywhere that the total file size should not be larger than the USB device memory which is around 1.29 MB.
In my first attempt, prior to knowing the maximum size, I tried to add around 5MB of data and got an error. Seeing that, I've selected only two images and copied them onto > Open Dime and device generated a completely random private key. Once the public key is ready, there will be a few noticeable changes to the device.
When sealed, the Open Dime will flash green when plugged in into the PC.
When .htm file is opened, you will see a very clear message on the screen that you now have a private key.
This entire process is very intuitive. I like that there are so many signals that show the state of your device, both physically and inside the PC. This is very smart engineering and user experience at the same time.
Verifying the device
The device can be verified in the following ways :
phone charger / USB – the LED light indicates the status
physically inspecting it – check if the resistor has been damaged
factory seal to make sure it comes from genuine OD factory.
Samurai wallet – Android only
Google Chrome extension- iOS only
Once I began learning about Open Dime, I clearly understood the need that this little device can be verified and audited.  At first, I thought there is only one way to verify Opendime, but as I began tapping into it, I realized how many different ways are to verify the Bitcoin bearer bond.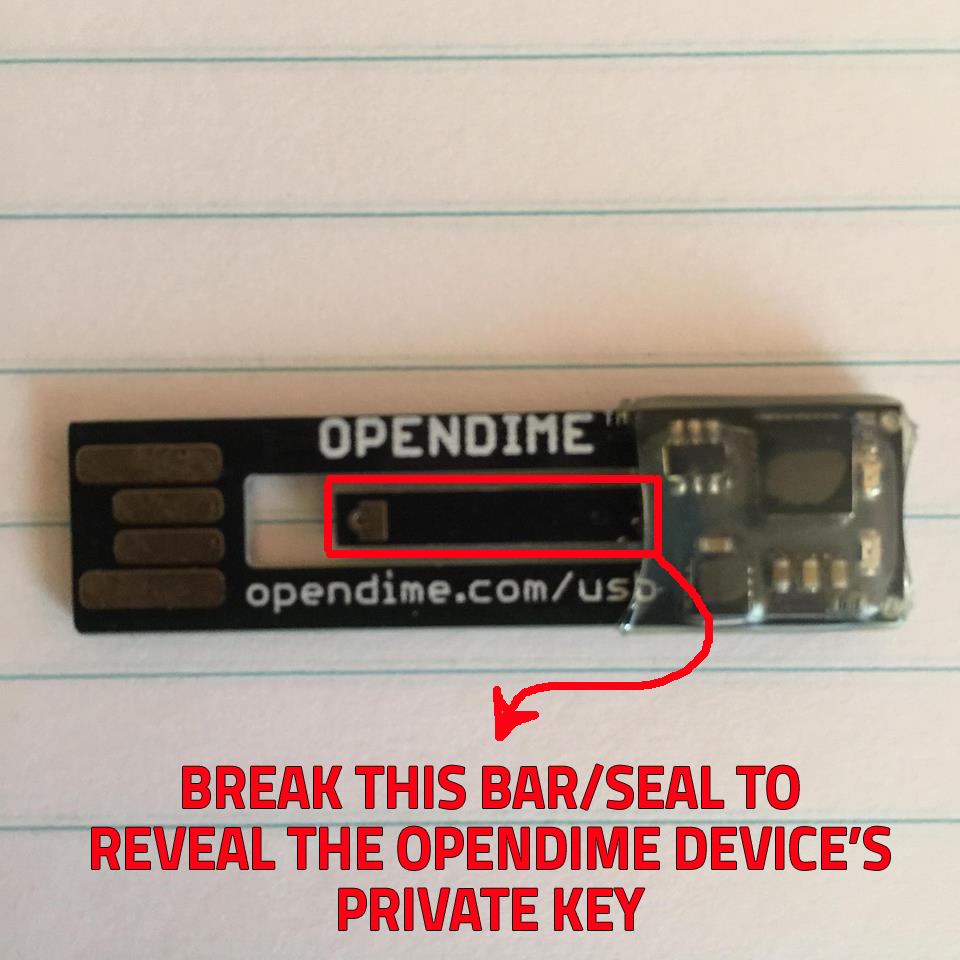 Adding Bitcoin to Open Dime
The next step is the best of all – adding the funds to your crypto piggy bank. You can only add bitcoin to a device if you created the public key which automatically shows receiving public address.
You can find the public address for your Open Dime inside the folder. It can be found as a text and a QR code in jpeg image format. The way you'll be sending the money to your USB stick depends on the wallet you'll be using. The process is pretty much similar, you can either copy/paste the text address or scan the QR code from the folder. Make sure to double check that the address is correct and confirm the payment.
Soon after the payment has been sent, you will be able to see a transaction on the bitcoin network, it may take a time depending on the network state that it gets confirmed. And that's all.
Your Open dime went from an empty piggy bank to an item with a verifiable value. You can now exchange it like a cash from one hand to another and add funds to it an unlimited amount of times.
Since transaction will be happening off-chain, there will be no confirmations or mining fees. The participants of the transactions are verifying it instead and passing it from one hand to another, an infinite amount of times. The private key will be sealed neither you nor anyone else will know it until the device is unsealed.
Unsealing your Open Dime
Once you're ready to spend bitcoin from your crypto piggy bank, you have to break it. Once you break it there's no way back. Use a pin or a needle and push through the marked hole on the PCB. You need first to pierce the glue and then by pushing, you will push out the resistor. By doing so, you're making a permanent physical change to your device, which reveals your private key.
This is probably the most amazing feature of the device. By doing a permanent damage, you can't cheat in a transaction, because you broke the chain of trust. The device itself will now flash red once inserted into a PC, power bank or a mobile phone very visibly signaling that the private key is no longer a secret. This is at the same time the biggest risk of the device. This means that in order to get the bitcoin out of it, you'll have to reveal it to a PC. Which further means you have to trust that PC and its security.
Compatibility & Security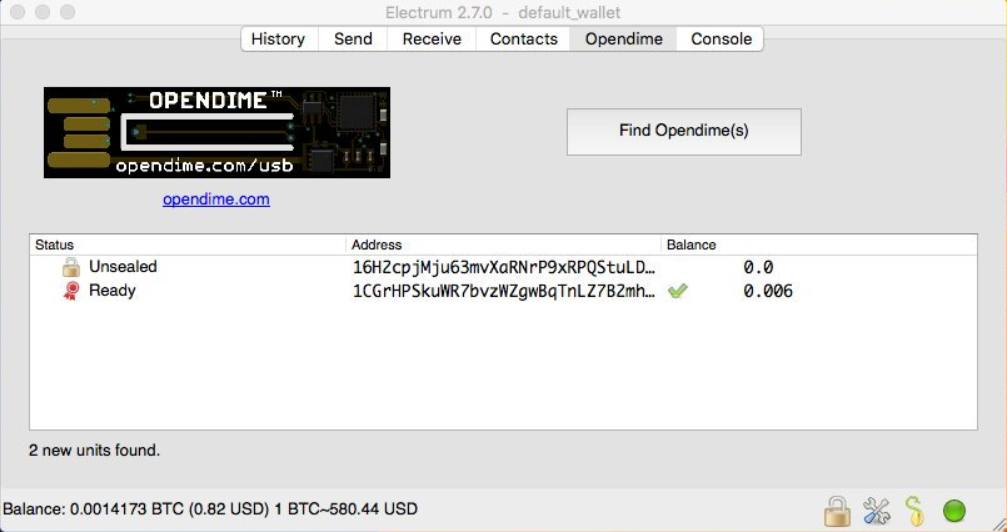 The setup can be done on any device that can read a conventional USB stick. The private key can then be imported into all common wallets after the resistance breaks out, including the following: Copay, Electrum, Samourai Wallet, Breadwallet, and Bitcoin Core.
A special feature is the app Samourai Wallet , which has implemented a complete integration for the Bitcoin Stick Opendime. This allows you to quickly check a stick on the go via OTG cable. There is also an extension for the well-known Electrum Software Wallet .
Verify the authenticity of the stick The latest generation of Open dime products includes a new chip to make fake devices impossible. Note: This test is an advanced use and is not required for normal use. For people who want to verify an Open dime before use, Open dime provides a python program. With this, all test steps of the new chip can be carried out. It's a simple command line program, but requires some preparation.
To verify the authenticity of a stick, Open Dime offers manual and automatic possibilities in the form of the Python script trustme.py. Unfortunately, this does not happen automatically and a  is time-consuming, so most users will probably simply use the stick without checking in advance.
The transparent case and the two status LED's already provide a basic way to detect manipulations on the hardware wallet. Details of all security measures can be found in the Open dime white paper. Opendime's entire code is also on GitHub.
Does It Only Support Bitcoin?
Short answer is, Yes. This device was designed in the earlier bitcoin days to be used as pee-to-peer electronic cash and stays true to it's roots. You can also see the open source code their used on github as mentioned above.
Open Dime – Conclusion
Overall, my experience was good with this device, and I would feel comfortable recommending it. But, ONLY to someone who is very technically savvy.
It's awesome that Open dime enables me to transact off-chain, privately and securely without having to trust an online generator or a third party with my private key generation. Additionally, they are completely open-source and provide one of the best support experiences I encountered from a cryptocurrency company.
I gave away an Open Dime to my brother for his birthday and for now, I believe this is absolutely the best and safest way to give someone a bitcoin.
Some of the disadvantages of the devices are that it looks rough, though I do not mind that. Quite opposite, it really makes you feel like a nerdy cypher punk while using it.
A more serious limitation is that Open dime is disposable. There's no way to re-use it. You can't recover the seed or send crypto from it. Fluctuating exchange rates might be an issue in this kind of transactions. All of these things are not impossible to solve and I hope that we will see even better physical cryptocurrency solutions from the Open dime team.
What do you think? Would you ever use an Open Dime? Let us know in the comments below!
Cheers,
The Crypto Renegade
NOTE: This post may contain affiliate links. This adds no cost to you but it helps me focus on giving as much value as possible in every single post by being compensated for recommending products that help people succeed.