In this review, we are going to dive deep into the Ellipal 2.0 crypto hardware wallet. Is it really as secure as they claim? Is it better than Ledger or any other mainstream competitors? Stay tuned for the whole article to find out!
This device is very unique to say the least! Until recently, this was the first 100% air-gapped device of it's kind, which is super compelling for security enthusiasts. We all have heard of the numerous exchange hacks over the years and it's becoming more and more apparent that you need to keep your private keys offline, and on a hardware wallet. So, is this the right one for you? Let's take a look down below.
One thing I will say before we dive in to the details is, in regards to the the major providers in this space, the one thing that I don't like about Ellipal is that their device isn't open source. In my opinion that is a crucial function. Not only for transparency, but also for security. When holding a large amount of funds on the device, it is good to know that an active community is reviewing the code on a continual basis. That is really my only "gripe" with this wallet.
Having said that, it's very impressive, and my experience with it was very good and the steps involved made me feel very secure about my choice as the security of this device is top notch! Let's take a look below.
What's In The Box?
To preface this device, It has zero: Wifi Connections, Bluetooth Connections, 4G connections, or any wired connections to any other device!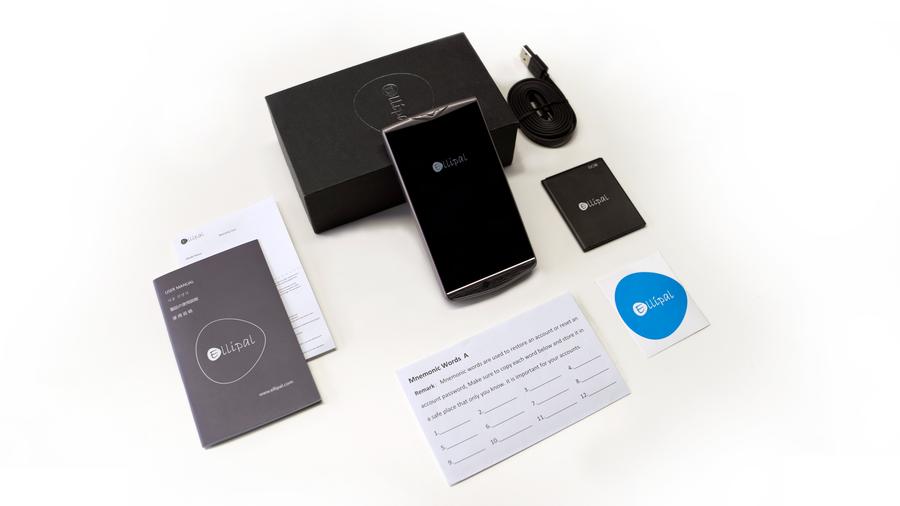 This device comes with everything you need to get started with using, minus the iOS and Android app, which you will need to download to begin using. All hardware and components are listed below.
-Ellipal Hardware Wallet
-Charging Cable
-User Manual
-Mnemonics Recovery Seed Card
-Warranty Card
How To Setup The Device
So this is where this device separates itself from the likes of KeepKey, Ledger, or Trezor. The three mainstream heavy hitters in terms of the hardware wallet market. How does a device that claims to have no internet access whatsoever work? The short answer, QR codes. This hardware wallet interfaces with the Ellipal mobile app and allows you to have both a mobile (hot) wallet and a wallet that displays on the hardware device as well.
The Ellipal has a camera on the air-gapped device so that between you smart phone and the hardware wallet, you can scan QR codes to transfer funds and still be kept completely offline. This creates an extra step for management, but for the most paranoid among us, this is actually a comforting process.
It essentially is a 3-step verification process for managing your funds and requires an SD card for managing firmware upgrades. This is a pretty arduous process, even for those that are pretty tech savvy. Again, this could be interpreted as more secure, but also makes managing funds and your device to be a bit cumbersome for the average user.
What Coins Are Supported?
Instead of manually writing this out, I will include a chart with all existing coins that are supported. They are additionally developing apps on certain coins that I will list in writing here:
BCN, NANO, XEM, XTZ, ZEC, LSK, QTUM, ONT, BTS, STEEM, WAVES, XAVES, XVG, SC, NEO, IOTA, ELA. The current coins supported are listed below.
Ellipal 2.0 Vs. Ellipal Titan Vs. Ledger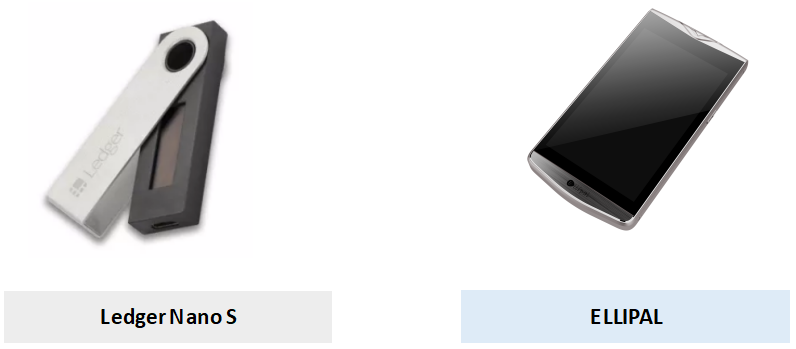 Ellipal Titan has a self destruct mechanism in place, so that if the screen is tampered with or crushed or broken in an attempt to gain access to it's internals, it will break a special circuit board that holds all your private keys. This is powerful. Additionally, it's very sturdy, so not only is it IP65 rated for dust and water resistance, but its made out of a very strong single piece of metal that houses and encompasses the entire device.
The Ellipal Titan is specifically designed against evil maid of supply chain attacks so nothing can be imported or inserted as there are no open access ports on the device.
The Ellipal 2.0 is still a very strong and secure device, but it doesn't have a durable exterior that is built for abuse, and it also has an SD card slot for updating it's firmware on the device and also has a charging cable port, so there are 2 entry points. Again, still very secure, but the Ellipal Titan is really a massive upgrade.
In terms of other mainstream competitors, like Ledger, it's like comparing apples and oranges. This device is much more expensive at $149 and is completely air-gapped. This means there is no USB connection to any online interface and does not have access to any where near as many apps or coins that are supported on Ledger.
The Ellipal is more for the paranoid users that do NOT want to risk having anything interface with online devices. The user experience is much more complicated and not as easy to use as the Ledger, not to mention Ledger is only $59, and is currently the cheapest "mainstream" hardware wallet, but can only support 3-4 coins at once.
Ellipal – Conclusion
This is a really unique and secure hardware wallet. The only other wallet that is remotely close to this one that is currently available at the time of this writing is the Cobo Vault wallet. You can read an in-depth review of that device HERE. That wallet is very durable and is more in line with the upcoming successor to this wallet, the Ellipal Titan, in terms of durability, however that device has less than 10 coins currently supported and has a much heftier price tag at $479. It's more of a niche device in my opinion.
Having said that, if you are on the fence with this device, the upcoming Ellipal Titan is currently available of pre-order at the same price of $149, and is slated to start shipping around August 15th, 2019. I my personal opinion, I would go with that, as it's a massive upgrade from this device. However, if you choose this device, you still can't go wrong. Both devices will have the same coin support and will continue to expand in terms of functionality and coin support, as the firmware is going to be compatible.
If you want to purchase this device, it will be supported for years to come. Click the button below to jump to their site and make the jump to a unique form of crypto security!
What do you think? Is there a more secure hardware wallet for a comparable price you would choose over this? Let us know in the comments below!
Cheers,
The Crypto Renegade
NOTE: This post may contain affiliate links. This adds no cost to you but it helps me focus on giving as much value as possible in every single post by being compensated for recommending products that help people succeed.