In this Paxful review, I am going to go over this unique marketplace that allows your to trade gift cards, use Paypal, use Zelle pay, and so much more for buying bitcoin! Paxful is one of the most dynamic marketplaces where buyers and sellers meet to sell and buy bitcoin, however, they have a myriad of different payment methods that are accepted to make this happen that cannot be found elsewhere. Additionally, you can simply just buy bitcoin with a credit card and choose not to deal with the hassle of multiple options. But how is this different than CoinMama?
Well, CoinMama is the leader in simply buying bitcoin with a debit or credit card and offers only bitcoin and a few altcoins. This provides a lot of different methods for people that may have some gift cards or other form of monetary value, but wants to dabble their way into obtaining bitcoin without buying it directly with their bank card. Stay tuned for this article as we will dive into the most relevant questions and answering how this can be done and why you want to.
What is Paxful?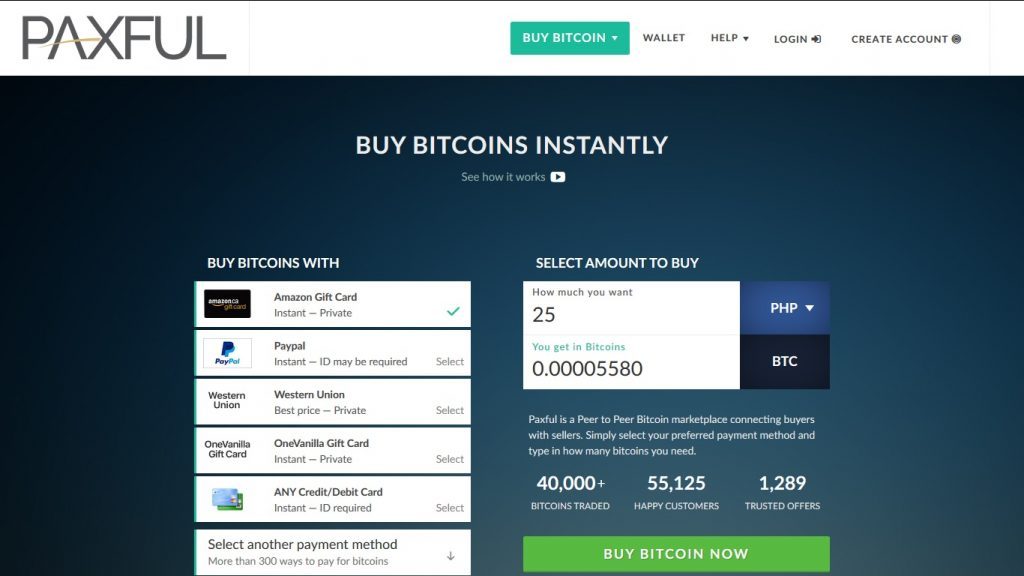 Paxful is a peer-to-peer marketplace that allows buyers and sellers to meet online and exchange multiple different payment methods for bitcoin purchases. It uniquely accepts up to 300 different payment methods to utilize in your purchase of bitcoin, including: MoneyGram, Amazon Gift Cards, iTunes Gift Cards, Paypal. Western Union, and more! It allows you to use virtually any payment method you can think of to buy bitcoin instantly!
Similar to LocalBitcoins, in the sense that it's a peer-to-peer marketplace, it allows multiple people to exchange value without requiring idenification or other traditional KYC methods needed to transact in bitcoin and engage in a mutually agreeable exchange of value between two people with the peace of mind of using an escrow service of Paxful, using only minimal <1% Paxful Fees.
Is It A Trading Platform Or An Exchange?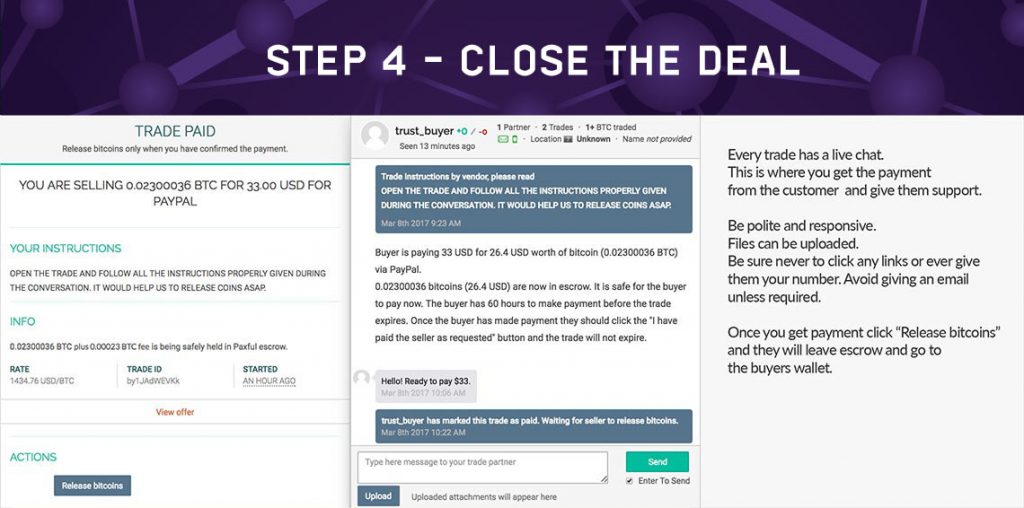 It's technically both, but it's best to call it a peer-to-peer marketplace, similar to eBay. As mentioned above, unlike traditional exchanges, it doesn't necessarily require any KYC (in some cases) pr any personally identifiable information to transact. Additionally, it allows you exchange other cryptocurrencies, gift cards, bank transfers, or even cash to obtain bitcoin, in most cases instantly.
A trading platform is typically described as a direct exchange for fiat or other cryptocurrencies where the exchange serves as the middle man taking a cut for each total transaction. Paxful only takes less than a 1% fee for the total transaction (which is much less than other exchanges, like Kucoin or Coinbase). Additionally, there are no custodial services used here, so you always possess your private keys, leading up to executing the transaction, where it goes into an escrow account for protection until the transaction is verified by Paxful.
Supported Currencies (Fiat And Crypto)

Paxful deals with the buying and selling of Bitcoin only.
Since the money is sent directly to the sellers, the site itself doesn't hold fiat currencies for users. Sellers on Paxful accept over 300 payment methods, with the most the most popular ones being credit cards, PayPal, Amazon gift cards, wire transfers and Western Union. Keep in mind that different payment methods will result in different exchange rates.
For example, non refundable payment methods (bank transfers, cash) will usually have lower exchange rates while payment methods that allow for chargebacks (i.e. credit cards, PayPal) will cost more.
For a list of the full 300 different payment methods that are accepted on the site, click HERE.
Paxful Fees
What makes this different than other exchanges or platforms is that Paxful does not charge a direct fee to use the platform. Sellers can charge a premium (if they choose) over fair market value to factor is risk or other potential fees that they might incur, however, it ultimately depends on the payment method the buyer chooses to use and what the buyer and seller agree upon.
Sellers ultimately pay Paxful a 1% fee when a transaction is confirmed, but this is not passed on to the buyer.
This does not include the bitcoin network fees that are standard with with ant bitcoin transaction on the blockchain and that is paid to the miners directly.
Paxful Review – Conclusion
Overall, Paxful is a unique and resourceful way to get bitcoin with non-traditional methods. As being essentially the eBay of bitcoin purchasing, this is one of the most effective ways to get your bitcoin with other monetary sources that are not accepted by traditional exchanges. For instance, if you have an amazon gift card and you want to use that trade it for bitcoin, you simply just need to match with a verified seller who is wiling to make that trade.
As with any service, there is always a potential for fraudulent players, so you'll want to be careful with the sellers you match with and ensure they have a good seller rating. My experience with selling an Amazon Gift Card, was pretty seamless, and I didn't end up having to use any arbitration or moderators in the process. I have heard of some users that did not have such a good experience, but again, that mainly falls within the due diligence of who you match up with and trusting that Paxful will do the right thing is they need to get involved.
Bottom Line: I would use this service again and I would recommend it to my friends and family since my experience was pleasant and with offering over 300 different payment methods you can use, it opens up a lot of doors to people that otherwise would not be able to obtain bitcoin via their bank or credit card.
What do you think? Is there a better way for people to obtain bitcoin with non-traditional payment methods? Let me know in the comments below!
Cheers,
The Crypto Renegade
NOTE: This post may contain affiliate links. This adds no cost to you but it helps me focus on giving as much value as possible in every single post by being compensated for recommending products that help people succeed.