In this article, I am going to go over my experience with the Trezor Model T and Exodus Wallet integration and whether or not you should use it. There are a lot of things I like about this desktop wallet and a few that I really don't, so let's get into the details below!
Before I do, if you haven't yet read the in depth review of the Trezor One and The Trezor Model T, then I will link them respective HERE and HERE. This will give some context below for the details of using these hardware wallets in general, before we compare how they work with the a hot wallet integration like the Exodus.
Here are the questions and answers I think you will find most helpful when deciding whether or not to use the wallet integration. Let's get started!
Exodus Wallet – Overview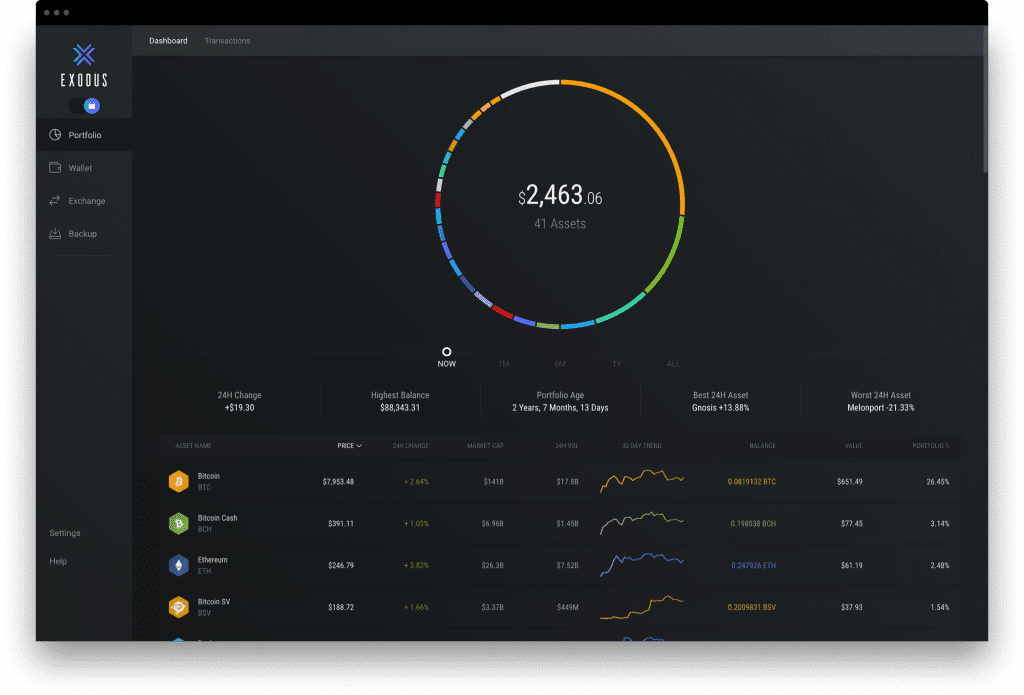 The Exodus Wallet (as mentioned above) is a crypto desktop wallet that you can download for free over at the Exodus Website. Why would I want to do this? Well, first, if you've only used a mobile hot wallet, then you'll know that there aren't many features or anything really beyond just the send and receive function.
This is ok (most of the time) for a mobile wallet, because you just need it to "work" when you're trying to make a transaction out in the real world. However, when you're managing a portfolio, it's important to see the overall big picture before making some of your larger trading or managing decisions, such as: Overall Total Assets, Percentage Of Loss Or Gain (over a 24hr or 7-day or 30-day window), Percentages Of Asset Distribution, etc…
Not to mention the number of coins or assets supported. Because desktop wallets typically have more features and overall viewing space, you have the capability to manage more assets and do more that just send and receive. The Exodus wallet actually has both a desktop AND a mobile wallet, which is nice for syncing your portfolio between devices.
I am going to list the "Key" features that I found useful below, before we get to how the Trezor Model T integrates with these features to help improve the overall hardware wallet experience.
Features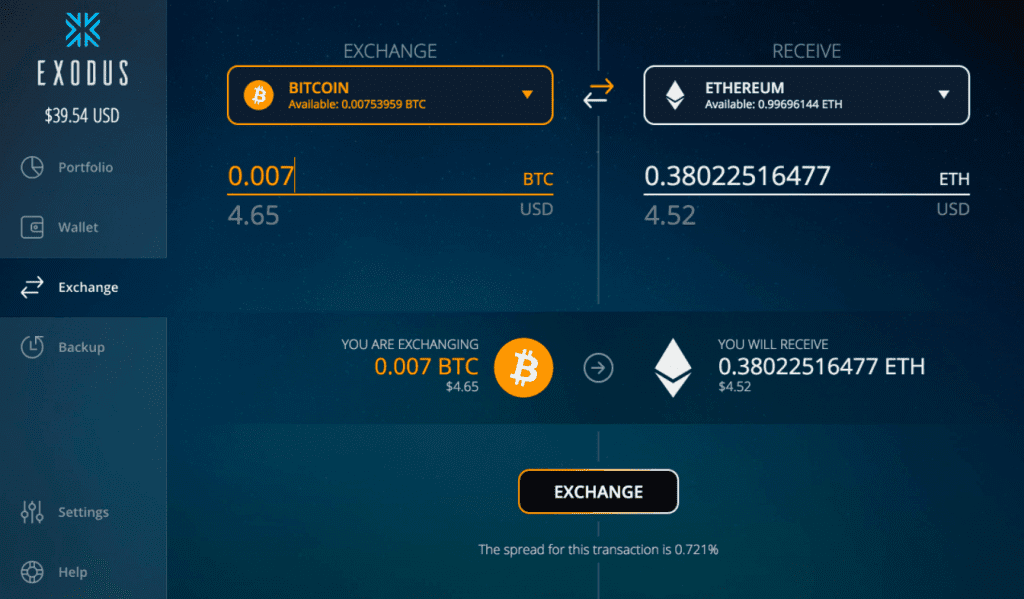 Functionality – Exodus provides a high quality user experience, and combines an aesthetically pleasing UI with an intuitive design. The desktop software client contains a wallet, portfolio tracker, and cryptocurrency exchange, and allows users to track their holdings and transactions around the clock, as well as store and exchange a wide range of digital currencies.
Flexibility – Exodus is available to Windows, Mac, and Linux users, and in addition to its internal integrated features, Exodus also provides an easy to use mobile app that is currently available to iOS users with Android support planned for the future. It also supports over 100 cryptocurrencies including popular currencies such as Bitcoin (BTC), Binance Coin, (BNB), Litecoin (LTC), EOS, and Monero (XMR). Ethereum (ETH) and a host of ERC-20 tokens are also supported.
Security – As a "hot" wallet, Exodus requires its users to create and use secure passwords, and when first installing the wallet, users are provided with a 12-word recovery seed phrase that is used to restore the wallet in the case of an emergency. The wallet also integrates with a Trezor hardware wallet and doesn't require any personal information, and users' private keys and transaction data are encrypted and stored locally on their devices.
Customer Support – Despite not operating as an exchange, the team provide a good range of support including their resource page which contains an FAQ section and over 100 articles, and their video The status page gives a quick overview of any issues that the team are experiencing, and they can be contacted via email. They also run a Twitter account, Facebook page, and Slack channel.
This is a full multi-currency wallet and will continue to add more coins being supported soon, including Tezos (XTZ) and some pof the newer TRC-10 and TRC-20 tokens. This is always evolving for the better.
Coins Supported
Exodus supports 103 cryptocurrencies in total (coins and token). The most notable coins supported by the wallet are:
Bitcoin
Ethereum
Ripple
Litecoin
Bitcoin Cash
Binance Coin
Tether
EOS
Monero
Dash
Raven Coin
Stellar
Tron
Bittorent
These are just a few notable coins, but you can find a full list of coin support HERE. This page is always evolving and will continue to add more coin support in the future.
Trezor Model T – Integration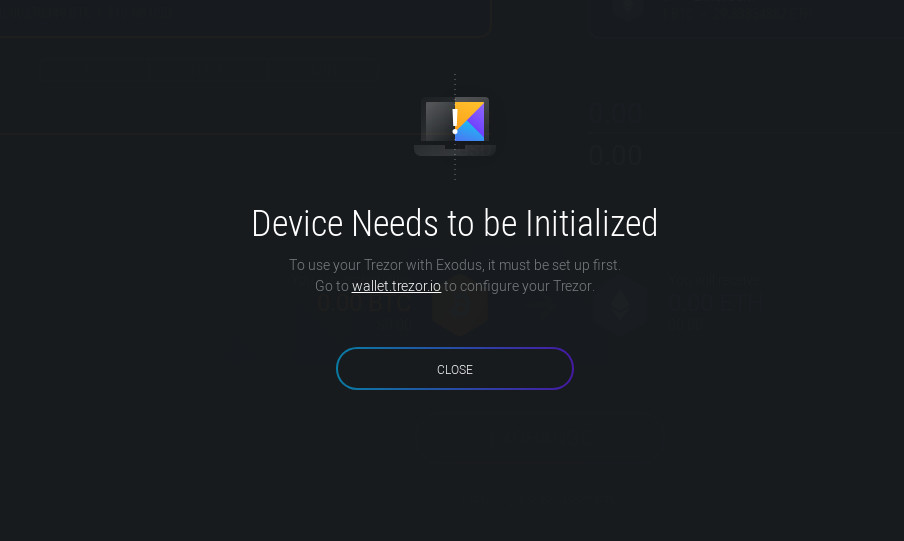 This is a major upgrade from the Trezor web app, and apparently even Trezor agrees. You can setup your Trezor Model T from scratch (like I did) and it's a very seamless experience. The good news is if you decide to go back to using the web app, all of the features will be enabled, with the exception of the optional 25th seed phrase password when doing the initial setup on the device. This can easily be enabled once you login to the web app and is a security feature I use, personally,
Managing my portfolio, especially certain coins like Ripple and Monero, is a lot easier here, because I don't need extra software or other add-ons like you would individually if you didn't use i.e. Exodus. This makes managing ALL my important coins in one place, much less of a hassle. I prefer to actually manage my coins on this wallet, because it's a one stop shop, so to speak.
(Note: Exodus uses an exchange integration and that is where they make the bulk of their money, since this is a free downloadable wallet. In my experience, the fees were a little too high for me, but the coin management and portfolio management more than makes up for it)
Does it Work With Trezor One?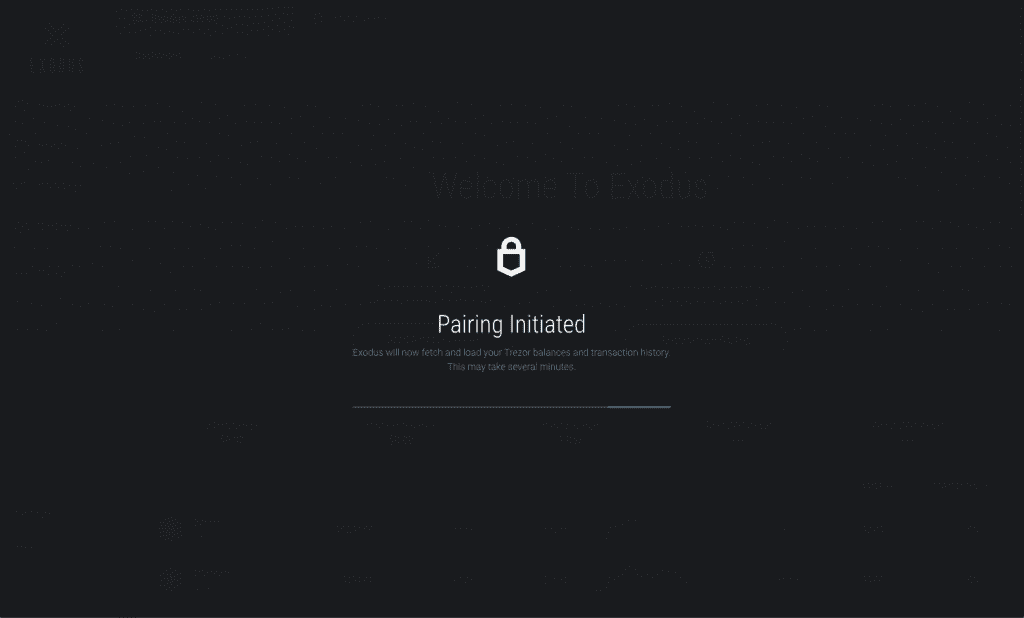 Yes, but not all coins are supported by the Trezor One firmware. Essentially, all coins and tokens that are supported on the Trezor web app willl be supported in this software wallet. You can view the full coin support and setup HERE. If there is any doubt, any coins or tokens not supported on this 1st generation device will be greyed out.
Exodus Wallet – Conclusion
Overall, using the Exodus Wallet has been a pleasant experience. I would absolutely recommend trying it out for managing your Trezor One or Trezor Model T, if you haven't already. There is no KYC or personal information asked when you set it up, and when using the Trezor, your private keys are always protected. As I mentioned above, my only negative was the fees that are associated with the integration were way to high for me. If they lowered it, it would be the perfect solution to trade assets offline, which if preferable.
Other than that, it's one of the best crypto management experience's I've used. And when you're serious about protecting your private keys like I am, and you need to manage or hold specific assets that you can't directly manage on the web app, this is a really good solution. The closest thing to this is the recent Trezor integration with ShapeShift, which you can check out my review of that HERE.
What do you think? Is Exodus Wallet a good contender for managing your assets on your Trezor device? Let me know below in the comments.
Cheers,
The Crypto Renegade
NOTE: This post may contain affiliate links. This adds no cost to you but it helps me focus on giving as much value as possible in every single post by being compensated for recommending products that help people succeed.